Stretch ceilings are an excellent solution for apartment or house ceilings, providing an elegant, contemporary aesthetic without breaking your budget. They're the ideal way to achieve this look without breaking the bank.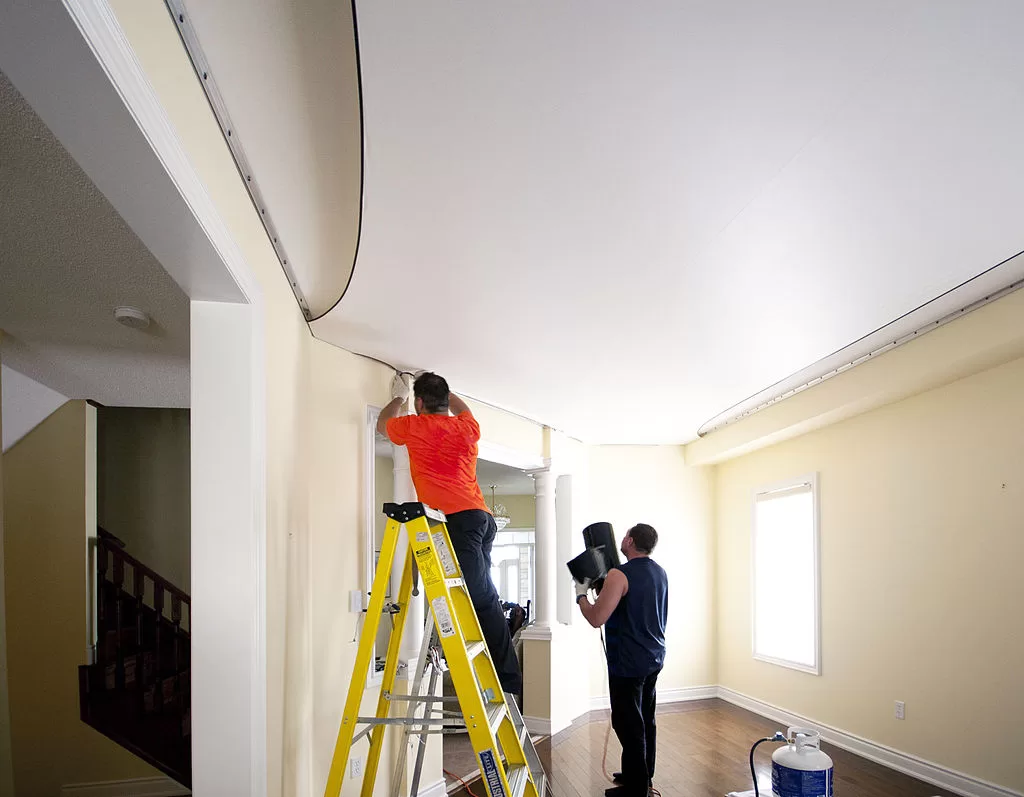 Installing drop ceilings is a snap, they last up to 20 years, and are fire, humidity, and dust-resistant – making them an excellent alternative to traditional plasterboard dropped ceilings.
Stretch ceilings are also easy to clean, come in a wide variety of colors and textures, and are available in both pre-cut and custom sizes. With this kind of flexibility, you can create an attractive and unique look for your ceiling that is tailored to your individual needs.
Whether you're looking for a sleek and modern look or something more traditional, stretch ceiling solutions for your apartment or house ceilings are a great way to go.
Assess Your Home's Potential
If you're searching for a unique atmosphere in your home, stretch ceilings are an ideal choice. They're lightweight, durable, and flexible with endless design and finish options available to suit all tastes and preferences.
Therefore, they're ideal for concealing imperfections and cracks. Additionally, the special polymers and fibers in drywall make your space much more sanitary by trapping dust particles and bacteria that would typically collect there.
Stretch ceiling solutions provide improved air quality over time, helping you to breathe easier and reduce energy costs. Architects and designers around the world are increasingly recommending stretch ceiling solutions as a practical and economical option for both existing and future projects.
Stretch ceiling technology is incredibly adaptable, enabling the membrane to be changed out quickly and seamlessly.
This flexibility gives designers and architects unprecedented control over both aesthetics and sound levels – making stretch ceilings an incredibly valuable new innovation that designers and architects can utilize both for artistic and practical reasons.
---
Read Also:
---
Make a Plan
Stretch ceiling solutions are an elegant way to bring a touch of classiness to any room, such as kitchens, dining or living rooms, bedrooms, or basements.
A track is installed into the perimeter walls of your room a few inches below the ceiling line and clips a PVC-based film onto it for an ultra-flat and flawless ceiling surface.
Stretch ceilings offer the freedom to print any image you can imagine! From night skies with twinkling stars to artistic landscapes or photographs, the possibilities are endless!
The great thing about it is that it can be installed without any preparation and will likely outlive your home. Additionally, its advantages include concealing existing imperfections like cracks or Artex.
Furthermore, it works great for fixing uneven surfaces, exposed wires or ventilation, bulkheads, centerpieces, light coves, and structural variances.
Get Started
Installing a stretch ceiling is an easy and dependable system. It consists of two components: a perimeter track and an elastic membrane that stretches taut and clips into place inside of it.
The membrane can be tailored to fit your design preferences with an array of colors, prints, and textures. It may be constructed from PVC, fabric, or both for added versatility.
Stretch ceilings are made with modern materials that make them durable, fire and safety-certified, waterproof, and stain-resistant. Furthermore, these ceilings are non-toxic and self-deodorizing to add extra convenience.
Furthermore, they require minimal upkeep and don't collect dust or mold as drywall does. Furthermore, these surfaces are hygienic – often desired by medical facilities.
Once you've chosen a stretch ceiling solution, the next step is to establish your budget and prepare the room for installation. It's an effortless and economical process that adds an exciting dimension to any room in your home.
Unlock Your Home's Potential
If you're thinking about making a major ceiling upgrade, there are plenty of options to choose from. Whether you want to avoid popcorn ceilings or ditch the drywall and suspended tiles, you likely want something that will maximize style and function.
One solution is a stretch ceiling. This involves installing tracks into the perimeter walls that clip onto PVC-based film and stretching it out to form an even ceiling surface.
Turn your home into something truly unique without the cost or time-consuming task of painting and wallpapering. Plus, stretch ceilings offer numerous lighting and 3D design opportunities not available with other styles of ceilings.
NGA's approach to stretching the ceiling envelope includes not only 3D design but also innovative uses of LED technology, backlighting, and other modern technologies.
Furthermore, they have an in-house acoustic consultant available who can advise on the acoustical performance of their Stretch Ceilings – something which is beneficial when designing spaces for wellness purposes.