Craftsmanship is age-old traditional activities and one of the most favored works done by us.
These are very simple but praiseworthy artwork loved by doing different aged people. In the case of children, craftworks are the best activities they love.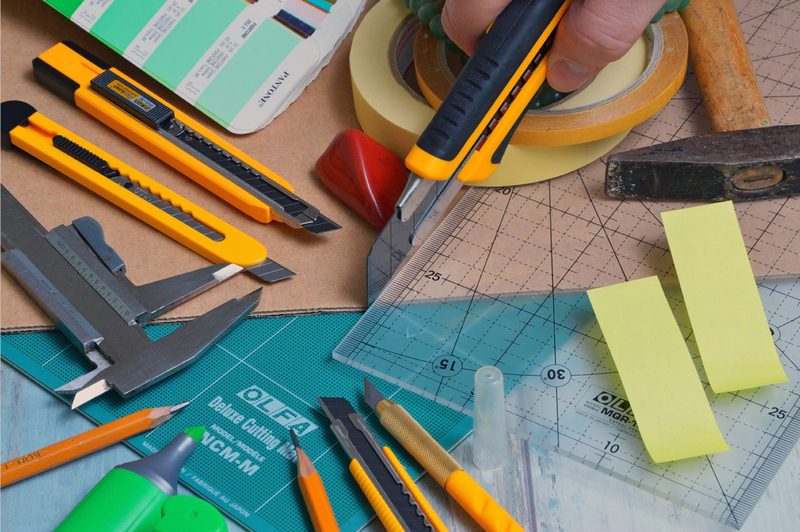 But this artwork solely depends on some very essential machines and tools. These are not that much heavy but simply superb.
Here you will be able to know which tool is necessary for what type of work. Your success in making nice craftwork will depend on the best use of your tools and machines.
Scissors
Scissors are the most widely used tools in the world. You just can't imagine how many varieties of things can be made by the combination of two pieces of metals.
Not only for cutting paper but also for clothes and many other things. You should buy a set of different sized stainless steel scissors so that you can use them for a long time for various purposes.
---
Read Also:
---
Paper Trimmer
Paper trimmer is another very useful kind of tool. It also looks like a scissor but it works in a different way. Whenever I make Amy Butler tile coasters or Christmas chalkboard coasters etc. I use a paper trimmer.
Chalk Markers
For making any design and pattern measurement is a must. So, the chalkboard will help you to mark the measurement and any key points you want to note.
You can write something on the chalkboard or you can take the measurement of the necessary things by placing on it.
Paper Punches
Whenever you want to make a hole inside a paper in a specific measurement, you can't imagine how wonderful tool is the paper punches are.
It actually helps to do the work of hours within a couple of seconds. There is a great variety of sizes of paper punches ranging from very small to 1, 1.5, 2.0, 2.5 inches round shape.
Craft Knife
A craft knife is another wonderful device for crafting. It is handy and you can do the small or critical cutting with it. But you need to be careful about storing it to a safer place if you have a young child in your home.
Cutting Mat
Cutting mat is a very important tool also. Without it, your expensive element in your homes like mat or table cloth can be destroyed.
For cutting bigger holes you can place your paper on cutting mat and do that easily without destroying your favorite mat or table mats.
Washi Tape
If you want to do some craftwork, you know it better that there is no alternative to washi tape. There are many types, colors, and designs of washi tape.
So, a good collection of washi tape will help you to do more glossy and fashionable work. So, have the best collection of washi tape.
Foam Brushes and Mod Podge
If you want to do perfect craftwork, you also may need a mod podge. It a wonderful kind of glue, sealer, and helps to finish your job. You also need a foam brush.
Scoring Board
A scoring board is such a wonderful tool for making crisp folding lines on cardstock or paper. With it, you will be able to make decorative envelops, cards, gift boxes, etc.
All these simple but very essential tools to help you to do your craftworks nicely. Tools have made much gigantic work very easy.