With winters around the corner, all of us are quite sure about the chilly nights that we rather enjoy and cherish.
Just the thoughts of such pleasant weather make us want to dive right in our blankets and stay lazy throughout the day. Another significant thing that has a connection with chilly winters are space heaters.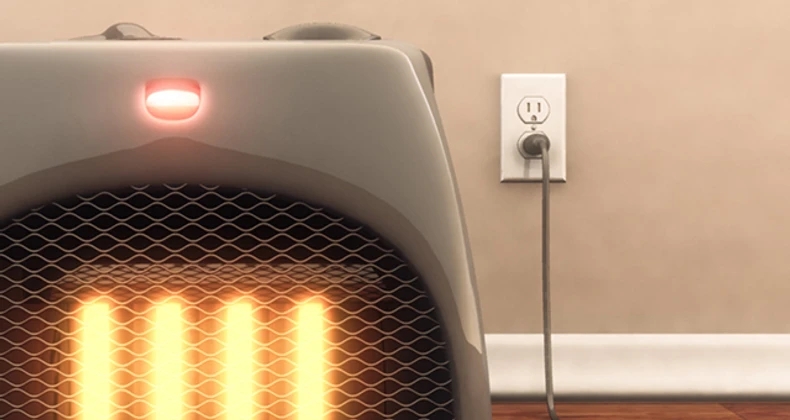 Used to heat up a specific space or a limited area in a house, room, or office, space heaters are among the most common sights in winters. Using it is one of the most ideal and convenient ways to ensure an increased temperature, filled in with warmth.
Thanks to the advancements in technologies, space heaters are now available across various shapes and sizes to help the users heat the desired area. Moreover, the consciousness of energy consumption and increasing prices of electricity units have given way to energy efficient space heaters.
These heaters specialize in heating up your rooms besides saving you money while doing the same. Interesting, isn't it?
However, how many of you actually ask yourself the fundamental questions like "will this heat up my place in a cost-saving manner?" or "how effective is this space heater in saving energy?".
Yes, we know that not many consider these few things. Therefore, to help you out with the same and help you get to the bottom of these questions, we have come up with a few tips to help you out.
3 Tips to Choose Best Energy-Efficient Space Heater for Your House
---
Read Also:
---

1. Does Your Heater Have These Features?
When it comes to selecting the right energy-efficient space heater for your house, always look after the features that your ideal selection can provide you with.
These features are present to preserve energy and give out maximum efficiency at operations. Listed below are some of the features that you should be looking after.
Programmable Thermostat
A heater with a programmable thermostat is known to save electricity. Look for a heater that comes with a thermostat, which helps you maintain the desired room temperature without losing much heat.
The major USP behind these heaters is that they maintain a linear temperature once the desired temperature is reached, maintaining a seamless temperature inside your room.
Auto/ Eco-Mode
What if we say that your heater can still compensate if it lacks the programmable thermostat feature? Yes, if you have an auto- or eco-mode feature in your selected heater, you can still save significantly on electricity.
These modes help maintain a balanced heating temperature. Once the desired temperature is reached, the heater fans keep fluctuating between low or high speeds.
Interestingly, some heaters also turn off after raising the temperature inside a room. This step helps in saving energy greatly as the heater won't consume energy while being idle.
Multiple Heat Settings
You can also opt for base model heaters that offer you multiple options to maintain room temperature.
Having multiple heat settings is an added advantage as you can set temperatures manually, keeping your heater on a low temperature that consumes fewer wattage amounts.
Programmable Timer
Having a timer similar to that in an air-conditioner should also be an option to look out for in a heater. By having a timer, you have control over how long you would like to keep your heater active.
Like the functioning of an air conditioning unit, having a timer in your heater also acts as a safety layer.
2. Is Your Heater the Right Type?
It should be known that energy-efficient heaters come in types, more than one. These heaters are classified on the household's nature and the performance that is demand out of them.
Classified into various types, listed below are the different types of heaters and the functionality they serve.
Ceramic Heaters
Type of heating element: These heaters own their name due to their quick heating nature. The plates inside them quickly warm up the metal coils that are attached to their plates.
Nature: A striking feature of the ceramic heater is designed to fit in compact spaces. They are smaller than the average heaters and can be shifted from one place to another.
Infrared Heaters
Type of heating element: As the name suggests, the infrared heaters carry infrared bulbs designed to give high levels of output.
The average infrared heater emits heat for cycles of 5,000 – 7,000 hours. Designed with soft metals like copper or quartz, they heat up quite quickly.
Nature: These heaters give out sun-like heating. They strike direct, warm light.
Oil-Filled Radiant Heaters
Type of heating element: The Oil-filled radiant heaters give out heat with the help of wide fins. These fins promote increased heat distribution via heated oil.
Nature: The Oil-filled radiant heaters give out residual heating. The metal sheets covered in this heater gives out radiated heat when turned off, saving you energy in the process.
3. Understand Your Needs
Finally, it is always advisable to understand your needs for a space heater before purchasing one. You might be tempted by the large and powerful heaters that are available in the market.
However, if you need it over a smaller area, it will be of no use and prove to be a costly affair on your pocket and monthly electricity bills as well.
Don't feel left out just because you have already purchased a heater without knowing these helpful tips. Given below are some useful tips for you to save money on your working heaters.
Cover your leaky doors and windows
Don't make random movements inside/out of the room.
Run your heater at a stable temperature and have patience.
Avoid using small heaters to cover large areas.
Check the current consumption of your heater and service it at regular intervals.
Conclusion
Having energy-efficient space heaters is the need of the present. Moreover, your total energy savings are the first thing you should check out while purchasing a space heater. Remember, money saved equals money earned.