A Single Girl's Guide to First-time Home Buying — You've got a job and you're ready to stop paying rent. You don't have a husband, kids, or a down payment, but don't let that stop you from becoming a homeowner. In fact, all of you single girls are maybe the best target audience when it comes to home buying.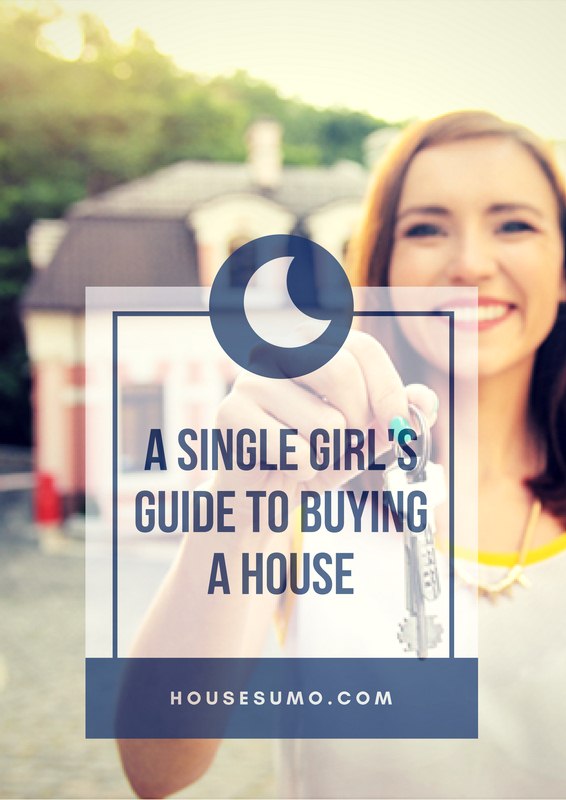 Imagine buying a home right out of college. Perhaps this isn't feasible for everyone, but it certainly is for more people than one would imagine. Are you a single girl paying too much for rent on your apartment? Have you been living with roommates just to avoid high rent costs? Do you have a full-time job that pays you a reliable income? If this sounds like you, keep reading.
---
Takeaways

Buying a home in your early 20's may be the best investment you can make
---
A Single Girl's Guide to Buying a House
How often do we dream of owning a home, someday, with a yard and somewhere for our kids to play… once we have kids that is? The problem is, without enough planning and preparing, someday can turn into today in a flash and that home with a yard will still be a far-away daydream. Don't wait until you're in your thirties to look into home-buying. The sooner you do it, the bigger the jump you'll get on the real estate world.
Paying rent is essentially giving your money to someone else. Paying a mortgage is paying a bank for a loan they've given you. That loan is what brought your home and as you make monthly payments, you reduce what you owe the bank. Understanding how mortgages work can be tricky, but once you understand what really happens in real estate, the comparison to rent is pretty easy.
Mortgage payments are calculated based on the total amount of the loan and the percentage of interest the lender is charging you. For example, a loan of $100,000, at a 6.5% interest rate would result in a monthly payment of $632. (mortgagecalculator.org's mortgage calculator was used to find this number) Additionally, charges, such as property tax and insurance bring the total payment to around $780 per month.
Many of us would end up paying more than that just for rent alone! Instead, the majority of that money goes towards your mortgage payment. After a few years, most homes will go up in value. This is called appreciation and I will explain more about it later. Because of today's market, it's more common for a home to rise in price versus a decline in value.
In five years the home you purchased for $100,000 may be sold for a considerable amount more. Of course, location, condition, and a willing buyer are necessary for this to work, but with the right combination, a home can increase quite a bit. $150,000 would be a fair rise in value over a few years. If your home does appreciate, as most do, the extra money you sell it for comes straight back to you.
---
Did You Know?

51% of women live alone in the United States and more and more are entering the world of real estate.
---
Other factors also add into how much you can make off the sale of your first home. For instance, all of the payments you've made on your mortgage will add up to depreciate the amount owed to the bank. Although in the first half of a mortgage the primary payments are made towards interest (a typical mortgage is 30 years), a portion of your principal will be affected. Even if as little as $90 each month goes towards your principal balance, after five years the amount paid on your balance is $5400.
Confused about what all of this means? If you are 22 years old and purchase a home for $100,000, you can expect a monthly payment around $800 on your mortgage. By the time you are 27, you may decide to sell your place.
With a $50,000 appreciation and the $5400 off your principle, your money ends up looking like this. $150,000 is paid to you by the new buyer. With the $5400 off your principle, you still owe the bank $94,600. With one payment you may pay off that sum and you'll be left with $55,400.
Certainly, more than you've paid on your mortgage in five years, and a large chunk of money. This is the main reason why early entry into real estate is so important. The amount you can make and receive for your home in your early years will greatly influence how much you can afford later in life.
With the $55,400 you can afford a large down payment on a new home, or you can invest some of the money in retirement plans, stock options, high-yield savings accounts or a college savings plan. In any case, simply owning a home for a few years will help you out a ton just a little way down the road.
That all seems great, but you can't afford a down payment now and you really don't have a ton of extra cash coming in. The good news is, unless your down payment is rather sizable, having one or not will barely affect your monthly payments.
---
Must Read:
---
For example, a 15% down payment on a $100,000 home will only drop your monthly payments down $100 per month. Certainly that sounds nice, however, think of the difference in these terms. 15% of $100,000 is $15,000. How long will it take you to save that amount of money, simply in order to lower your monthly payment by $100?
When it comes to your first home, worry more about how much you can afford each month and not at all for a down payment. Only a large amount will affect your payments in a noticeable way and it's much easier to earn money on your home than it is to save it for one later.
Now that you have a basic understanding of mortgages and just how much they can help a person financially, it's time to start looking for a home. This is the fun part and definitely, the part most worth buying a home for. Unlike with apartments, buying a home means you can be as picky as you want to be and no one will blame you for it.
The First Step Is to Find a Realtor
Realtors are licensed professionals who know the real estate business inside and out. I recommend finding a Realtor with whom you can relate. Someone closer in age to yourself than your parents and if you can find one, another single successful woman such as yourself is a good place to start.
Browse the Realtor field. Meet with a few to discuss what your goals and desires for a new home are. It's important to remember that as a buyer, you don't have to pay a Realtor. They are paid by the seller when you buy a home. Realtors have a variety of tools that make viewing and buying a home go smoothly. There's really no good reason not to use one if you're a buyer.
When you're comfortable with a Realtor, go ahead and set up a routine with that person. As a first-time home buyer, it's essential that you see everything you can to fully understand what real estate is all about and everything that's offered. Try to set a weekly or bi-weekly appointment with your Realtor to get out and check places out.
Start doing your homework now. Check out different homes on the Internet. The Multiple Listing Services or MLS is a service that lists and assigns a specific identification number to every home on the market, regardless of how or where it is listed. Browse through different listings in your price range and get a feel for what's available.
A good way to start with your Realtor is simply to pick a neighborhood and find a variety of listings to view in the area. Don't be afraid to choose places above your price range or in a neighborhood you've never been to. Viewing a home is not a contract to buy it and a new buyer must see as many as they can. Hopefully, with a Realtor you can relate to, this will be understood and he or she will have no problem taking you to as many available homes as you'd like.
For many single girls, including myself, living and owning their own home can seem a daunting task. When considering purchasing a home for the first time, remember that a home does not have to be a one-family dwelling. Condominiums and townhomes can be the perfect solution.
They're often more affordable as well and offer a varying range of amenities that single-family homes may not. Many condominiums, for example, are converted apartment buildings. They've been renovated and updated in most cases, providing up-to-date conveniences in a setting that many young people find comforting. If you'd rather not live in a house by yourself, check the box for multiple-family dwellings on your search engine and see what's available around you.
For safety purposes, a condo may be your best bet. Living in an above-ground level unit decreases your risk of burglary and robbery greatly and the majority of condo complexes offer more than one floor to choose from. Many, because of their apartment-like construction, have secured front doors with buzzer systems and some may even offer a doorman or security desk check-in.
Other conveniences found in condominiums involve monthly utilities and maintenance. Most have a monthly association fee that covers heat, water, gas, trash, sewage, snow removal, indoor and outdoor maintenance and repairs.
Instead of paying all of these things separately or trying to set up all of the various services, the owner simply pays a flat monthly fee and everything listed above is paid for and taken care of by the association, leaving only electricity and things like cable or Internet left for the individual to purchase.
Some associations include these items as well in their association fees, leaving the owner with only two household bills a month; their mortgage and their association dues.
Should something happen in your home that requires repair or attention, it may be a challenge to find a handyman or the proper tools to fix the problem. Because most condo associations have a repair person on contract, there's an easy way to get your repairs taken care of.
The maintenance person is often in the building daily if not weekly. You can get to know that person on a friendly basis and your association will provide his or her contact information as well. Instead of worrying about how to fix a problem, you've got a repair person on hand that hopefully, you know and trust.
This can be a huge factor for many young women who don't feel comfortable with tools or attempting to make repairs themselves. If something serious needs repair like electrical issues, your maintenance person will most likely be able to refer you to a good electrician.
The network around you in a condominium or townhome not only provides safety and the comfort of living that most young adults are used to, but also provides a network of professionals that you may need at some point.
---
Must Read:
---
Whether you decide on a single-family home or a condominium/townhome, it's important to buy a home you're comfortable with. Both your personal safety and your personal comfort should be your topmost priorities.
Try not to opt for a home that requires many repairs simply because it costs less. It may end up costing, even more, to fix it and depending on the severity of the problems, your patience may wear down. Also, remember that if you want to make money off of your investment, you'll need to buy a home that someone else will also wish to live in later.
Your Realtor can show you how much a home sold for the last time it was on the market, how long it has been on the market currently, and whether or not the current price has been reduced from the original listing price.
Typically, you want to buy a home that has increased in price since its last sale. This is what happens when a home has appreciated in value. If a home isn't appreciating or is having trouble selling, don't rule it out, but make sure to find out why. If it simply needs cosmetic repairs like painting, cleaning and a few minor replacements, go ahead and consider it. If it's in a questionable location and requires a lot of work, cross it off your list.
Also, if the current seller purchased the home not long ago, find out why they're ready to sell again so soon. For most buyers, it's easy to discover what really matters to you and what you really like or don't like in a home. Start looking now and deciding what your home absolutely must have and what it absolutely can not.
Hardwood floors, a spacious kitchen, updated appliances, central air conditioning, covered parking, plush carpeting, two bathrooms, walk-in closets, and a whole other host of things can be found in many homes and for some, they're essential. For others, they're not needed at all.
Let Your Realtor Know
Once you've found a home that you can both afford and will love to live in, let your Realtor know. Go on a second or third viewing of the location and bring a friend or relative along to investigate the place. Make note of anything that needs to be repaired before you leave.
Your Realtor will write up an offer for the home and it should include a list of things that must be fixed before you take ownership of it. Don't be afraid to make an offer below the listed price. Many will be happy to sell even if it's a little less than what they asked for.
Talk to your Realtor and make sure you understand what closing costs, points, and escrow are. Escrow, the most elusive of these, is just a special fund your mortgage lender sets aside from your monthly payments in order to pay your annual property taxes. Be sure to understand how everything will be paid for and how it will all work out in the end before you sign anything.
Don't be afraid to ask questions and make sure you fully understand the process. Finally, be prepared to write a check for earnest money. This is money that's given to the seller as a promise that your offer is serious and that you intend to purchase the home. The earnest money is returned to you once you're approved for a mortgage, but they will cash the check so you'll need to have the funds available. Usually, between $500 and $1000 is considered an appropriate amount for the earnest money.
Finally, enjoy yourself. Buying a new home is exciting and can be a lot of fun. Some homes are horrible to even consider, but some are absolute gems that are easy to picture as your own. In your own home, you get to decide where everything goes, what everything looks like, and just exactly how you want to decorate. Picking out paint can even be exciting. By starting young, your modest first home can help you on your way to the larger, more desirous home that you'll want sooner than you'll think