Common Home Improvement Mistakes — I love watching home improvement shows. In fact, I'm hooked on them. They get everything done within a one-half hour. The results always beautiful and appear effortless. This is where reality TV differs greatly from real life.
I'm a single woman with a lot of enthusiasm, ideas and no skills so I must rely on others to make my dreams come true. I've bungled more stuff than I care to admit in remodeling three homes. Each one taught me it's never what you think it's going to be and no matter who you are there's always something you don't know.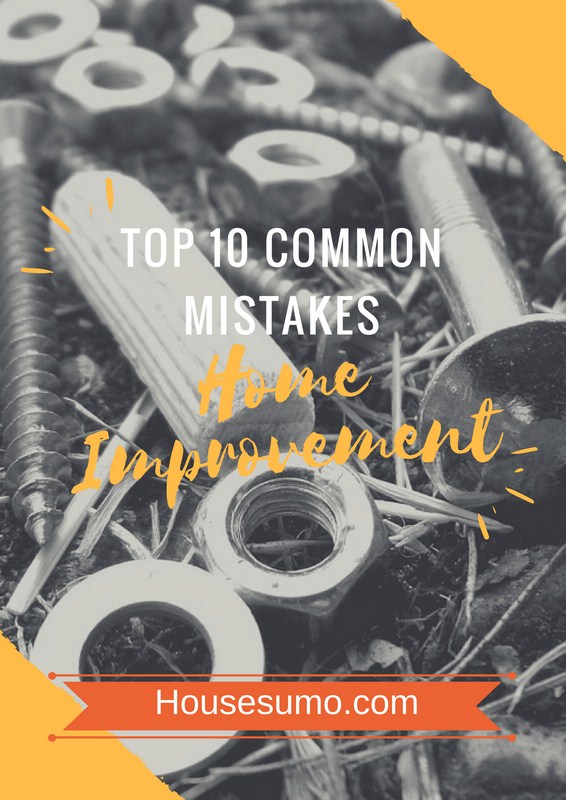 Top 10 Common Mistakes From a Home Improvement Junkie
Take it from an amateur – it usually ends up hurting your pocketbook worse than your ego. Whether it's home landscaping, the bathroom, kitchen, driveway, windows, or garage, these top 10 tips will help you avoid failure and realize success.
---
Takeaways

Home Improvement Mistakes to Avoid
Single Woman's Nest Building Blunders
Doing-It-Yourself May Cost More in the Long Run
---
Difference Between a Budget and Being Cheap
We'd all like to do things for a bargain. The reality is goods and services cost money. Home improvement, when managed with appropriate financing, can be satisfying and give you a good return on your investment.
Drawing up a budget using cost estimators will give you a reality check and a barometer for your spending. Stay on track and be accountable. Keep receipts, they come in handy at tax time. Don't buy the best of everything-your dollar won't stretch as far as it could be using a little restraint. This is just cheap in another disguise.
Hiring a Friend to Do the Work
Not the best idea unless they are a licensed professional in that field. Even then, expecting someone to work for a six pack instead of a paycheck begs the adage: "You get what you pay for."
Hiring a professional that carries their own insurance can keep you out of court and keep your friends. If you hire a company, when someone calls in sick they have someone else to send out. I learned this the hard way when a friend called in sick for six weeks while I was paying the mortgage on an empty house. We're not friends anymore.
---
Did You Know?

Hiring a friend may be the mistake you make in home improvement. Working for a six pack is not the same as working for a paycheck.
---
Evaluating Bang for the Buck
Installing marble countertops in the kitchen while the main bathroom has broken tiles and a toilet that only flushes by reaching in and pulling the chain may not be the investment for your home improvement dollars. If you only have so much cash to go around, look at the house as a total picture, not just one room. Then make decisions based on overall return on your investment.
Never Finishing the Project
Nothing screams procrastinator louder than unfinished home improvement projects. Manage the project from start to finish: have intermediate project goals which lead up to the final finish.
Taking pictures, having drawings, and making a home improvement storyboard or album helps you visually remember where you came from and where you are going. When you're done why not have a ribbon-cutting ceremony and barbecue for friends—now that's bragging rights!
Must Read:
Get Multiple Estimates and References
Write down a short list of contractors, have them come look at your projects and give you written estimates with drawings and a list of references. Check out their previous work and their references. It will give you peace of mind.
Contractors are not minded readers. You must have a meeting of the minds before someone can fulfill your dream. Keep on top of their work with frequent supervisory checks and conversations. If your communication breaks down you are marching toward disaster.
P.S.: Screaming in the face of your general contractor rarely motivates them to excellence.
Permits
You don't want to find out when you go to list your home for sale that your improvements were done without permits and the work has to be undone or redone to come up to code. It could not only be embarrassing but expensive. Also, an inspection/inspector can keep you on track and informed.
Timing
Take into account when you want to do the project. The middle of winter is not the best time to replace a roof. Yet, replacing a roof during a contractor's busiest time is not the best choice either. Talking to your professional and working out a schedule when you can help him out the most may end up helping you the most.
Not Planning for the Unexpected
Running out of materials, foundation problems, wood rot, wiring problems, and more are just a few of the unexpected roadblocks in home improvement. A contingency plan is always prudent.
Unraveling an Older Home
Lead Paint, asbestos, mold, pests, and much more may rear its ugly head when you start peeling back the layers of an older home. You may need special permits and special contractors to deal with these situations. These codes and laws are not there to annoy you but protect you and your family from deleterious health effects. Consult with neighbors who have similar houses to yours and ask what experiences they had.
Must Read:
Estimating the Value of Your Improvements and Property
Taste is subjective: pink and green wallpaper may be just your cup of tea but may make someone else cringe. If you plan on never moving, go buck wild. Otherwise, keep subsequent homeowners in mind. You can always go crazy with accessories in color instead of your walls.
Neutral and classic colors, countertops, wood accents, appliances, and fixtures always do best over time. Do not over improve for your neighborhood. Your house may be great but if you live next door to the Bump-uses, their property values inherently affect yours.
One last thing, a very well-stocked first aid kit, cell phone, and lots of water are always helpful. Good luck and good home improvement.
---
References
Top 10 Do It Yourself Home Improvement Mistakes | The Balance
Top 10 Most Expensive Home Improvement Mistakes | The Money Pit
Renovation Mistakes | HGTV
Home Renovation Mistakes to Absolutely Avoid | HomeAdvisor