Selling your home without a realtor takes a lot of work and time, but could save you more in the end. Are you up for the challenge?
With home prices tanking in many areas, it can be hard or even impossible to give up 7% of your home value to an agent when you sell. More and more For Sale by Owner signs are popping up and you may be contemplating putting your own up.
Selling Your Home Without a Realtor has Benefits, Are You Up for the Challenge?
While it takes a lot more work, knowledge and time to sell your home yourself, the 7% in commission savings may be well worth it. Below are some of the benefits you gain by selling your home without the help of a realtor.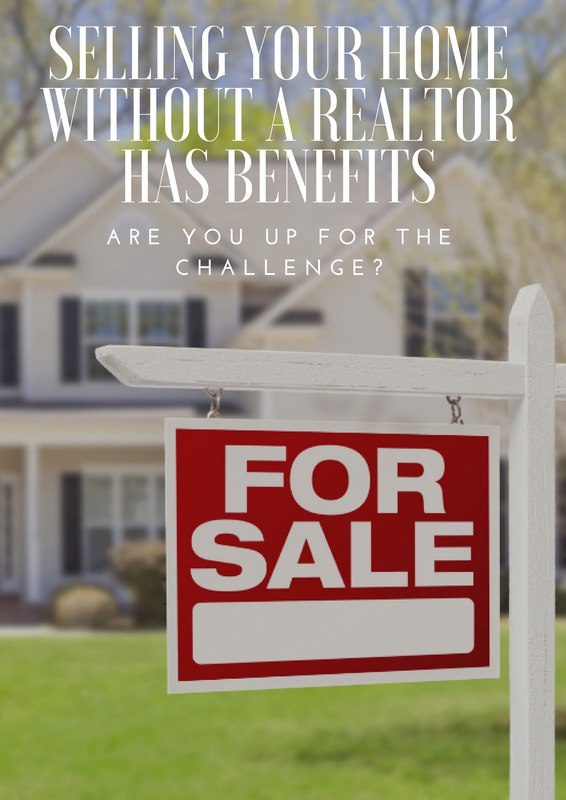 You Gain More Equity…
If you live in an area that has taken a serious hit as the housing market has fallen, you understand that any bit of equity you can squeeze out of your home is important. Consider this. If you sell your home for $200,000, $12,000 goes to the realtors. On a $400,000 home, $24,000 goes to the realtors. If you are already making big reductions to get your house sold, $12,000 or $24,000 in your pocket becomes really important to you.
Realtors do play an important role in our market, and they are valuable. But if you are willing to learn and become educated on selling, marketing, and the documentation process you can do well selling your home on your own.
There are people who get turned off by a home being sold by owner. But if you arm yourself with knowledge and the proper team, the benefits of selling your home and the way you present yourself to buyers shouldn't detract them.
Backing yourself with a real estate attorney or a mortgage or title company to assist with paperwork can also help improve your credibility and save you the headache of paperwork. Often, agents don't have much expertise in this area. Half the time our agents (although they should have) never came to the closing. We sat in the office with the title company who prepared almost every aspect of our legal documents.
We have even fought with our agent at closing over surprise agent fee upgrades that showed up at the time of closing in our forms. If you are a die-hard do-it-yourselfer, many office supply stores sell For Sale by Owner Kits that include all the legal documentation forms. Bookstores also sell these forms.
You Can Gain Exposure Just Like Real Estate Agents Do Without Paying Agent Fees…
The Internet is the first stop when listing your home. In fact, over 70% of buyers turn to the internet when buying a home. The most important place to advertise is on the MLS. MLS or Multiple Listing Service is the comprehensive home information on a property for sale shared among real estate professionals and other home buying and selling professionals.
Approximately 90% of homes are sold through the MLS. Listing your home on MLS is the most important place to advertise and the single most spot to gain the most exposure when selling. You can gain access and list your home on the MLS service; however, most people viewing the MLS will be real estate agents and brokers and may not want to deal directly with a seller.
You may also need to be willing to pay a buyers agent fee if you list on MLS as most of the people accessing MLS will be agents and brokers working for a buyer. Although you will pay roughly 3% for a buyer's agent, you will save 3-4% off the selling agent's fees.
Gaining access to MLS has gotten easier for non real estate professionals in recent years. However, every geographical area has its own MLS service and its own set of rules regarding the listing. You will need to call your local MLS area and find out if there are any laws or restrictions to gaining access if you are a non-realtor. Many states have begun allowing access to this service for those willing to pay.
Expect to pay about $300 to join MLS. Brokers with access to the MLS may also list your home and give you limited access to the MLS by charging a fee of anywhere from $199-399.
It can be well worth your time as your home will be exposed two different ways: by buyers actively searching on their own and finding your listing on public MLS sites (these sites offer limited information on your home being sold), and through agents and those professionals with access to the full MLS listings. While MLS is the maximum way to gain exposure on your property, it isn't the only way.
You Pick the Hours…
Nothing was more frustrating to me that when our house was actively on the market and being shown. Almost every day one or two people would just knock, saying they were from out of the area and just wanted to take a quick peek as they peered over your shoulder into your home, or agents stopping by with clients claiming they had cleared a walk-through with our agent. Or, random agents just in the area previewing properties for clients.
I had a premature baby at the time and had asked our agent to please call us before sending any agents or buyers to the property. It was listed all over the MLS. How embarrassing to walk into a home you want to purchase with a screaming child or do a walk through with post-diaper change fumes?
The great thing about selling your own house is being able to set the limits. You will need to be available to take calls, answer emails, and to show the property. Having one or two nights a week you allow the house to be shown probably won't get your house sold fast.
But, you can choose to negotiate someone coming later or earlier in the evening if you have plans, setting off limit times to show the house if you have young children who are napping, and getting to have the choice of who is walking through your home. You will still find it to be a headache to show your home, but at least you can be a little pickier on the times and who comes through your doors.
Must Read:
You Get to Assist Buyers…
One of the great things, when we were selling some of our rental properties, was the ability to be able to talk to buyers and help them through the buying process through our own experiences. One condo we had was located in a heavy college student area where there were many young married couples.
It was a lot of fun to be able to help them locate mortgage officers who assist them with mortgage options. Many times we had a young couple who walked through our property saying they 'were just looking' because they didn't think they could ever afford to buy.
It was fun to be able to help them see that owning a condo was about the same as rent and they now had equity and credit they were building for down the road! It was neat to see couples who were discouraged to become excited as you told them about loan options that made it possible to be able to afford and move into a home.
Sometimes, couples had agents who never told them some of the information we were able to mention to them because their agents went with specific mortgage companies who may not have approved them. It was great to be able to steer them towards a mortgage officer who could help them and answer the same questions and address the same frustrations we had years before.
You Choose Your Team…
Another benefit of selling on your own is being able to choose. You can choose to do your own paperwork if you wish. Legal documentation kits are sold at local office supply stores, or at bookstores. There are also books that will help you set timelines and give step by step walkthroughs of the selling process.
However, if you choose not to do your own paperwork, you get to choose who your team is. You can choose your mortgage officer, the title company, and more. You can make recommendations to your buyers if they need assistance. And you can offer them the chance to make some decisions in the buying and selling process.
You won't need to go to a set title company that your agent chooses. It can be a good experience and a chance to use those professionals who have assisted you before and who in your opinion have done the most professional and accurate job in the past.
You Get to Market Your Home The Way You Want…
I gasped when I saw some of the pictures our agent had posted on our flyer and on MLS. Not that I was trying to hide anything, but there were better features to our home than the ornate lighting we had in our hallway. I wanted a picture of our kitchen with new granite countertops, a picture of the mountain view from the huge picture window (a rarity in condos).
Including pictures of your kitchen, bathrooms, bedrooms, living and/or family room and land will be some of the biggest make or breaks to getting a buyer into your home. At times I search MLS and just cringe. Posted are pictures of master bedrooms with queen sized beds squeezed in them. Make your home look appealing to the buyer! Large, spacious, light, open areas are attractive and appealing to buyers in pictures and will get them in your door to look.
From there on, they can decide if the less attractive rooms in your house are something they can fix or live with. The pictures of ornate vine stenciling and cows stamped over your kitchen walls with your spoon collection cabinets consuming every inch of what was once clear and open wall space may not be appealing to all buyers.
Remember, you're trying to attract a large variety of buyers to your home, not just one specific type of buyer. It will take a long time to find one specific type of buyer to your home. And, even though the home may be sentimental to you, it won't ever be in the same way to the next buyer.
You Choose the Buyer…
You get the opportunity to interview and choose the buyer of your next home. However, be open-minded. As I drive through neighborhoods looking for rental properties, I love picking up For Sale by Owner flyers. I can often spot a harder sell right off the bat. Stating firm pricing in your flyer probably doesn't need to go there.
Any sale is negotiable, and you just turned off potential buyers. Even if you can't budge on pricing, or feel you priced your home so low that a buyer should be willing to pay that price. Wait until the offer comes in. You can always negotiate even a few hundred dollars to make the buyer feel they got a good deal.
The other big laugh I often get is the seller who writes a novel on their home, telling me in detail the fixes they did on the home and giving me a room by room list of every upgrade they have done. They usually lose me by the time I read the detailed list of the new upgrades on the front porch and entrance.
If you can't write, or often write too much, enlist someone who can! No buyer is going to need to know every single upgrade ever done in your home. And some upgrades you feel are great someone else will read and find it is just going to be a nuisance.
For instance, one home I walked into had the ceilings in the basement of his home replaced with (no kidding) school ceiling tile. You know, the kind you could climb up on your desk and poke a pencil with, and the tile lifted up and you could see inside to all the wiring and plumbing? This seller did that and listed it on his flyer.
It cost him a fortune to do, and he thought it was a beneficial, practical upgrade. It was much easier to run your home theater wiring, computer cables, and TV cables, and fix the broken plumbing. Never mind the chance to hear every toilet in the house flush, the lack of insulation, and the disgusting bugs that were making their home in the basement.
List of major upgrades done. New windows, furnace, central air swap, carpeting, paint, countertops, cabinets, and flooring are great renovations to add to your flyer. Those are the major things that will attract buyers. Not, new carpet, crown molding, paint, curtains, fireplace mantle, built-in bookshelves and wainscot—and that's just the living room!
Choosing the buyer is probably the most fun part of the job if you aren't too strict on exactly who you will allow buying your home. If your home has too much sentimental value to you and you find it is too stressful to make a decision or you are turning away adequate buyers based on your behavior, you should probably take yourself out of choosing the next buyer.
No one will ever hold the sentimental value you have in your home the same way you did. Your job is to choose a qualified buyer. You can go further and choose one who will fit the neighborhood, but if you make your buyer aware of the style of the neighborhood and they still choose to buy, that is their choice. While you can be biased to a point on who you want to have to buy your home, you will also turn away many great potential buyers if you make your qualification list to strict.
External Links: "Selling Your Home Without a Realtor"