Having a balcony can offer a little escape from indoor life.
Especially in times such as these, were staying at home is encouraged, the balcony can be an oasis. If you are thinking of changing up your balcony flooring, however, there are more than a few things to take into consideration.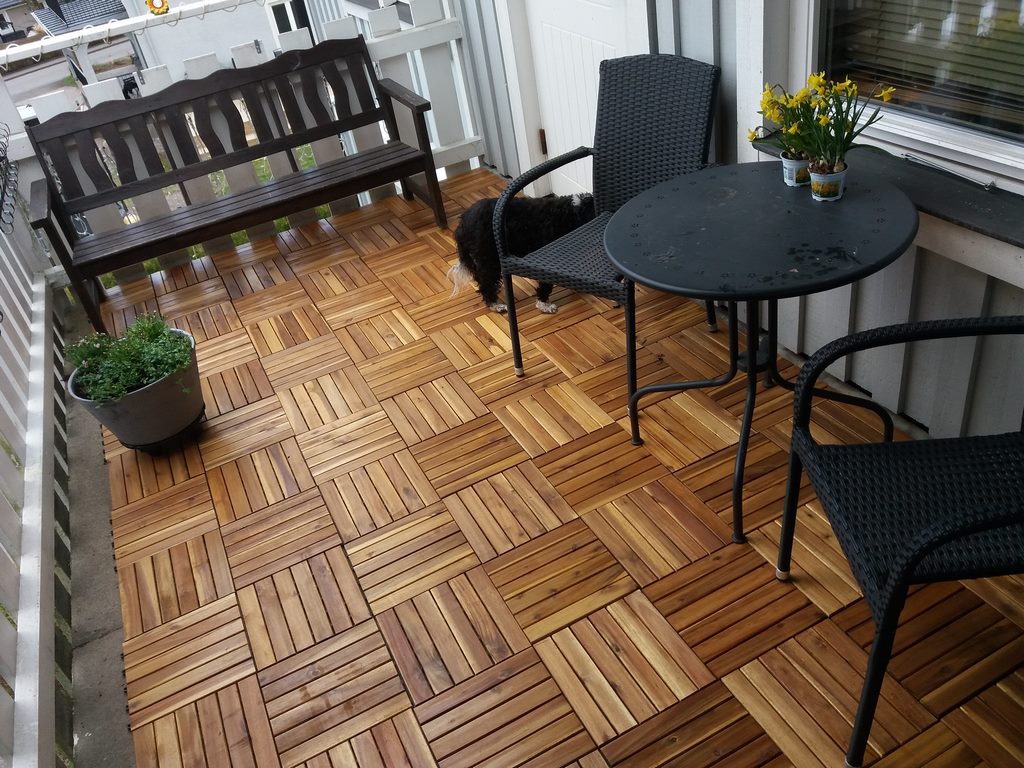 Before you go making changes, you want to stop and think about more than what kind of surface you want to have installed.
When you take the time to plan the entire endeavor out, you can have the kind of balcony that you can be proud to spend time on. Here are seven tips that can help you decide what to do when re-flooring your balcony.
1. Choose the Type of Railing
If you own the space, you can transform your balcony by first deciding what kind of railing you want. The type of railing you choose impacts your flooring in more ways than one. Some are completely unobtrusive while others use poles that require working around.
Choose among the options for the surface, the railing, the membrane, and the parapet. You want to go with something that is stylish but durable, able to hold up in whatever climate you are located in.
Certain styles facilitate the need for certain types of materials, so keep that in mind during the planning process.
2. Structural or Interlocking?
When it comes to tiles, no matter what material you use, you are going to be given the option between interlocking and structural tiles.
What is the difference between them? Interlocking tiles are just that: they have sided with "sharp feet" that can lock together on all sides. There are also structural tiles that are thicker and able to hold up to the greater activity.
You can also choose the style that you want in the type of material that you want. Be it plastic, ceramic, concrete, wood, or something else entirely, you can customize your balcony flooring to look precisely as you want it to look.
The type of tile that you choose can depend on the space in question. For a longer, narrower balcony, you may want to go with tiles that are longer and thinner in nature. Of course, at the end of the day, it is all up to you.
---
Read Also:
---
3. Quality First
When choosing tiles or other types of flooring for your balcony, it can be all too easy to go with the cheapest option available. But instead of saving a few dollars now, why not get the superior quality that will last?
The right material should be thoroughly loaded and fire tested, ensuring that it can hold up over time. The right material, while durable, should also meet your aesthetic needs. With a wide array of colors and styles available, you will be able to find a look for your balcony that fits the best.
Moreover, you can even find some flooring options that have built-in grating to provide extra stability and balance over the long term. That is the kind of support that you should come to expect from a proper grating.
4. Warranty Considerations
One of those areas that don't get talked about enough when it comes to flooring options is the warranty. Consider the warranty on the materials that you choose. Maybe you buy tiles that only have a two-year warranty and they happen to last four years.
But paying a little extra and getting the tiles that last 10 years means not having the space to replace them if those four years come and go and you need new ones.
Having insurance is essential, especially when things can and will go wrong over time. Having the peace of mind in knowing that any imperfect or broken tiles can be replaced is a huge weight off of your shoulders.
5. Professional Installers
It can be all too easy to assume that you can save a ton of time by simply doing the job yourself. While there may be savings there to be had, the reason why something looks as if it was done by an amateur is that it is likely being done by an amateur.
When you have a professional perform the installation, you get the peace of mind in knowing that someone who does this for a living is on the job. It is the peace of mind that we all need to feel and rarely do we actually get.
Not only that, but you can feel confident that the installation will keep any potential issues at bay that can come as a result of an improper installation.
6. Cost
For the most part, people tend to skew towards cheaper when they are buying material. That is understandable considering we are all on budget. When flooring is expensive, it can seriously cut into your budget and limit what other changes you may be able to mind.
While you don't necessarily have to go for the most expensive option that you find, don't cheap out either.
Go with something that has proven quality. Sure, it may cost a little more upfront but you can ensure that you aren't paying for it down the line with cheap flooring materials. Something in the mid-range is great because it doesn't look cheap and it's quite easy to get a greater level of performance out of it.
7. Consider the Installer
Finally, before you have any flooring installed, consider who will be doing the job. Make sure that you do your homework and vet the company before you agree to have them do any work.
Check out their reviews, ask anyone you know who has used them, and find out what their performance history is.
When you have a better idea about the installer, you get the peace of mind that you deserve knowing the job was done the right way. Plus, you likely get a warranty in which they will cover damages if anything should happen to your patio.