A balcony is a signature trademark of a condo. If you are fortunate enough to have a condo balcony, that adds a spacious outdoor room to your unit.
With some creative vision, the balcony can be crafted and personalized to become the best hangout spot in your unit.
Now, we know what you're thinking. Some condo balconies are pretty tight, narrow, and small.
Even so, you can still make something extraordinary out of a small balcony. The secret trick is to pick and choose what furnishings and décor go where. Pin down the flow of the space, maximize the area, and you're set!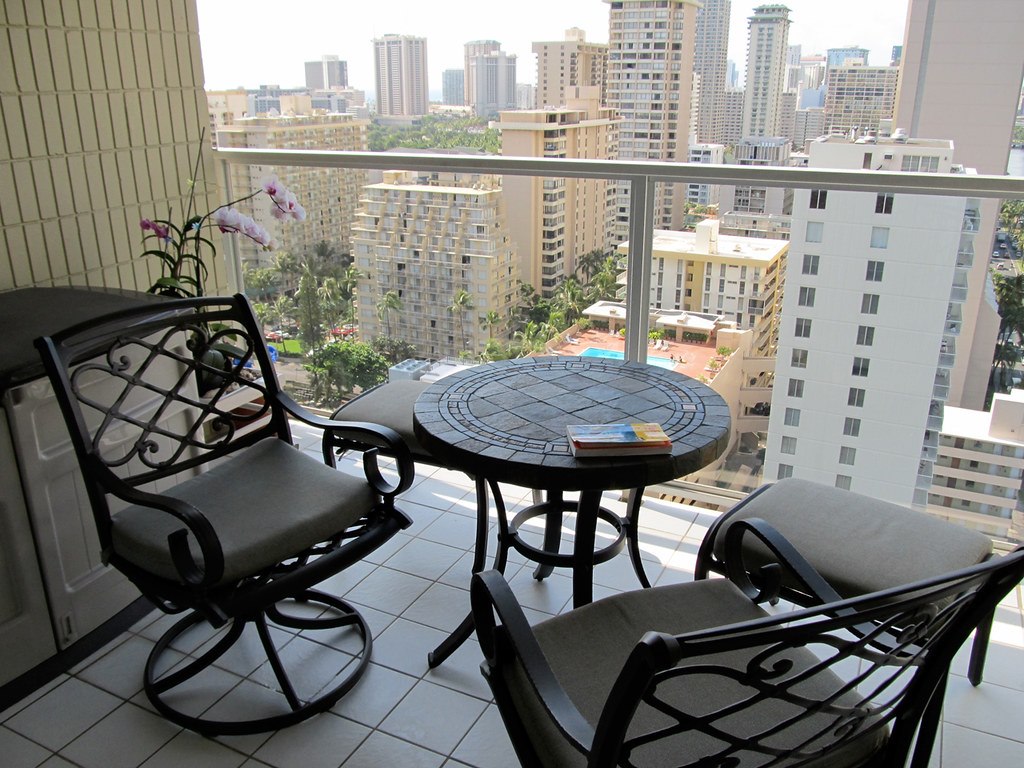 Take this private outdoor space and turn it into a room uniquely yours. Here is how to decorate a condo balcony.
Purpose & Theme
There's only so much space on a balcony. You want to decorate the condo based on its purpose.
Some may choose to use this space as a BBQ area, while others may want it to be their private cozy hangout spot.
Consider carefully what is the primary purpose of your condo balcony.
In addition to the purpose, you also need to define the theme of the balcony. A lot of times, mixing and matching balcony décor styles does not always work.
Sticking with a predefined décor theme is the best option. The tone is usually set by how the dining area or chair-and-table setup looks.
Start with your biggest furnishings and then accessorize rather than the other way around.
Scale & Proportions
The scale of your balcony should match the décor and furniture that get put in. When too much is put in, a balcony can feel very overwhelming.
It can also plain be hard to walk around. In addition to putting in too much furniture, another issue is the shape.
Don't go for any furniture design that is too abstract. Keep everything streamlined with clear, easy-to-move-around, and low-profile décor.
If you have a large condo balcony, treat it like you would an open-concept space indoors by breaking it up into multiple areas.
This can be a cooking area, a food or beverage prep area, or a small table and chair set.
By thematically dividing up a condo balcony, you avoid the perception of random décor mixing.
---
Read Also:
---
Flooring
The best way to polish up a condo balcony is to redo the floors. A routine concrete balcony floor is impersonal.
Instead, use this opportunity to spruce up how the flooring looks. There are many great-looking condo balcony flooring options, such as tile, rubber, rugs, carpet, or wooden tiles.
The balcony flooring will heighten the appeal of this area without taking up any space. It's a fun and easy way to decorate a condo balcony quickly.
Another popular way to decorate a condo balcony is to layer your flooring. This is done by first installing a proper balcony floor that sits on top of the concrete build.
From there, you use carpeting to layout on top of the main flooring. This visual stimulation can make a balcony look more interesting, giving it a different feel.
Should you do this, be sure to use a proper rug as you do not want the risk of a slip and fall.
Furniture & Accessories
When it comes to balcony furniture, you can't put just anything outside and expect it to survive long-term.
Some furniture materials just won't endure the harsh weather conditions. Instead, search out décor built from materials that can withstand the rain, sun, wind, and snow.
Aluminum, resin wicker, plastic, teak, and wrought iron are all great choices. Treated wood also works.
Also, find some weatherproof fabrics to dress up and make any seating even cozier.
As comfortable as your couches and outdoor sectionals are, they can be rendered even more welcoming with the right mix of throws, pillows, and fabric.
You're also more likely to remain outside with these wrapped around you on those slightly colder summer nights.
Side Table
A side table station is adjustable to the size of your balcony. It's where you can store drinks, beverages, food, and any essentials you don't want to be running inside for.
Some turn this into a drinks-making station, but it can have versatile use as well.
Ideally, you will want a side table that comes with a lid, easily converted into hidden storage.
Mounts & Hangers
In a condo balcony, you are really limited in width. You likely have some vertical décor space to play with, however.
Have a close look if there's a way to mount accessories against your glass, privacy wall, or balcony railing.
If so, you have a lot of opportunities to put wall art, decals, patterns, fabric, hanging planters, and other condo balcony accessories.
Lighting
Every condo balcony comes with a light pre-installed, but those are often bulky, bright, and unbecoming.
Try for lighting that comes with more style and glamor. Some popular lighting options include candles, lanterns, LED string lights, or a freestanding lamp.
You may also choose railing lights or lights that mount into a wall. There are so many creative, ambient ways to light a balcony.
Best of all, none of these lighting options are particularly expensive either.
Gardening
Gardening is one of the most popular trends among condo owners. Starting a condo balcony doesn't take much work.
If you like, you can even do a single plant in the garden, or go the artificial route.
With a garden, you have the chance to grow beautiful flowers, herbs, vegetables, and more. It really illuminates a balcony and fills the space with positive vibes.
Privacy
A lot of condo balconies don't exactly prioritize privacy. Some balconies may have a privacy wall, but they tend to be quite bland.
Although you can't totally block out the neighbors, many opportunities exist on how to decorate to prioritize privacy.
For the best way to increase privacy, try adding tall plants against the railing or trails of vines and leaves.
You may also decorate with outdoor curtains, which are stylish ways to heighten your balcony's privacy.