When it comes to hiring a pressure washing company, it's essential to choose a reliable and experienced provider. Pressure washing is a specialized service that requires skilled professionals to ensure effective and safe cleaning of your property.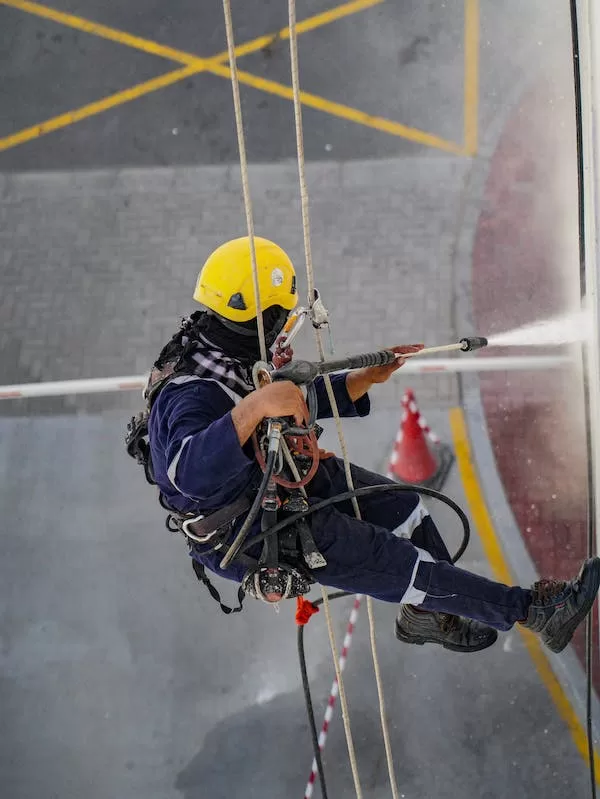 Asking the right questions before making a decision can help you find the best pressure-washing company for your needs. In this article, we will discuss ten important questions to ask before hiring a pressure washing company.
1. Are You Licensed and Insured?
Before hiring any service provider, it's crucial to ensure they are licensed and insured. A reputable pressure washing company should hold the necessary licenses and certifications to operate legally. Additionally, they should have liability insurance and workers' compensation coverage to protect them from liability in case of accidents or property damage during the cleaning process.
2. How Much Experience Do You Have in Pressure Washing?
Experience is a key factor in determining the expertise and reliability of a pressure washing company. Inquire about the company's years of experience in the industry.
Established companies with a long track record are more likely to have the knowledge and skills to handle different surfaces, stains, and cleaning challenges effectively.
3. What Equipment and Cleaning Methods Do You Use?
Ask the pressure washing company about the equipment and cleaning methods they employ. Professional-grade equipment, such as high-pressure washers and appropriate nozzles, ensures efficient and thorough cleaning.
Inquire if they use environmentally friendly cleaning solutions to minimize the impact on the surroundings. Understanding their approach will help you gauge their commitment to quality and sustainability.
---
Read Also:
---
4. Can You Provide References or Customer Testimonials?
Request references or customer testimonials from previous clients. A reputable pressure washing company will be happy to provide references that showcase their satisfied customers.
Reach out to these references to inquire about their experience with the company, the quality of the cleaning results, and their overall satisfaction. This feedback will help you gain insights into the company's reliability and professionalism.
5. Do You Offer a Guarantee for Your Services?
A reliable pressure washing company should stand behind their work and offer a satisfaction guarantee. Inquire about their policy regarding customer satisfaction and any warranties they provide.
A guarantee demonstrates the company's commitment to delivering quality results and ensures that they are willing to address any issues that may arise after the cleaning process.
6. How Do You Ensure the Safety of My Property?
Safety should be a top priority for any pressure washing company. Ask about the safety measures they have in place to protect your property during the cleaning process.
This includes precautions to prevent damage to surfaces, plants, and other valuable elements around your property. A professional company will have a systematic approach to ensure the safety of your property throughout the cleaning process.
7. Are Your Technicians Trained and Certified?
Pressure washing requires expertise and technical knowledge to achieve optimal results. Inquire whether the technicians of the company are trained and certified in pressure washing techniques.
Trained professionals will have a better understanding of different surfaces, appropriate pressure levels, and cleaning methods. Their expertise ensures that your property is cleaned effectively and without causing any damage.
8. What Areas of The Property Do You Clean?
Clarify which areas of your property the pressure washing company covers. Whether you need the exterior walls, roof, deck, driveway, or other surfaces cleaned, ensure that the company offers services for those specific areas.
Some companies may specialize in certain types of cleaning, so it's important to confirm that they can meet your specific needs.
9. Do You Provide a Written Estimate?
Obtain a written estimate from the pressure washing company before any work begins. A detailed estimate should include a breakdown of the services to be performed, the cost, and any additional charges or fees. This will help you compare quotes from different companies and have a clear understanding of the services you will receive and the associated costs.
10. Are You a Member of Any Professional Organizations?
Membership in professional organizations or associations can indicate a company's commitment to upholding industry standards and best practices.
Inquire if the pressure washing company is a member of any relevant trade associations or organizations. Membership demonstrates their dedication to professionalism, ongoing education, and staying up-to-date with the latest industry trends and techniques.
Conclusion
Hiring a pressure washing company requires careful consideration to ensure you choose a reliable and experienced provider. By asking the right questions, you can gain valuable insights into their qualifications, expertise, and commitment to customer satisfaction.
Inquire about their licensing, insurance, experience, equipment, and cleaning methods. Request references or testimonials to assess their reputation and reliability.
Clarify their safety measures, technician training, and the areas they cover. Obtain a written estimate and inquire about any professional affiliations they may have.
By asking these ten questions, you can make an informed decision and hire a pressure-washing company that will deliver excellent results while prioritizing the safety and satisfaction of its customers.