If you're in the market for a new home, one of the choices you'll face is whether to buy a new construction home or opt for a pre-existing one.
Both options have their advantages and disadvantages, and the decision ultimately depends on your preferences, budget, and priorities.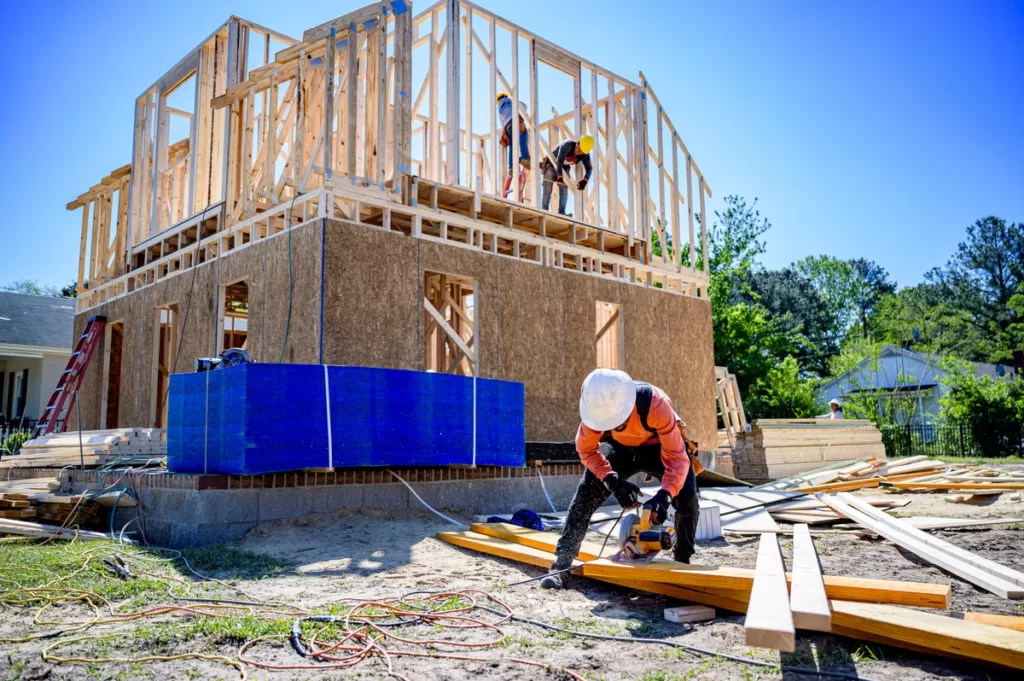 In this blog post, we'll explore the pros and cons of buying new construction homes to help you make an informed decision.
Pros of Buying New Construction Homes
Buying a new construction home can be an exciting venture, offering a range of advantages that make it an appealing choice for many homebuyers. In this section, we'll delve deeper into these pros to help you better understand why new construction homes are worth considering.
Customization
Perhaps the most enticing advantage of purchasing a new construction home is the opportunity for customization. Unlike pre-existing homes, where you must work with what's already there, new-construction homes allow you to put your personal stamp on the property.
You can often collaborate with the builder to select everything from the type of flooring and countertops to the color schemes and fixtures. This level of personalization enables you to create a space that aligns perfectly with your style, preferences, and lifestyle needs. Whether you dream of a sleek, modern kitchen or a cozy, rustic living room, you have the freedom to make it happen in a new construction home.
Energy Efficiency
In today's world, energy efficiency is a top priority for both homeowners and environmentalists. New construction homes are designed with the latest energy-efficient technologies and materials, making them more environmentally friendly and cost-effective in the long run.
These homes often come equipped with advanced insulation, double-paned windows, and energy-efficient appliances. The result? Lower utility bills and a reduced carbon footprint. So, not only do you get to enjoy a comfortable, modern living space, but you also contribute to a greener planet.
Modern Amenities
New construction homes are well-known for their modern amenities and conveniences. These homes are built with today's lifestyle in mind, offering features that cater to your comfort and convenience.
Expect to find spacious walk-in closets, en-suite bathrooms, open-concept layouts that encourage family interaction, and smart home technology that simplifies daily tasks. These modern amenities enhance your quality of life, making daily living more enjoyable and efficient.
---
Read Also :
---
Reduced Maintenance
Maintenance costs can be a significant concern for homeowners, especially in older properties. However, when you purchase a new construction home, you're essentially buying peace of mind.
Everything in your home is brand new, from the roof to the plumbing and electrical systems. This means that you won't have to worry about immediate repairs or replacements.
With modern construction materials and techniques, you can expect your home to remain in excellent condition for years with minimal maintenance. This financial relief allows you to focus your time and resources on enjoying your new home rather than constantly tending to it.
Warranty
Another notable advantage of new construction homes is the warranty offered by builders. These warranties typically cover structural defects and major systems like plumbing and electrical work for a specified period, often around 10 years.
Having this added protection means you won't be financially burdened by unforeseen issues during the initial years of homeownership. The warranty offers peace of mind and safeguards your investment, making it easier to enjoy your new home without the fear of unexpected expenses.
Safety and Building Codes
When you purchase a new construction home, you can be confident that it meets current safety standards and building codes. Modern construction practices prioritize safety and often include features such as fire-resistant materials and advanced electrical systems. Knowing that your home is designed and built with safety in mind provides an invaluable sense of security for you and your family.
Cons of Buying New Construction Homes
While new construction homes offer several enticing advantages, it's essential to consider the potential drawbacks to make an informed decision. In this section, we'll delve into the cons of buying a new construction home, allowing you to weigh them against the benefits and decide whether this option aligns with your needs and preferences.
Higher Cost
One of the most significant disadvantages of new construction homes is their typically higher cost compared to pre-existing homes in the same area. The price premium can be attributed to various factors, including the cost of land, labor, and modern materials.
If you're on a tight budget, this higher upfront cost can be a significant hurdle. It's crucial to carefully assess your financial situation and determine whether you're willing and able to invest more for the benefits that come with a new construction home.
Limited Location Options
New construction homes are commonly found in developing areas or planned subdivisions. While these neighborhoods often offer a sense of community and modern infrastructure, they may lack the charm and character of well-established areas with mature trees and unique architectural styles.
If you have a specific location in mind or prefer the atmosphere of an older, more established neighborhood, buying a new construction home might limit your options.
Delays and Unforeseen Issues
The construction process can be unpredictable, and delays are not uncommon. Factors such as adverse weather conditions, labor shortages, or unexpected construction challenges can push back your move-in date.
This can be particularly frustrating if you have a strict timeline for moving or need to coordinate the sale of your current home with your new purchase. Be prepared for the possibility of delays and have contingency plans in place to mitigate their impact on your plans.
Limited Landscaping
New construction homes typically come with minimal landscaping, if any at all. You may find yourself with a bare yard, devoid of trees, shrubs, and other greenery.
Creating the outdoor space you desire can be a time-consuming and costly endeavor, adding to the overall cost and time required to settle into your new home. It's essential to factor in landscaping expenses when budgeting for your new construction home.
Cookie-Cutter Designs
In some new construction developments, you might notice a lack of architectural diversity. Many builders follow a standardized design template to streamline the construction process and reduce costs. As a result, homes in these developments may have a similar appearance and lack individuality.
If you're looking for a unique and distinctive home with character, you may find that many new construction options fall short in this regard. It's important to visit various developments and builders to find one that aligns with your aesthetic preferences.
Unknown Community Vibe
When you move into a new construction community, it can be challenging to gauge the atmosphere and sense of community before settling in. Established neighborhoods often have well-defined personalities, social networks, and established amenities.
In contrast, new developments may still be finding their identity, and it could take time for a sense of community to develop. If you value the immediate sense of belonging that comes with an established neighborhood, buying a new construction home might not provide that same experience.
Conclusion
Buying a new construction home offers many advantages, including customization, energy efficiency, modern amenities, reduced maintenance, warranties, and adherence to current safety standards.
However, it also comes with some drawbacks, such as a higher cost, limited location options, potential delays, and a lack of landscaping and architectural diversity.
The decision to buy a new construction home or an existing one depends on your priorities, budget, and personal preferences. It's essential to weigh the pros and cons carefully and consider what matters most to you and your family.
Whether you choose a new construction home or a pre-existing one, remember that every home has its unique charm and potential to become a haven for you and your loved ones.