The benefits of being in an aesthetically-pleasing outdoor space are just so massive. Luckily, just a few carefully selected pieces can add so much functionality, elegance, and value to your exterior.
It's all about adding the right accessories that are functional yet stylish to create that luxurious garden appeal.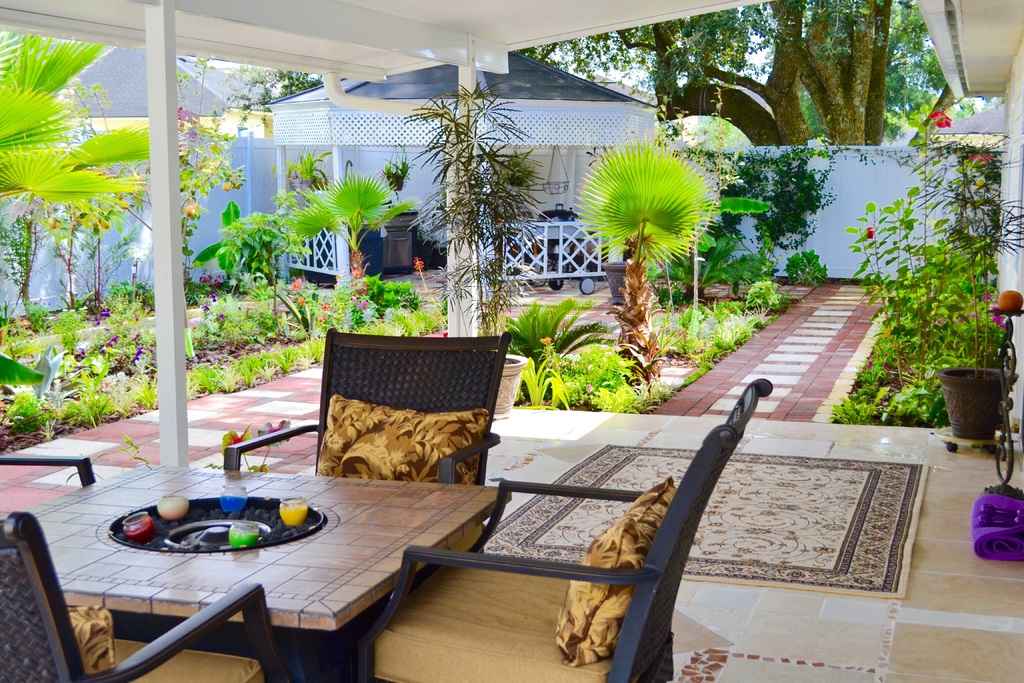 So from furniture to lighting accessories, here are some garden decor ideas for a luxed-up experience.
1. Choosing Your Tableware
Why not feel right at home in your garden? Give yourself a casual, homely feeling using petrified wood, bamboo placemats, or wicker for your table.
Nevertheless, you might want to try more delicate materials for a more luxurious feel. Think glass hurricanes. Just ensure you pick up a stylish design heavy enough at the base to ensure stability.
As for your drinkware, you can go for shatter-resistant options, especially if you'll have kids lounging with you. Fine china laid out on your table never looks odd in the outdoors.
2. Lighting Choices
While you may think that natural lighting does it all in your garden, you might desire to lounge often in the evenings and late into the night. Consider investing in high-quality, metal electrical lightings to create a lush texture that will last the years.
Remember you'll be installing the lights in the weathering-prone outdoors. Hence, it's worth going for designs of lights that are safe, with plated or verdigris finish, such as brass. That would ensure you don't lose sleep about deterioration.
But don't stop there.
Considering the cold nights, you might want to bring out your furnace, but that wouldn't be practical. Layering your outdoor lighting with gas fire pits will ensure you get varied illumination and comfortable heating so that you can enjoy the outdoor space longer into the evenings.
The gas fire pit emits no smoke, and it produces its heat itself without hardwiring, meaning you can take it indoors and outdoors at your convenience. You'll also be saving on heating costs. Additionally, you get to enjoy the flame dance as you lounge into the night.
---
Read Also:
---
3. Garden Accessories
Time to beautify the space with some not-so-functional but very decorative pieces. Large, durable garden statues and a couple of strategically placed accessories can instantly create a welcoming, plush, and stylish outdoor appeal.
But don't leave out your table. Think about how you decorate your interior and channel that concept here, too. You might want to go for smaller sculptures, vases, and trays on your coffee table. A storage box to keep your items away is also a great addition.
4. Optimizing Your On-Seat Comfort
When lounging, you want to feel wrapped up in comfy materials. Durable, soft, synthetic cushions are best for the outdoors. They should be large, foam-filled, and with machine-washable covers. If you can find those resistant to mold, mildew, and sunlight, all the better.
Regarding colors, you can choose neutral, or whatever works with the colors already in place.
Finally, add some throws to the arrangement, and you've achieved that grand luxurious outdoor space you wouldn't ever want to leave.
Final Words
As a word of caution, consider taking in some of the less weather-resistant items after you lounge. This will ensure they stay beautiful and maintain their quality for longer.
In all, ensure you have maximum comfort and enjoy the sight and feel of the outdoor space.