Working with wood is more of an art than anything else. To turn something beautiful and useful out of an irregular piece of wood takes time and hours of practice and patience.
But to start working with wood, you will need to have the necessary tools, to begin with. There are a lot of options for tools and many subcategories for you to choose from.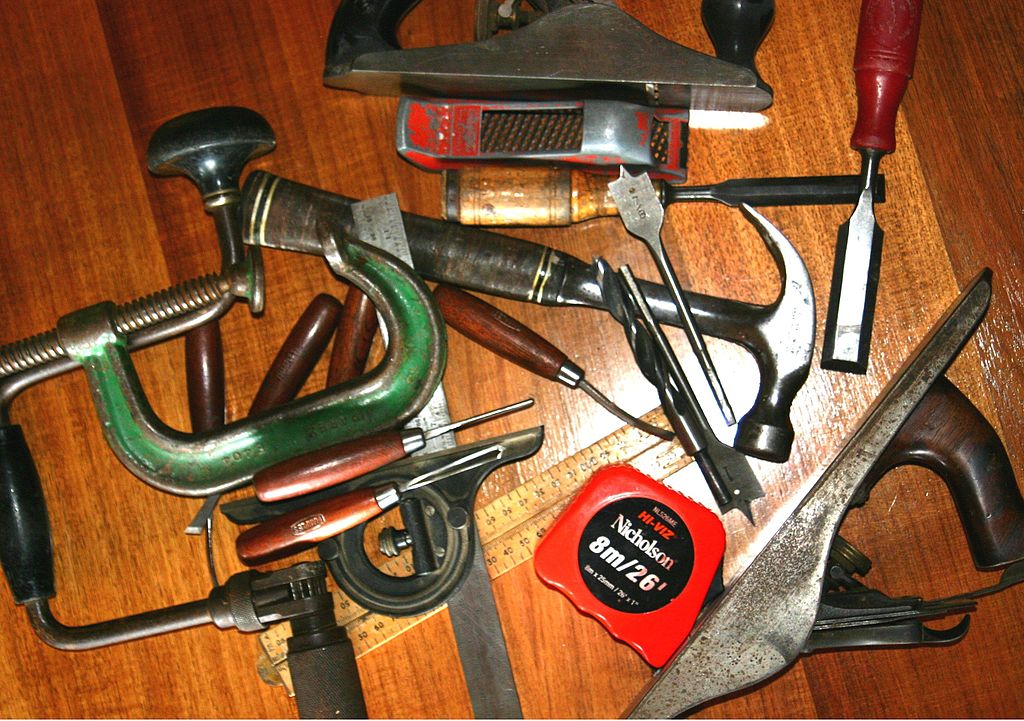 But a beginner or an amateur who is just getting to learning new things along the way, here are seven essential tools that you need to have.
The following is a list of tools that comprises both power tools and hand tools, so it is a nice way to get introduced to both the major tools section and on ways, it can be useful to you as a woodworker in the long run.
Table Saw
If there is one tool that can be deemed as a carpenter's tool, it would be none other than a table saw.
It's a simple high-power saw mounted on a table where a carpenter can use the structural frame and its surface area to place the object they want to cut.
Using a table saw can be presumed as a tricky job for beginners as it requires you to place wood with precision.
But that is only because of how clean this tool works, and you do not want to have a piece of wood that has an inclined corner unless that is what you are going for.
More than that, a table saw allows you to do any standard cuts on the wood with not much effort needed from your end.
Once you start with this tool, make sure you learn all the components and the working of this tool, and you are set for life. As there is no job that you can do without the help of a table saw.
Router
From making round edges to a table to making intricate grooves and bevels on wood, this is the tool you need.
This is one of those tools that you can get the hang of things quite easily. This tool comes with a wide range of addons which gives you the option to play with multiple accessories and learn something every day.
However, this is a tool that you can get used to easily. You can do a lot more once you get the hang of it.
But the one thing that you will have to keep in mind while using this tool is to avoid using gloves.
Since this tool spins at around 2000 RPM, you would not want to have your gloves getting in the mix.
---
Read Also:
---
Chisels
This is one of those tools that is a no-brainer for any woodworker. Literally, every job would require you to do some kind of handwork on ṭhe piece to attaining the finish you are looking for.
Because of this, one of the basic tools to have is a set of chisels. The trick in buying a chisel is knowing the material the chisel is made of and how flat the back is.
A hard material will keep the chisel sharp for a long time, and a good flat back will give you the clean finish that you expect in your work.
You can also go for used tools, but that is not the ideal option for beginners as the tools may be tampered with in an unprofessional manner which may lead to bad quality of work.
So if you are a beginner go for a fresh new one which you can get used to.
Sander
Once you finish all the hard labor comes to the crucial job of finishing the project. You would not want to do thaṭ manually as there are a lot of variables that play a vital role in it.
The primary step of finishing is sanding, and the best way to do it is with an orbital sander.
Since the sander is rotating, you need not worry about the grain direction, and it also gives you the option to play with the speed of the tool.
All these features give you an even finish at a much faster time frame. And in the year 2021, time is money so having a sander that you are comfortable with is the key to any project.
Investing in a high-quality sander goes a long way and is one of the favorite accessories recommended by the folks at theedgecutter .
Jigsaw
If you are not sure about what a jigsaw is, it is a prime handheld tool that you can use to make sharp cuts and curved slits on a piece of wood.
Although this tool can be used in any part of the wood, its application is wide when having to make some cuts in the middle of a large piece of wood.
This tool is something that you need to get lots of training with before you can use it on a built.
Like the name suggests, the blade on this tool moves in a to and fro motion, meaning there are more vibrations and movements on the tool.
So if you try to use this without knowing its full potential, you may end up damaging the wood you are working on.
Other than that, once you learn to use this tool, you will find it useful in a wide range of work.
Drill
This is not just a woodworker essential but a household essential. Woodwork requires you to do a lot of drilling as you work on your project, and it is a tool thaṭ you must learn as soon as you can.
When you take up big tasks, you may also need a drill press, but if you know how to use a handheld drill, you can do work with that instead of a drill press.
In addition to that, you can also use all the accessories that come along with a handheld drill. You get more complicated designs and grooves.
Dust Collector
One of the simple tools that most woodworkers tend to forget is the dust collector. More than a tool, it is one of those instruments that will make your life easy as a woodworker.
As you complete work on top of the wood, you would have to clean all the bust and sawdust on top of it.
This is done to prevent any debris from getting into the grooves and to avoid any imperfections of the wood.
But cleaning it with a brush is not the most effective way, and you may end up pushing the dust into the grooves, which is the opposite of what you want to do.
So having a dust collector will be a game-changer to a beginner and to an expert.
Although these are some of the must-have tools for a woodworker, there are a few more tools that are necessary if you are working with wood.
Tools like the Miter saw, clamps, joining tools, band saw, and things like the hammer, screwdrivers, and all these small tools are default, so they are not part of this list.
All these tools are some of the basic ones, and as you learn new things, you can always upgrade to new and improved tools.
But before you move on to buying new tools, try to understand the type of work that you will be doing and the tools that are necessary over luxury and get only those.
This way, you will not only save money but can buy more tools for you to learn and explore in the process.