Lime cement mix, sand, and water go into the preparation of mortar. Below is advice on mixing mortar for various masonry projects (Mix mortar for bricklaying).
Mortar, commonly called "mud" by masons, is the adhesive that cements bricks, stones, blocks, and various tiles together. It is an essential part of any brickwork. Following is how to mix lime mortar with sand and water to make mud for bricklaying.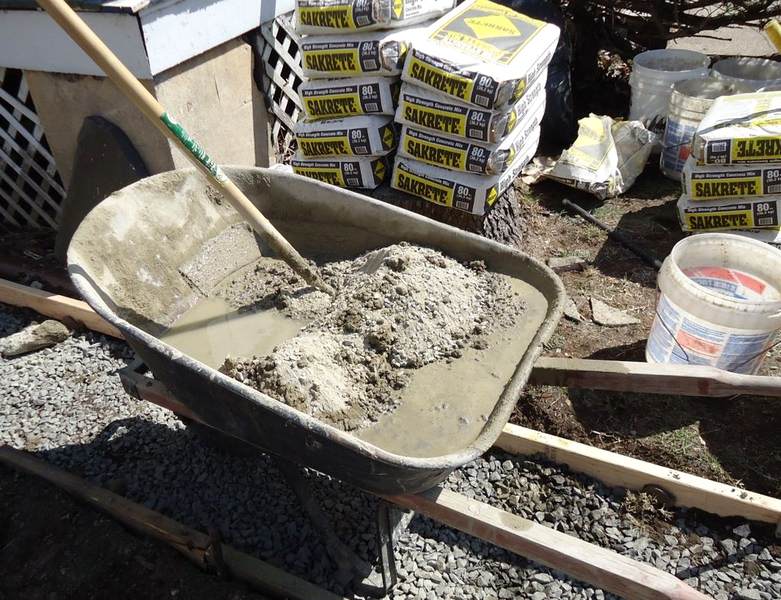 Mix Lime Mortar, Sand, and Water for Brick Mud
Masonry supply companies sell bags of cement mix with lime, which is then mixed with sand and water to make brick mud. For serious projects, a mixer is necessary.
This is a gasoline-powered machine that spins the ingredients together, forming a mortar with an even consistency that may be used to lay brick. For smaller, home projects, a shovel, hoe, and wheelbarrow can be enough to make mud.
---
Read Also:
---
Proportions and Quantities for Mortar Making
To make a load of mud, the following basic proportions should be loosely followed:
1 bag lime mortar cement mix
18 shovel scoops of sand
5 gallons of water
To mix this up, first, crank up the mixer, and add the five gallons of water to it. Then, as the water is sloshing around with the machine's spinning, break open the cement back and pour the dry powder contents into the mixer.
Then shovel in the sand, until the right consistency results, usually after around 18 shovel-fulls. On colder days, slightly less water or slightly more sand, to make a stiffer mud, is best, and on hot, summer days, wetter mortar is better.
Mixing Mortar in a Wheelbarrow
To make mortar in a wheelbarrow, combine the lime mortar cement mix and 18 full scoops of sand. Then, pour in some of the water, and take a hoe to it to mix the wheel barrow's contents around. Pull the hoe from front to back, over and over, scraping the bottom of the tub to mix everything together.
Then, add more water, and repeat this, until about five gallons have been poured in with the cement and sand. The result should be a wet, thick mud that looks like fresh, frozen ice cream, with small creases in it when it is turned over. Make sure, before using the mixed mud, that all clumps of sand have been stirred around, broken up, and have disintegrated into the rest of the homemade brick mortar.
Using Mixed Mortar for Bricklaying
Once mixed, brick mud may be set out in pans near workstations, between stacks of brick, so that masons or a single mason can lay courses of brick, one at a time, moving down the line until one is complete, before building the other.
Mud may need to be shaken up every once in a while if it begins to harden, which requires adding a little water to pans or the wheelbarrow and stirring the water into the firmer drying mud with a hoe, using a pulling and pushing motion.
Working with brick mud, formed with a mix of lime mortar, sand, and water, is the business of masons. Trowels are used to apply the mortar to surfaces and brick, and after brick has been laid, the joints must be perfected, and the excess mud, removed before it dries too stiff.