There are certain things for kitchens that are timeless.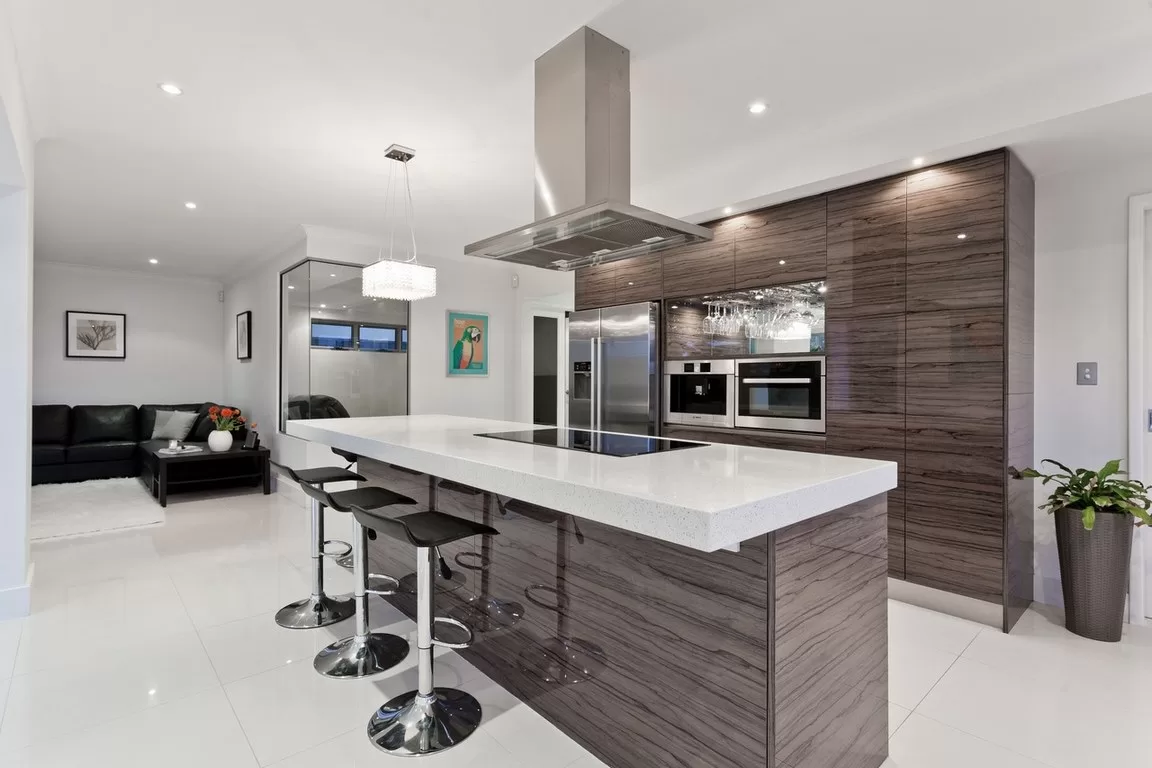 For example, if you want versatility in your kitchen design, you might opt for ready-to-assemble or RTA shaker white cabinets. The benefit of this type of cabinet is that it gives you a flexible, simple foundation to work around. If in the future, you want to embrace other kitchen trends, you have the simplicity of the shaker design that works well with so many aesthetics.
Then, along with timeless elements for a kitchen, there are those trends that are newer, and you might want to integrate them into your home design to breathe new life into it. The following are some kitchen design trends to watch for in 2023.
1. Painted Islands
A painted island with otherwise white cabinetry is a trend to watch for in 2023. The all-white kitchen isn't necessarily what homeowners want in 2023, but they want their color in small pops.
The island is a great place to add color and keep your kitchen from looking too sterile or monochromatic. If you want to give your kitchen a small update, this is also a good idea because it's inexpensive and can make a big visual difference.
Along with a painted island, butcher block islands are another way to add depth and richness to your kitchen. Some people use an oversized butcher block island as a functional way to hide other appliances, too, like a mini fridge for wine or a microwave drawer.
In general, a mix of painted and wood cabinets can be nice too. You can embrace a bit of the natural elements of design but still have the clean, elegant look of painted cabinetry.
---
Read Also:
---
2. Mixed Metals
You don't have to worry about using the same metal tones throughout your kitchen anymore. In 2023, look for mixed metals not only in kitchen design but as a big home design trend in general.
You'll see a combination of stainless, nickel, bronze, brass, and others. When you mix finishes, it gives you a very rich and inviting overall look.
3. Lower Drawers
Kitchens that have a lot of lower drawers rather than traditional cabinets on the bottom level are trending. Lower drawers can add convenience to a kitchen, in addition to making a style statement.
They glide out easily, and they provide a lot of storage space. Plus, you don't have to worry about finding things that get pushed to the back of a conventional cabinet that make it hard to find, and you can use statement-making large cabinet hardware on lower drawers.
4. Slab Backsplashes
Subway tile backsplashes were the go-to in kitchen design, and while they remain a favorite, if you want another option, maybe consider a marble slab or another type of stone slab backsplash.
A marble tile backsplash is especially popular because it makes a statement, adds depth, and it can add a bit of drama to the kitchen. They also tend to be easier to clean than tile because you're not working between the grout lines.
If you aren't sure about stone as a backsplash, another trending part of kitchen design is using it in other spaces as a focal point. Dramatic stone on a waterfall island can highlight the material's natural beauty and draw the eye to it immediately.
5. Sustainability
Sustainable materials are being embraced because of their look and because of the reduced environmental impact they facilitate.
There's a move toward materials that are not only natural as part of this push for sustainability but also durable and long-lasting. Wood, steel, and stone are three examples.
There's also going to be more focus and attention on how materials are sourced and recycled. Along with this trend, there's more of a push for using natural materials that come in warm and neutral shades, like lightly stained oak or honed limestone.
6. Handcrafted Details
Finally, a kitchen can be a space that's warm and unique through the addition of handmade or artisan-crafted details.
For example, handles that are handcrafted are one way to show artisan details in your kitchen design. Another option is the use of handmade tiles, each of which is going to be distinctive and add texture to your kitchen.
It's a way to make your kitchen uniquely your own, and to warm it up, which is beneficial since this is a space where you spend so much time. Handmade light fixtures and decorative accents like bowls or vases are another good way to add an artisanal element to the space.