Welcome to the vibrant realm of balcony furniture, where the right pieces can transform your outdoor space into a haven of comfort and style. Whether you're yearning for a tranquil spot to savor your morning coffee or a chic setting to host guests, choosing the perfect balcony furniture is the key.
Crafted with outdoor living in mind, balcony furniture thrives in various weather conditions, offering a plethora of options to elevate your balcony into an inviting retreat. In this comprehensive guide, we'll delve into some of the finest balcony furniture pieces available and provide valuable tips on selecting the ideal set for your specific needs.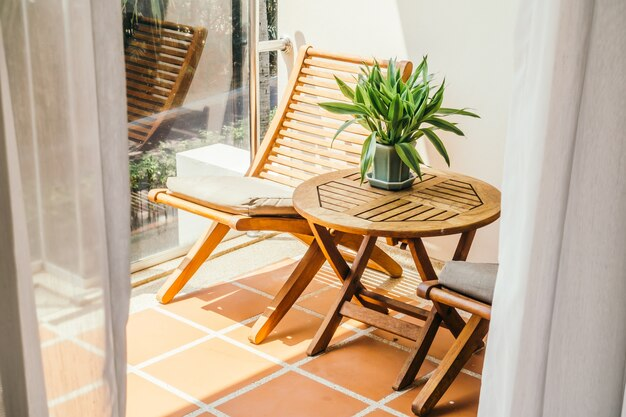 Balconies serve as a fantastic means to enhance your home's exterior, providing additional living space without the commitment of a full-fledged outdoor deck or patio. The selection of appropriate balcony furniture is crucial to completing your look and maximizing your outdoor haven.
Among the popular options are lounge chairs, which offer comfortable seating without occupying excessive floor space, making them ideal for compact balconies. Consider weather-resistant materials like wicker or resin for longevity and enjoyment, even on rainy days.
Another appealing choice is a bistro set, comprising two chairs and a small table, creating an inviting space for morning coffee or evening drinks. Bistro sets come in various styles and materials, allowing you to find the perfect fit for your décor. Outdoor rugs are also an easy way to inject color and texture into your balcony while providing a protective layer.
Now, let's explore the benefits of furnishing your balcony beyond the obvious relaxation and leisure aspects. Firstly, having furniture on your balcony extends your living space, providing an additional area for special occasions, dining, or simply unwinding after a hectic day.
With the right outdoor furniture, you can even transform it into an entertainment zone for movies or games with friends and family. Secondly, balcony furniture enhances privacy, creating a secluded retreat within your home. Whether you're sunbathing or enjoying the view, having a private space adds an extra layer of comfort.
---
Read Also :
---
To further enhance privacy, consider adding plants around the balcony railing for visual screening from neighboring buildings. Lastly, furniture contributes to improved aesthetics, adding texture and personality to your outdoor space.
Choosing the right balcony furniture involves careful consideration of multiple factors to create an optimal and aesthetically pleasing outdoor space. Begin by measuring the available space on your balcony to guarantee that the selected furniture fits seamlessly without causing any congestion. This proactive approach ensures not only a harmonious arrangement but also a comfortable and functional environment.
Furthermore, defining the style you wish to achieve plays a pivotal role in narrowing down your options. Whether your preference leans towards a modern and sleek ambiance or a more traditional and warm atmosphere, aligning your furniture choices with your desired aesthetic contributes significantly to the overall visual appeal of the balcony. This step allows you to curate a cohesive and inviting outdoor setting that aligns with your taste.
Equally crucial is prioritizing durability to enhance the longevity of your chosen furniture pieces. Given the exposure to various weather conditions, selecting materials known for their resilience becomes paramount.
Opt for materials like aluminum or teak wood, known for their ability to withstand the elements and maintain their structural integrity over time. This strategic decision not only ensures a wise investment but also minimizes the need for frequent replacements or maintenance, thereby contributing to a hassle-free and enjoyable outdoor experience.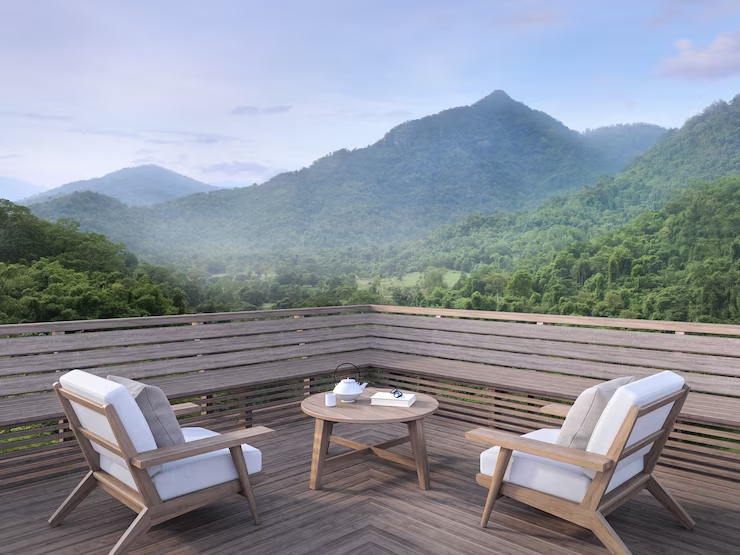 Elevate your outdoor experience by contemplating the acquisition of a comprehensive balcony furniture set, a curated ensemble featuring sofas, coffee tables, and an array of supplementary seating choices. These meticulously designed sets aim to forge a harmonious and chic outdoor living environment, seamlessly blending functionality with aesthetic appeal.
When embarking on this furnishing journey, be discerning in your selection of materials, taking into account not only your personal aesthetic preferences but also the unique demands of your local climate. The trifecta of metal, wood, and rattan stands as a diverse palette, offering durability, style, and weather resistance.
Consider the sleek modernity of metal, the timeless elegance of wood, or the natural allure of rattan, ensuring that your chosen materials not only complement your design sensibilities but also endure the elements with grace. So, as you embark on this quest for the perfect balcony oasis, let the fusion of form and function guide your choices, and create a space that beckons you to savor the outdoors in utmost comfort and style.
Decking out your balcony involves more than just furniture; it's all about the details. Enhance comfort and aesthetics by incorporating cushions and throw pillows that not only offer a plush seating experience but also inject vibrant splashes of color and eye-catching patterns.
Elevate both style and functionality by considering umbrellas or awnings—they're not just sun shields but game-changers for turning your balcony into a haven on sunny days. And let's not overlook the power of ambient lighting—string lights or lanterns can transform your outdoor space into a cozy retreat, casting a warm glow that makes evenings on the balcony truly magical. So, go ahead, layer on those accessories, and turn your balcony into a curated oasis where every element harmonizes for an elevated and enjoyable experience.
In conclusion
Balcony furniture emerges as an exceptional means to seamlessly integrate both aesthetic appeal and practical functionality into the expanse of any outdoor living area. The diverse array of styles, an extensive palette of colors, a spectrum of materials, and a range of sizes collectively contribute to a remarkably effortless process of discovering and acquiring pieces that align harmoniously with your specific design preferences and financial considerations.
Regardless of whether your inclination leans towards the sleek lines of contemporary design or the timeless allure of classical aesthetics, balcony furniture unfurls a vast panorama of possibilities, thereby empowering you to transcend the confines of conventional outdoor decor.
In essence, balcony furniture serves as a gateway to an immersive journey, inviting you to embark on the transformative endeavor of sculpting your balcony into a bespoke sanctuary—a personalized oasis that not only mirrors your refined taste but also bestows upon you a quintessential retreat, right within the comforting confines of your own home.