Balcony shades are not only functional but can also enhance the aesthetics of your outdoor space.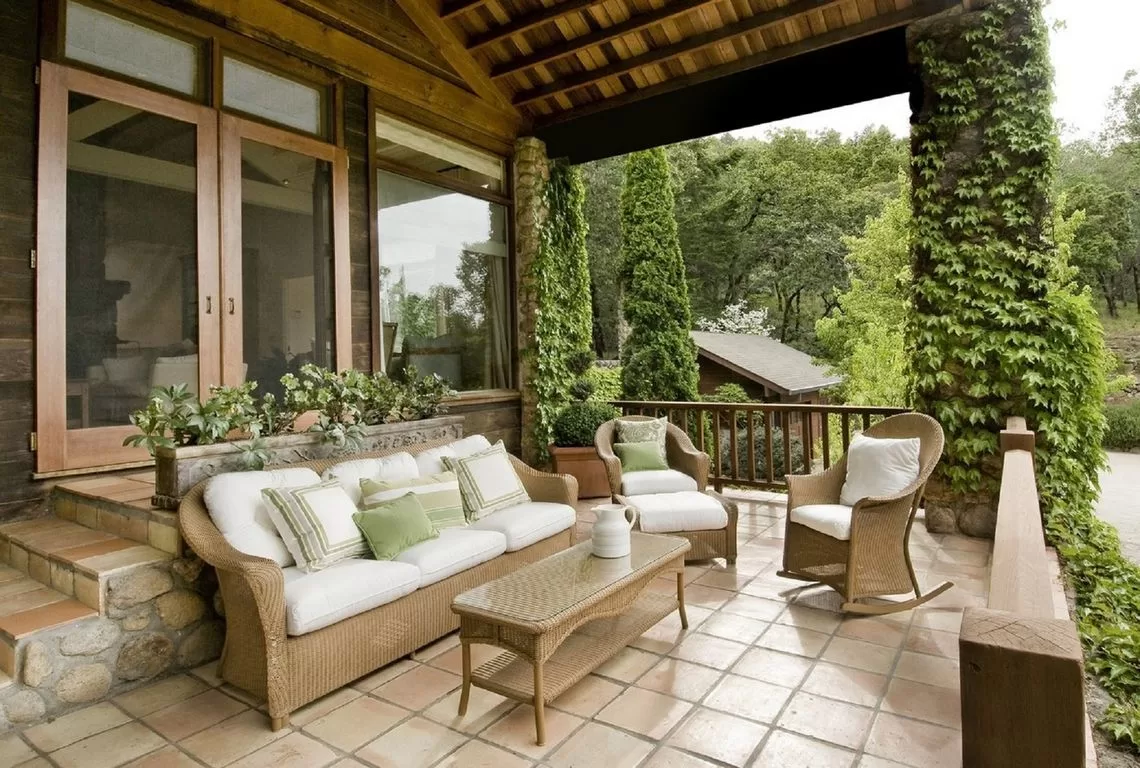 Discover seven stylish ways to incorporate balcony shades that will transform your balcony into a comfortable and visually appealing retreat.
1. Choose the Right Shade Material and Color
Incorporating balcony shades into your outdoor space is an excellent way to add both style and functionality. To make the most of your investment, it's crucial to choose the right material and color for your shades.
Consider factors like durability, UV protection, and water resistance to ensure your shades withstand the elements and maintain their appearance over time. When selecting a color, aim for a hue that complements your home's exterior and other outdoor elements. This will create a harmonious and visually appealing space.
Don't be afraid to explore different materials, such as fabric, bamboo, or aluminum, as each offers a unique look and varying degrees of functionality. For example, while fabric shades provide a softer, more natural aesthetic, aluminum shades offer a sleek, modern appearance and increased durability.
A fantastic resource to learn more about balcony shades and get an estimate for your project is this comprehensive article on the subject. By researching and comparing various materials and colors, you'll be well on your way to creating a stunning outdoor space with the perfect balance of form and function.
2. Opt for a Retractable Awning for Versatility
Retractable awnings are a fantastic option for those seeking versatility in their outdoor space. These awnings offer adjustable shade, allowing you to control the amount of sunlight that reaches your balcony. In addition, retractable awnings can be easily retracted when not in use, freeing up space for other activities.
There are various retractable awning designs and styles to choose from, such as lateral arm, canopy, and vertical drop. Each design offers unique benefits and aesthetics, catering to various preferences and needs.
For instance, lateral arm awnings extend horizontally, providing a clean, unobstructed view, while vertical drop awnings descend from above, offering increased privacy and protection from the elements.
Motorized retractable balcony shades provide an added level of convenience, as they can be opened and closed with the simple touch of a button. By exploring the different retractable awning designs and styles, you'll find the perfect solution to enhance the versatility and appeal of your outdoor space.
---
Read Also:
---
3. Experiment with Unique Patterns and Textures
Adding balcony shades to your outdoor space is an opportunity to express your personal style or complement an existing outdoor theme. One way to achieve this is by experimenting with unique patterns and textures. Bold or subtle patterns can make a statement, transforming a simple shade into a focal point.
Don't hesitate to incorporate textures like woven fabric or bamboo into your shade design. These materials add visual interest and can create a more dynamic and engaging atmosphere. For inspiration, consider browsing interior design magazines, social media platforms, or even visiting local cafes or restaurants with outdoor seating areas.
Remember, your outdoor space is an extension of your home, so don't be afraid to get creative and let your personality shine. By choosing patterns and textures that resonate with you, you'll create a balcony that is both visually captivating and uniquely your own.
4. Incorporate Plant Life to Enhance the Ambience
Introducing plant life to your outdoor space can significantly enhance the ambiance of your shaded balcony. Potted plants, hanging baskets, or vertical gardens are excellent options for adding a touch of greenery and creating a soothing, natural atmosphere.
When selecting plants, consider species that thrive in shaded areas and require minimal maintenance. Ferns, ivy, and hostas are just a few examples of plants that flourish in lower light conditions. Additionally, incorporating plants with various leaf shapes, sizes, and colors can create an engaging visual effect.
Beyond aesthetics, plant life offers several practical benefits as well. Plants can improve air quality by absorbing pollutants and releasing oxygen, creating a healthier environment for you to enjoy. By carefully selecting and arranging your plants, you'll transform your balcony into a lush, inviting oasis that seamlessly blends with your stylish shades.
5. Add Outdoor Lighting for Evening Enjoyment
To fully enjoy your shaded balcony during the evening hours, consider incorporating various outdoor lighting options. String lights, lanterns, and LED strips are just a few examples of lighting that can create a warm, inviting atmosphere while highlighting the shades and surrounding features.
When selecting outdoor lighting, it's essential to choose weather-resistant and energy-efficient options. This ensures your lights will withstand the elements and not consume excessive amounts of electricity. Additionally, opt for a lighting design that complements your shade pattern and overall outdoor theme.
Creative lighting arrangements can have a significant impact on the overall mood and atmosphere of your space. By thoughtfully positioning your lights, you can create a sense of enchantment and coziness that will make your shaded balcony a favorite spot for relaxation and entertainment long after the sun has set.
6. Create a Cozy Seating Area Beneath the Shade
A comfortable and stylish seating area is essential for fully enjoying your shaded balcony. Opt for weather-resistant furniture options like outdoor sofas, lounge chairs, and hammocks to create a relaxing and inviting space. By selecting pieces that suit your taste and fit your space, you'll encourage more frequent use and enjoyment of your outdoor area.
Adding cushions, blankets, and outdoor rugs can further enhance the comfort and style of your seating area. Choose fabrics and patterns that complement your shade design and overall outdoor theme. These accessories not only provide added visual interest but also contribute to the overall coziness of the space.
When arranging your seating area, consider the layout and available space on your balcony. A well-planned arrangement can maximize the usable area and create a welcoming atmosphere. By thoughtfully designing your seating area, you'll establish an inviting retreat beneath the shade, perfect for relaxing with a book or hosting friends and family.
7. Accessorize with Decorative Elements
To further personalize your shaded balcony, accessorize with decorative elements that reflect your style and interests. Outdoor artwork, sculptures, or wall hangings can add a unique touch and create a more engaging and visually appealing space.
Consider incorporating functional decors like outdoor mirrors, clocks, or thermometers. These items not only serve a practical purpose but can also contribute to the overall aesthetic of your outdoor space. When selecting decorative elements, keep in mind your chosen theme or color scheme to ensure a cohesive and harmonious appearance.
By thoughtfully accessorizing your balcony, you'll create a comfortable and inviting outdoor retreat that showcases your personal style. With the right combination of shades, plants, lighting, seating, and decor, your outdoor space will become an extension of your home that you'll be proud to share with friends and family.
Conclusion
Creating a stylish and comfortable outdoor space with balcony shades is an achievable goal with a little creativity and thoughtful planning.
By considering factors such as shade material, color, and design, as well as incorporating plants, lighting, seating, and decor, you can transform your balcony into a personal oasis that reflects your unique tastes and preferences.
Remember, your outdoor space is an extension of your home, so don't be afraid to experiment and express your personal style. With the right combination of elements, you'll have a beautiful and functional shaded balcony that you'll be eager to enjoy and share with others.