EDC or everyday carry torch lights can help ease the darkness of the night by helping you to walk at night, find something in a dark room, or cope with inclement weather or the environment. EDC torch lights are available in different shapes which are very easy to transport.
Carrying a money bag for your own safety is just as important as carrying a flashlight. So, you must know the methods of using torchlight, learn maintenance, and have knowledge about repairing.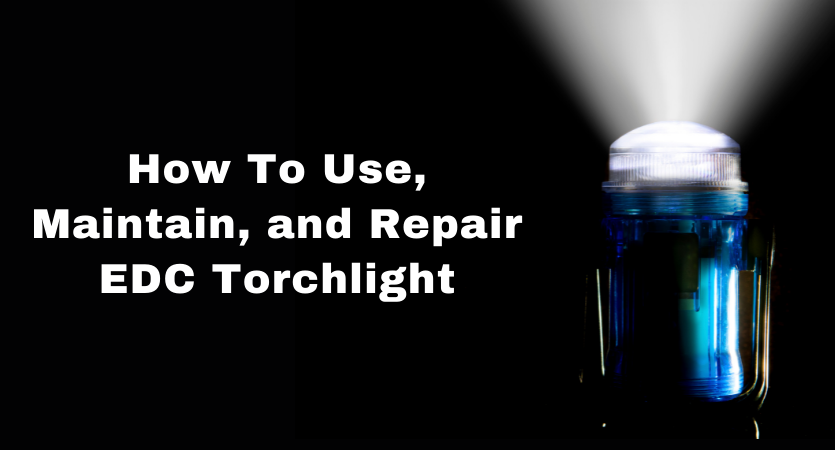 Some key points about the torchlight have been highlighted in the next portion. After reading this article, you will learn how to use the torchlight to make your life easier, how to maintain the flashlight and basic knowledge about repairing.
What is EDC Torchlight?
An everyday carry (EDC) is a portable electric light with small bulbs as the main source of light. Here, energy is stored in a small battery and the energy is generated from there. Lighting is more or less controlled with a switch.
A rechargeable edc torch is a flashlight that you can carry with you wherever you go, and recharge the battery whenever you want. It's small enough to fit into your pocket or purse but bright enough to light up the dark areas of the indoor or outdoor place.
Usage, Maintenance, and Repairing Guide EDC Torchlight
The role of torchlight in removing darkness is immense. Now, let's check the usage, maintenance, and repairing guide here.
How to Use EDC Torchlight
Torchlight is one of the most daily used products of human beings. It is now essential in the daily needs of people as it has the special property of removing darkness. Now, we will check the usage guide below.
A flashlight usually has three parts – a bulb surrounded by a reflector, a switch, and a battery. The three parts are very easy to use and if used properly, the output can be obtained for a long time.
The flashlight usually has a switch. Switches have two to three uses and vary according to the structure of the light. Conventional lights have three options.
There is an option to increase the power of the light to see distant objects, an option that can give medium light, and an option to give low light to keep it running for a long time.
The EDC flashlight is small in size and easily transportable. Since it is for use in the dark, one must pay attention to its battery.
Not charging for a long time can damage the battery, and if the charge is low, there may be a charge deficit during use. Care must be taken of the bulb used in the light and the glass protector above the bulb.
---
Read Also:
---
How to Maintain EDC Torchlight
Electronic devices can be damaged in adverse conditions. Torchlight is one of the most widely used everyday products. It can play a life-saving role in danger, so it is important to know its maintenance.
Four-Step To Be Followed To Maintain an EDC Torchlight
Four steps such as good-cleaning, checking regularly, replacing old damaged parts and protection tips can be followed to keep the flashlight working for long.
When we talk about maintaining the flashlight, cleaning comes first in this case. The outside should be thoroughly cleaned with a small brush with alcohol or something similar. Clean all the dirt, then clean the glass with a thin cloth. Carefully clean the glass to avoid any stains or water.
The flashlight should be checked regularly to see if each component is working properly. If anything needs to be changed, you have to do it.
You should decide to replace the component if the output is reduced or damaged or broken.
The protection option is up to you. However, you must protect your device. There is no substitute for protection to increase the performance and longevity of the device. Protect your device to save it in the long run.
How to Repair EDC Torchlight
Torch lights are often damaged due to various reasons. It is possible to solve some of these problems without repairing and there is no other way but to repair some problems too. Some of the problems that mostly happen are discussed below.
One of the most common problems is the power button problem. Your light will never work again if your power button is damaged. This can be a problem for the ring at the bottom of the switch. If you find the ring and put it on properly, it will work properly again.
Not turning on the light is a very common problem in the EDC torchlight. For this, first, you have to look at the main structure of the torchlight.
Be sure the right components are in the right place. If the component is many days old, check if it is working properly. Mainly, damaged wire or connection cause this issue. If you fail to solve the problem, seek the help of an expert.
Final Words
Torchlight is a device that is used in our daily life, outdoor campaigns, hiking, etc with many advantages and almost no disadvantages. It eases our unfavorable moments. You may stumble when you go to find something in a dark room at night. Dark roads can be difficult to find.
It may be too late to return home after completing daily activities. No man in society is out of events. So, of course, you need to have an EDC flashlight with you at all times for your own safety.
In conclusion, it is essential for everyone to know the usage, maintenance, and repairing methods of torch lights to deal with adverse situations, to ward off the darkness of night, and to keep oneself safe.