Usually, people consider removing their wallpapers before applying a coat of paint over their walls.
However, what many fail to realize is painting right over the wallpapers may in-fact be more fruitful! This process can help you protect the plaster over your dry-wall, leaving it intact.
Often, in case someone wishes to have their walls painted, the initial process of removing the wallpapers may severely damage the wall underneath.
Repairing such damage may cost you a considerable amount of money; solidifying the fact that prevention is always better than the cure.
Painting over wallpapers is quick, efficient, and almost without any risk. However, before you gather your buckets and paintbrushes, you must first learn the right way to get this job done!
This article will clear any doubts lurking in your head, and help you start painting right away. For those wondering what to paint, check more spray painting inspiration here.
The Process of Painting Over Wallpaper
For those who have finally decided on painting over their wallpapers, you must prepare for it. The wallpapers must be damage free, clean, and devoid of gaps. Damaged areas and loose ends need to get repaired with sturdy and robust adhesive.
These essential steps are discussed extensively below:
Covering Loose Ends: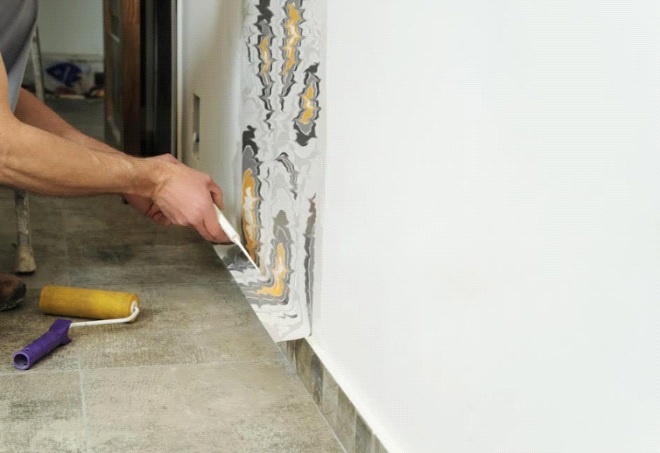 For those who have considerably old wallpapers in their homes, you must first check for loose corners and edges.
Open edges and seams are pretty standard in these cases, and need to get addressed before a coat of paint are finally applied. If not repaired correctly, the colour might seep through these gaps and damage the inner wall.
To rectify this issue, you need to use powerful adhesives or glue; pasting any corner that might come off as loose. The adhesive should get some time to dry up before beginning the painting process.
---
Read Also:
---
Cleaning the Wallpapers: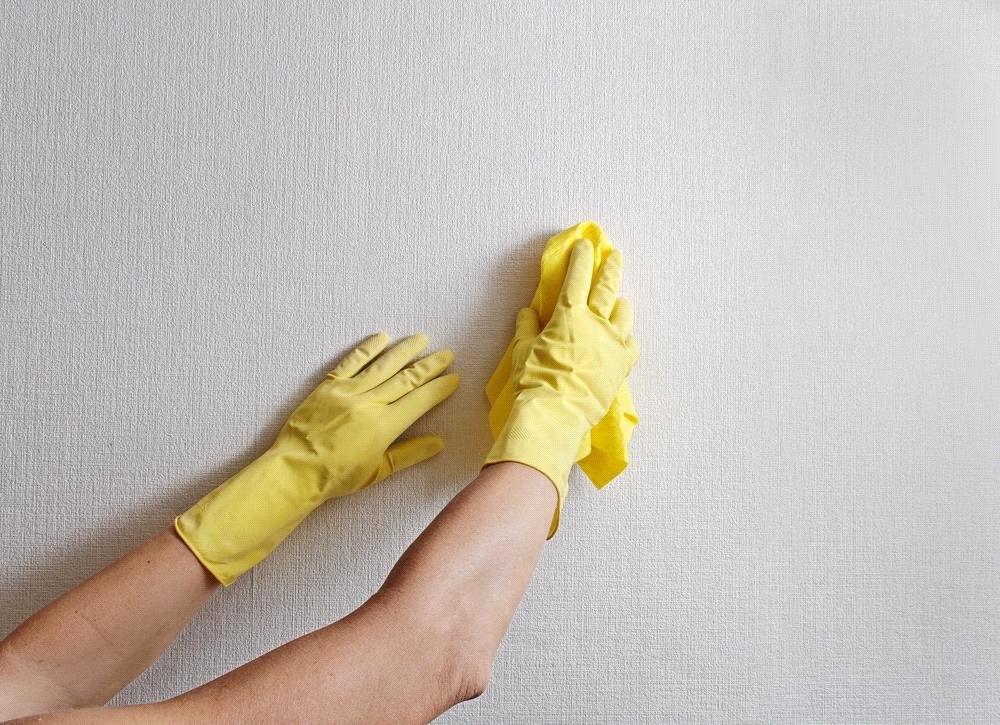 Before you go about painting over your walls, you need to ensure that the wallpaper surface is clean and free of dust particles.
You might want to Vacuum Clean the surface, removing spider-webs, dust and grime, that might have settled over the walls in time. You must also determine the type of your Wallpaper; whether it is coated or uncoated.
The model can be verified by directly applying water on the surface, and checking whether the colours bleed or not. If the water is easily absorbed, or if the colours bleed; then there is a chance that your Wallpaper is of the uncoated variety.
Wallpapers can also be cleaned by properly sponging the surface. You can utilize a detergent, along with a wet-sponge, and scrub on the Wallpaper.
The cleanser helps in cleaning off any grease from the surface, preparing it for a coat of paint. You must avoid sponging horizontally, for the sponge might get stuck on damaged, loose ends.
You must also ensure that no amount of liquid enters the seams on the surface. Moisture might damage the inner wall, causing wall-damps, and other problems.
Assessing Wallpaper Type:
After cleaning and checking for damages, the next most crucial step before painting is figuring out the type of your Wallpaper.
The wallpaper covering must be examined thoroughly before commencing to paint on top of the surface; the technique that you will use while painting may differ by the category that your Wallpaper might fall.
You'll have to be careful with wallpapers made of vinyl and paper; they need to get primed before they get ready to be painted on. Preparation is truly the key to painting on wallpaper surfaces.
Priming is essential, for if the wallpapers aren't well primed, they might eventually develop loose edges and seams, and come off. It is also crucial that you remove certain coverings that usually cause hindrance during the painting process.
These coverings must never be primed or painted on, for they might certainly damage the Wallpaper. If your Wallpaper is composed of heavy-built fabrics or durable vinyl, it would be best if you avoid painting on them altogether.
These wallpapers are more comfortable to remove; it would be better if you could get them off the walls, and paint directly on the surface.
Priming and Painting the Surface: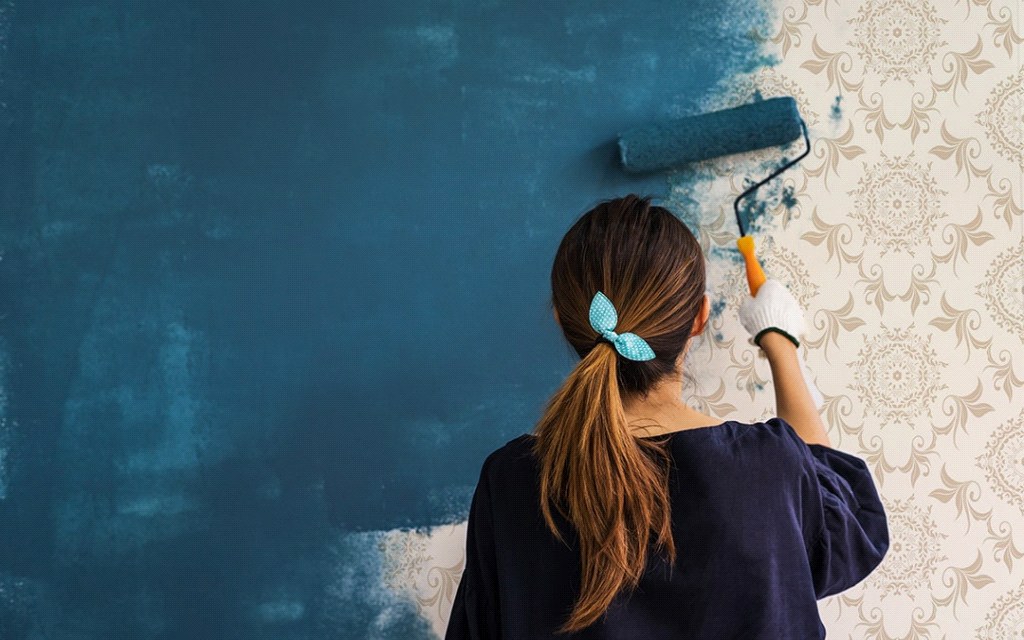 Priming is one of the essential steps that may help prepare the Wallpaper for the coats of paint; while also increasing its sustainability and absorption capacities.
One must choose the right type of primer and in the right quantities to properly prepare the wall for the painting process.
Experts suggested that alkyd primers may help achieve the best possible results in a contemporary wallpaper painting process. You might want to use Benjamin Moore primers above the standard latex primers. Quality is the key to proper wallpaper priming and painting.
Latex Primers get usually avoided during wallpaper priming and painting because of its excessive soaking capabilities. These primers can destroy the Wallpaper by soaking through them and damaging the inner wall.
This excessive soaking might lead to the Wallpaper coming off or forming seams on the surface that may prove hard to repair. Once the wallpapers get appropriately cleaned, examined and primed, you can finally commence with the final painting process.
You can freely use the colours of your choice, not worrying about whether they will damage the Wallpaper or not. If the surface gets adequately primed, it should also have the capacity to bear any paint.
Bottomline
Finally, it gets clarified that painting on wallpapers could turn out to be a more reliable option in both the long and short run.
If you're planning on getting new wallpapers or working directly on the wall; painting right over your old wallpapers could be a cheaper and a more effective alternative.
Removing wallpapers may lead to unwanted and unnecessary damages; repairing these is not at all a cost-effective decision. It is about time that you must make a smart choice and paint on your wallpapers.
If the steps mentioned in the article get appropriately followed, you will surely be satisfied with the outcome! Wallpaper painting is the way to go.