The Coronavirus pandemic has taken everyone into an almost surreal reality.
We have all had to adapt to various changes, and many people are postponing certain things that they had planned for safety reasons. If the moving house was something you had been planning for a while for example, you cannot really put it off.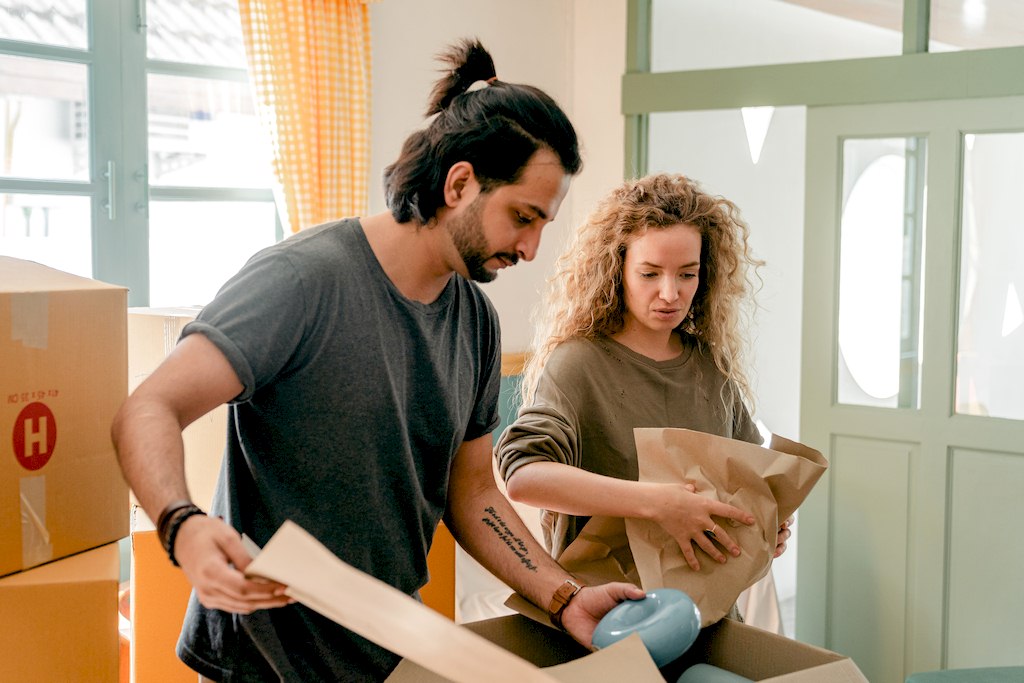 You may be wondering how you should go about moving house safely during this challenging period. So here are some tips which will help put you on the right track.
---
Read Also:
---
Discussing the Process with Your Moving Company
It is always important to hire a professional moving company to handle your move, and it is even more critical these days.
Your removals company should be able to offer you practical advice, as well as know what should be done to do things the right way from a safety point of view.
It may be best to ask any questions regarding precautions or extra measures the company is taking at the moment, as this will help with your peace of mind.
Moving companies will be happy to provide you with a virtual moving quote during this time.
This will avoid any contact and limit the spread of the virus. A virtual survey can be carried out quite easily by using video chat as you walk around the house to show the estimator the things that will need to be moved.
Purchase New Boxes
While during any house move it is common for people to get second-hand boxes from friends and family, or gather them from shops, this is certainly a big no at this time of the Coronavirus.
It is highly recommended that you purchase new boxes and packing materials to pack your belongings, instead of recycled ones to avoid possible contamination.
Preparing & Moving Boxes Efficiently
The boxes should be moved as close to the door as possible, so as to avoid prolonging the time the movers will need to spend going inside the house.
Creating a human chain for loading and unloading boxes should help reduce time considerably.
Limit Contact
Keep your family, especially any kids away from the moving team so as to minimize needless contact.
Greet the movers with a smile, and avoid shaking hands, for obvious reasons. Trying to keep away from one another as much as possible is advisable.
Encourage the movers to wash their hands or sanitize them with disinfectant wipes at the door, as well as from time to time during the move. It may be best to leave some disinfectant wipes close to certain areas, such as near light switches and doorknobs.
Protective Gear
During this time everyone has got used to wearing protective equipment to reduce transmission.
So, on the day of the move make sure everyone is wearing face masks as well as gloves. This applies to all family members as well as the movers.
Cleaning & Disinfecting Measures
One of the most demanding and time-consuming tasks is the cleaning and disinfection process that will need to be carried out if you move house now.
The moving in and moving out cleaning tasks always take time, but their importance at this time is even more pronounced, and so is the need to ensure that you are doing this the right way. After all your health and safety is at stake.
You may wish to consider hiring the services of professional cleaners to help you save some time. As a general rule of thumb you will need to:
Clean frequently touched areas and surfaces routinely using a disinfectant.
Clean and disinfect the furniture.
Wipe all items as you unpack them from the boxes.
Avoid touching anything in your new house until you have made sure you have cleaned it well. This applies to all items, furnishings, and high-touch surfaces like doorknobs, switches, faucets, and so on.
Clean each and every room in your new house thoroughly.
Make sure you have a good supply of cleaning products and equipment in your new house or pack them with you.
Responsible Disposal
Make sure to dispose of all packing materials properly.
It may be a good idea to simply leave the packing materials that you used in an area where they will not be touched (such as a shed or garage), and then dispose of them after the recommended period.
Conclusion
These tips and guidelines should help you be well prepared for your house move. It is not going to be as simple as a normal move, but it can be done. Just be cautious and careful, while bearing these points at the back of your mind.