Are you an indoor gardener? Are you worried about the short space in your garden? Yes, this is not only your problem.
There are many gardeners who are suffering from the same problem as you. Nothing to be worried, it has a great solution. To solve this problem, a grow tent is a great answer.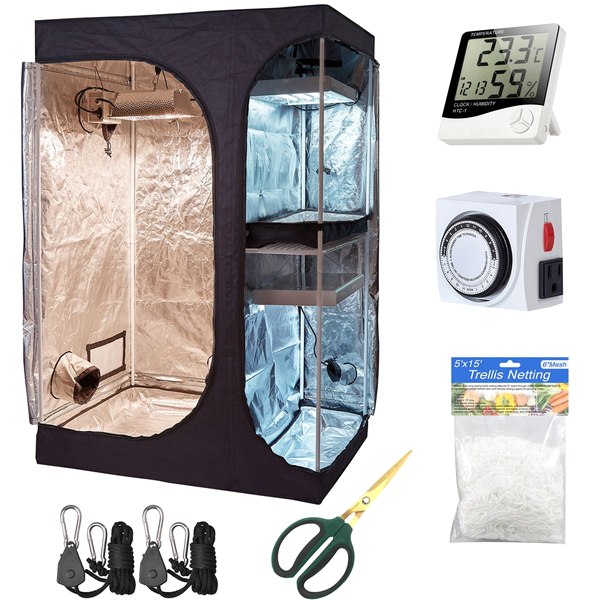 How to Choose Right Grow Tent Sizes
As a gardener, you ought to know how to choose the right to grow tent size. And this is the best option for you. But before setting up a tent, you have to install the equipment plus make sure the measure out your growing space.
If you are ready to grow space plus to start looking for a grow tent, you need to go after the proper planning.
Here, we come with a few steps to build best grow tents. Start reading the steps and follow them perfectly to grow space.
---
Read Also:
---
Setting Up a Growing Tent Area Step by Step
Think About Some Essential Tips
Before starting to grow a tent, you should think about some essential tips such as select the location, dedicated an electric breaker, and stature your watering process. There have some more:
Make a list of necessary materials, accessories, and equipment. Then find out the total cost of them firstly.
Select a room and clear it. That means there need not any furniture to keep.
Make sure enough room so you can work in and around.
There have some things which you should avoid at any cost to grow a tent such as:
You would not keep the floor of the room dirty, any trash or litter. You need to keep away far from the tent.
To save the tent, you just remove the unnecessary things from the tent area.
You should not keep the outside equipment in the tent area. Keeping ladders, trash cans, and other stored outside in the tent area is not a good idea.
Measuring the Growing Space Properly
For the right growing tent measuring the growing space is very important. Before starting your journey, you need to measure the growing space properly so, you don't face any trouble in the future. For this, some tricks to apply:
First of all, sure space so that you can keep the canopy properly.
For a great tent, a grow light is very important. Besides this, you need to know the distance between the light and the tent.
Ensure ventilation components like carbon filter, clip fans, exhausted fans because they need to keep a better system.
Think About the Number of the Plant That You Want to Grow
Determine the number of the plant which you want to grow in the grow tent actually. This is a very important point. For example:
In a small size tent, you can grow a few plants plus you can just check and take care of them.
If you think to grow a big project, you need to keep a big size tent. Here, you can do your job closely. You can also move inside the tent and can take care of them smoothly.
When you want to grow a dozen of the plant in a tent, you need to take 4 * 8 ft size tent to grow the plant perfectly.
Various Types Tent for the Plant
There are various types of the tent and they are different in size which assists you to grow them as your need.
The Small Square Base:
You can find it in 32 * 32 * /63 in size. This size is small and square. This small size allows you to grow just two mature plants which are 4-5 ft tall from the top of the grow pot.
According to the diagram the grow tent includes:
5 * 6 inches duct ports are essential for intake and exhausted options.
2 * 4 inches duct ports are for cables, pipe, and wire management.
Some common accessories like pruning shares, meters, and sunglasses for which you need to take 1 * pocket pouch and it is easy to handle.
To observe your plant 1 * sealed window is perfect.
To grow light system you might keep 3 * beam support.
Small Rectangular Base:
This is so slim and the best wide closet. The length is 24 inches. The wide is 48 inches and 60 inches in height. You can grow 8 small sizes or 3 full-sized plants easily.
This grows tents comes with the following:
3 *6 inches duct port which is the need for intake and exhausted options.
2 * 4 inches duct port is essential for cables, pipe, and wire management.
1 * pocket pouch for easy access.
2 * sealed windows with 4 * beam roof support.
2 * door front entrance which gives support wide size.
Medium Rectangular base:
This particular tent comes with 48 * 48 * 78 inches size. This is a medium size tent which is basically 4 * 4 ft length and 6ft tall. We recommended 4 full-sized plants to grow here without any trouble.
This medium tent includes the following:
5 *6 and 2 * 4 duck ports.
3 * streamlined rectangular air vents.
1 x pocket pouch.
1 x sealed windows.
4 x roof support.
2 side door (left and right).
Large Rectangular Base:
The basic measurement of this large tent is 96 * 48 * 78 inches. It is perfect for 8 full-sized plants smoothly. It is basically 4 * 8 ft in the area plus 6.5 ft in height. This tent will provide you enough room to move and take care of your lovely plants.
This large tent provides the following;
4×8 inches, 2×6 inches, and 4×4 inches duck port.
6 x streamlined rectangular air vents.
1 x pocket pouch.
2 x sealed windows.
2 x beam roof support.
2 x door front entrance and 2 door back entrance.
Final Thought
The following information will help you to select the best tent to grow plants as your plan. Hopefully, this article also assists you to choose the right tent size to grow as your room area. This is a good idea for you from this content you can get a better idea to find out the perfect tent grow size as you need.