Are you tired of all that excess, unwanted noise that's disrupting you whether in your home or office? Well, if this does sound like you, you may want to take a look at felt tiles.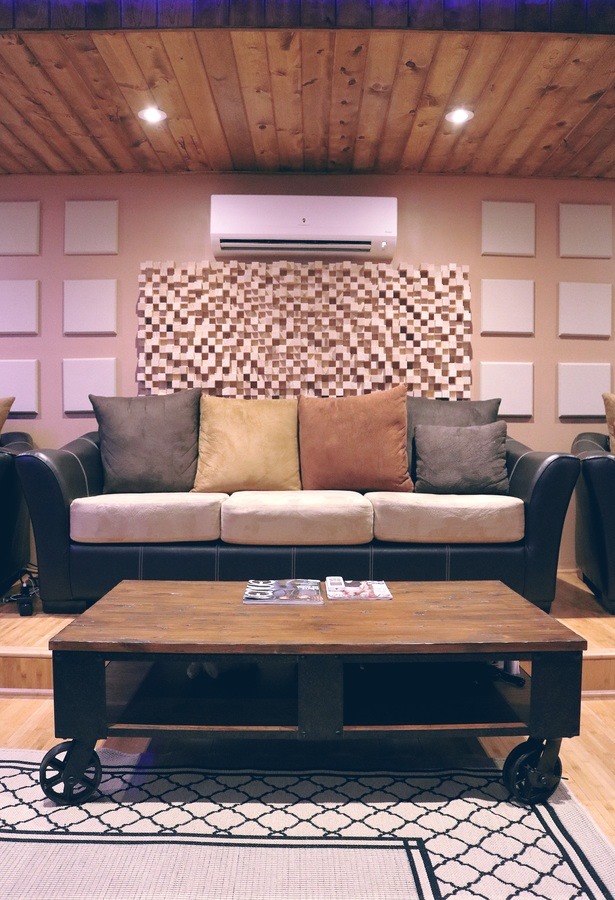 These colorful, warm, and creative interior design features can be easily hung up to any wall to add an instant splash of color and design into your interior space. But that's not all these felt wall tiles can do for your home or office.
Felt tiles also have a unique sound-dampening quality that actually works to absorb excess sound waves. As a result, you'll have less unwanted noise in your space so you can finally concentrate, stay productive, or simply sit back and relax.
Here, we're taking a closer look at these innovative felt tiles. In particular, we're learning just what sound dampening really means and how this colorful and warm sound-dampening felt tiles really work.
What are Felt Tiles?
First things first what exactly are these innovative felt tiles? Felt tiles are interior design features made of an innovative and lightweight PET felt material. This material is key in what makes them have a sound-dampening quality that can reduce unwanted noise in your home, office, or really any other interior space.
Felt tiles aren't just great for reducing noise, however. Felt wall tiles have quickly become a popular design choice for homes and offices and public spaces throughout the nation.
There are many reasons why people are choosing felt tiles for their walls. Since they come in such a wide variety of shapes, colors, and patterns, you can truly customize how your walls look to fit your personality and décor style.
Additionally, felt wall tiles, compared to other design choices, are incredibly simple to hang up and install. In fact, in just a matter of minutes, you can have created your very own felt board creation.
And if you want to make a change? They're just as simple to take down and uninstall without hurting your walls or paint. For these reasons and more (we haven't even begun talking about the sound-dampening quality yet), people are simply falling in love with felt tiles.
---
Read Also:
---
What Does Sound Dampening Mean?
Now that we have a better idea concerning felt tiles, let's break down the second half of this equation. What do we mean by sound dampening? Sound dampening refers to the ability of a material to reduce the amplitude of an incoming sound wave.
Depending on what type of material it is, this sound-dampening quality can significantly reduce the reverberations of sound waves. As a result, this can cut down on unwanted, excess noise. Materials like felt, acoustic foam, or even fiberglass insulation are commonly used as sound-dampening materials to reduce unwanted noise and the reverberation of sound waves in an interior space.
Is Sound-Dampening Different Than Soundproofing?
It's important to note that sound dampening is not the exact same thing as what we mean by soundproofing. Soundproofing refers to the complete and total elimination of sound that is able to enter in a room.
Soundproofing a room is a much more complex and comprehensive task that requires advanced, and often pretty expensive, materials to completely get rid of all the incoming sound waves.
This is why opting for convenient sound-dampening materials is a popular choice for many homeowners and property managers. Unless you need to reduce noise to an absolute zero, like someone might do if they're building a recording studio, sound dampening can offer you the peace and quiet and reduction of noise you need.
How Do Sound-Dampening Felt Tiles Work?
Now you're probably thinking, wow, this whole sound-dampening quality really sounds great for my space but how does it exactly work? While the results are truly astonishing, the science behind sound-dampening felt tiles is actually relatively simple. Let's take a closer look and learn more about how the material works.
When noise is created, whether it's your footsteps in a hallway or a vacuum, or your air conditioner, sound waves are released into the surrounding area. When these sound waves occur in a smaller and interior space, such as your living room or office, they'll reflect off of the surfaces like the walls and ceiling.
Now, this is the interesting part here. The type of material that the sound wave comes into contact with will actually alter the length and nature of that sound wave. Hard surfaces, like bricks or concrete, will reflect almost the entire sound wave, and thus, all the noise reverberates back.
This is why we hear echoes in large concrete spaces like a warehouse. However, by using a different material for your walls, such as these innovative sound-dampening tiles, the results will be much, much different.
Depending on the type of material that you're using, these sound-dampening materials absorb a certain percentage of the incoming sound waves. And the more of the sound wave that is absorbed, the less sound will refract off the surface and lead to unwanted noise.
Felt tiles, for example, absorb roughly 0.35 percent of sound waves. This means the excess noise will be reduced by roughly a third. And of course, the more felt tiles you use on your walls, the better they will perform at absorbing those excess sound waves.
Conclusion – How Do Sound-Dampening Felt Tiles Work?
Are you continually looking for a little bit more of peace and quiet in your home or office? If this sounds like you, it's time to consider some felt tiles for your walls.
While they may not totally eliminate noise in your space (like soundproofing materials would), they can absorb the majority of unwanted sound and help to make your home or office that much more peaceful.
To boost productivity, and creativity, and simply to protect your own health and focus, consider what sound dampening tiles can do for you.