It all starts with a single pillow. But soon, that one becomes two, then three, and before you know it, you have a mountain of pillows to pick from in various colors, patterns, and textures.
Pillows are an easy way to transform any place into a pleasant hideaway, but if you're not careful, that pile of pillows can quickly become overwhelming.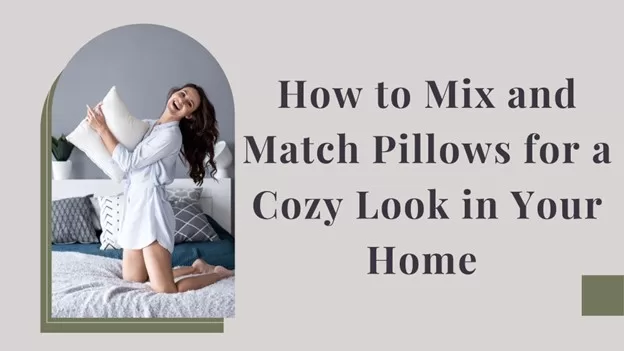 Mixing and matching pillows is both an art and a science. Some key elements to consider when selecting colors, shapes, sizes, and textures will combine to create the perfect balance—one that creates the look you want without competing for attention.
In this article, we'll walk through the process step by step so you can mix and match easily.
Identifying What You Need: Neck Pillows, Side Sleeping Pillows, and More
Do you want to spruce up your living space with fresh new pillows but need help knowing where to start? Look no further. With the right combination and careful selection, you can create a cozy, inviting look in your home.
The first step to matching pillows is to determine what type you need. An array of options are available, from neck pillows for side sleepers to decorative and functional accent pillows.
Opt for larger, firmer pieces if you're looking for comfort and support while sitting on the couch or lounging in bed. On the other hand, for a smaller-scale upgrade with just the right amount of flair, consider adding a few small decorative pillows scattered around your seating area or bedroom.
Now that you know what type of pillows you need for your desired look, it's time to pick an overall color palette. For an eclectic style that pairs nicely with various décor styles and schemes, try choosing pillow covers in three or more shades that go well together—such as bright fuchsia paired with soft gray and ivory—for a vibrant contrast that stands out against furniture pieces.
---
Read Also:
---
Choosing the Right Pillows for Different Spaces: Pillow Side Sleeping, Luxury Pillows
When picking out pillows for different spaces in your home, there are a few essential points to consider. From side-sleeping pillows to luxury pieces, choosing the right pillow for a suitable space can make a big difference when creating a cozy look.
Pillow-Side Sleeping
Getting the right pillow is essential for people who sleep on their sides. Side sleepers need more height than back and stomach sleepers, so side sleeping pillows should be firmer and offer more support.
Look for slow-recovery foam or down-alternative pillows that use Gel Infused Memory Foam—these are great options for side sleepers as they help maintain neck alignment and provide excellent pressure relief.
Luxury Pillows
Luxury pillows are great options for adding texture and depth to any space. Regarding luxury pillows, there are many options, like goose-down or feather models with robust construction that offer both support and comfort.
Also, look for hypoallergenic fillings like foam cores or microfibers, as they're designed to be dust-mite resistant.
Finding the Perfect Fit: Size, Color & Texture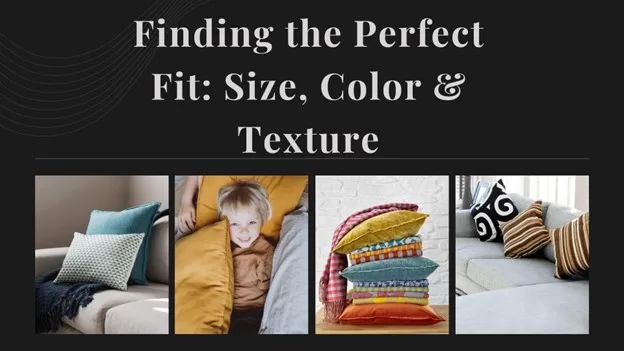 Mixing and matching pillows is a great way to give your home an elevated look without much effort. When done correctly, the effect may be a pleasant, inviting ambiance reflecting your style. To get this appearance, you must first grasp cushion size, color, and texture—here's how!
Size
For starters, please pay attention to the size of each pillow cover compared to the other pieces you plan to pair with it. For example, if you plan on adding two covers that are 24 x 24″, they should also be accompanied by one or two larger pieces—think 30″ or even 36″. It helps build visual interest and brings balance to the overall look.
Color
When adding color to the mix, create a cohesive look by sticking with shades within the same family or playing off complementary colors. Please start by selecting one pillow as your anchor hue, then use other pieces as accents based on their relation to that shade.
Texture
Finally, pay attention to texture when piecing together pillows for your home decor. Try combining contrasting textures like linen and velvet for added dimension and interest.
Or keep it subtle with a combination of fabrics that are similar in hue but texturally different—touchable textiles like chenille and faux fur will give warmth and a whimsical vibe without detracting from the rest of the room.
By considering size, color, and texture when matching pillows for a cozy look at home, you'll have all the pieces necessary for decor success!
Creating a Balanced Look with Mix and Match
Creating a pleasant and inviting ambiance in your home is easy. Knowing how to mix and match pillows allows you to get a balanced design that will make your living area feel more inviting.
There are a few crucial factors to remember while mixing and matching the best pillows:
Think about proportion—Pillow sizes should fit the size of the furniture in the room. You'll want to add larger or multiple pillows for balance if you have larger furniture pieces.
Consider texture and pattern—Different textures and patterns can be combined for an exciting effect. For example, pair plush velvet, geometric shapes, and rich fabrics with bold colors or subtle hues for an eye-catching look.
Find the right colors—Consider the mood or atmosphere you want to create when selecting colors. Warm tones like oranges, reds, and yellows can help create a welcoming ambiance, while cool tones like blues, greens, and whites can help create a tranquil vibe in your house.
When it comes down to it, mixing and matching pillows is all about finding the right balance of colors, textures, sizes, and shapes that work together to create a unique yet cozy look in your home. With practice and experimentation, you'll find that creating beautiful pillow arrangements that evoke emotions is easier than you thought!
Conclusion
Adding pillows to your home is more than a decorative touch; it's a way to show off your style, create a cozy atmosphere, and improve your comfort level. When it comes to matching pillows in your living space, there's no right or wrong way.
You can opt for complementary colors and patterns, use a variety of shapes, or even use monochromatic hues for a unified look. Make sure your pillows support whatever activity you're engaging in, like side sleeping or watching TV. With some planning and creativity, you can match your pillows to create the perfect cozy look for your home.