There are endless ways to play with the interior design in your kitchen. Although remodeling is a large project, some aspects of interior design can be achieved even with small details.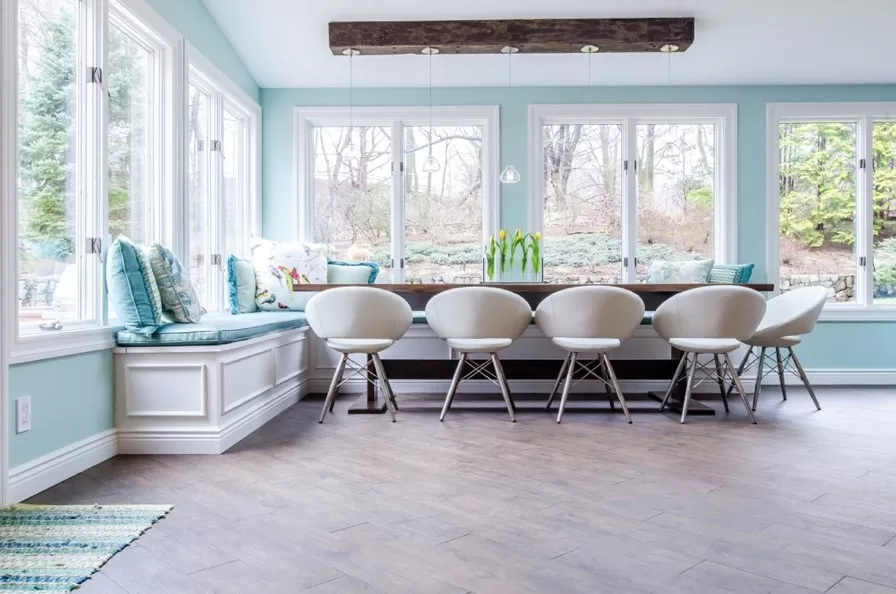 When it comes to the interior design of your kitchen space, every element makes an impact on the final look and feel, so it's important to work with an interior designer who can help you bring the full package to life. From chairs to colors, lighting, and layouts, there are myriad details to consider in any remodeling process.
Here are 5blox, we love helping our customers transform their kitchens into a place of self-expression. In this article, we will review some tips you can incorporate with your interior designer to help make your kitchen the space you have hoped for.
Play With Seating
Ultimately, your kitchen is a space to gather with family and friends to bring people together. When you are remodeling, it's a great time to restructure the seating options and layout within your kitchen to allow for various types of social interaction.
A standard element to include is a kitchen island, which not only offers functional properties in terms of adding counter space, but it also allows for casual and relaxed seating so that guests can hang out while you cook or so that everyone can stand around a communal table in a less formal way.
Some homes have separate dining areas, but others choose to incorporate a dining table within the kitchen, which can create less formality than a dining room, and also can help make the kitchen feel cozy and welcoming.
Finally, if you and your family like to have quiet mornings, read the newspaper while having coffee, or tend to sit at the table comfortably while working on a laptop, you may want to consider a cozy breakfast nook that can set a quiet and peaceful tone within an area of the space.
---
Read Also:
---
Be Daring with Patterns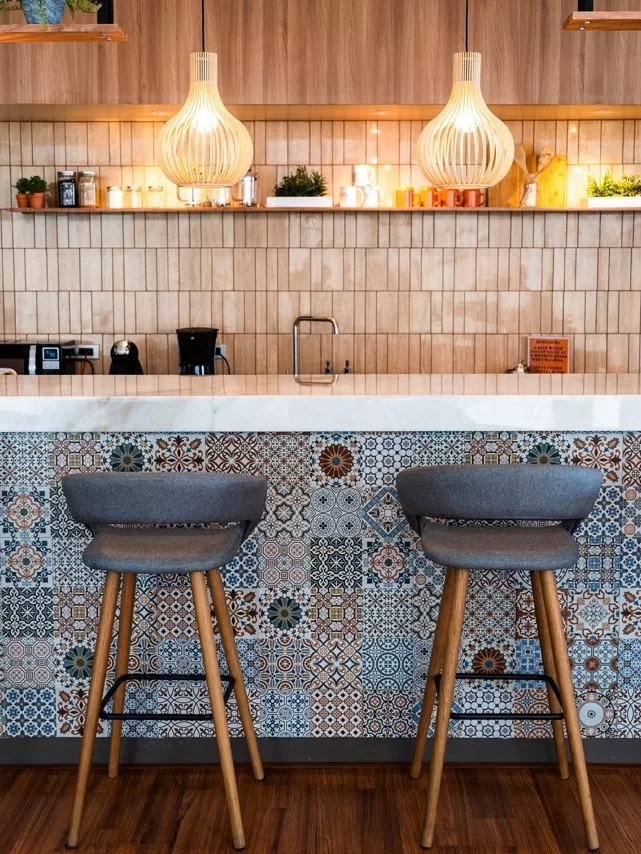 Patterns can be intimidating, but they are one of the best interior design tools you can use to make your kitchen personalized and express your individual taste. There are three main opportunities to play with patterns in a kitchen set:
Using wallpaper on an accent wall
Incorporating fun tiles on the floor or backsplash
Integrating experimental fabrics in your furniture upholstery
Each option can bring a central theme or feel to a room through a bold and daring piece. A pattern can ground the rest of the interior design decisions, such as color scheme, by offering an area of focus amid all your other appliances and furniture elements.
Establish A Mood
What kind of energy do you like to have in your home and your kitchen? Do you want a clean and light feel, or do you prefer a cozy romantic atmosphere? Each of these options, and everything in between, can be achieved through lighting. Consider installing items like:
Under cabinet lighting can help you control the brightness level across the room or in specific areas depending on the task you are performing.
Wall sconces can offer warmer and dimmer lights while incorporating your style depending on the type of metal, glass, and finish they provide.
Chandeliers or other hanging lights can make a bold statement above an island or large table.
Table lamps can set a calm, quiet mood on end tables or small countertops, especially when no one is cooking in the kitchen.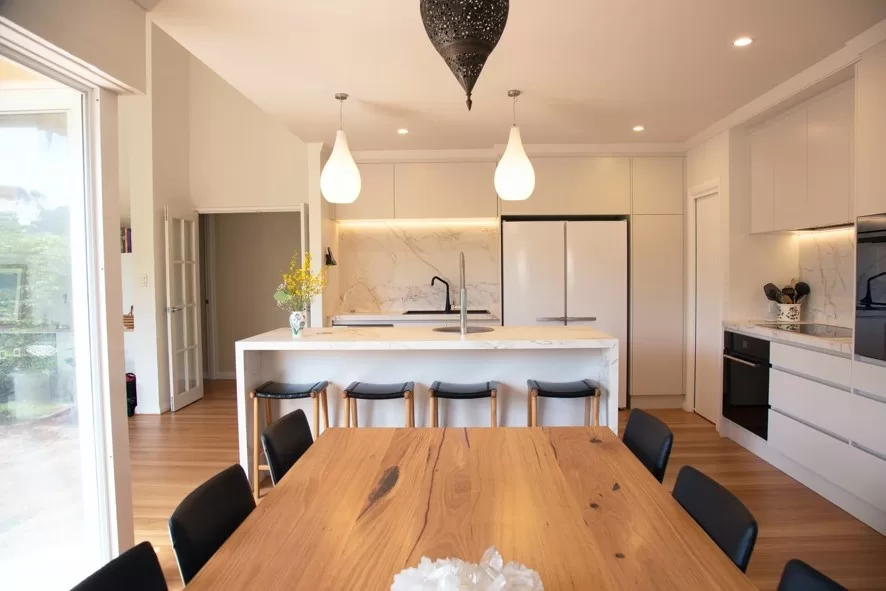 Additionally, playing with your kitchen's color palettes will allow you to set the tone for the space. Some common palettes are all-whites and neutrals, which can be suitable for a bright and airy feel; black and white tones, which can help you achieve a classic or minimal look; playful wood tones, which can create a cozy warmth; or even navy's and olive greens, which have become increasingly popular in recent years.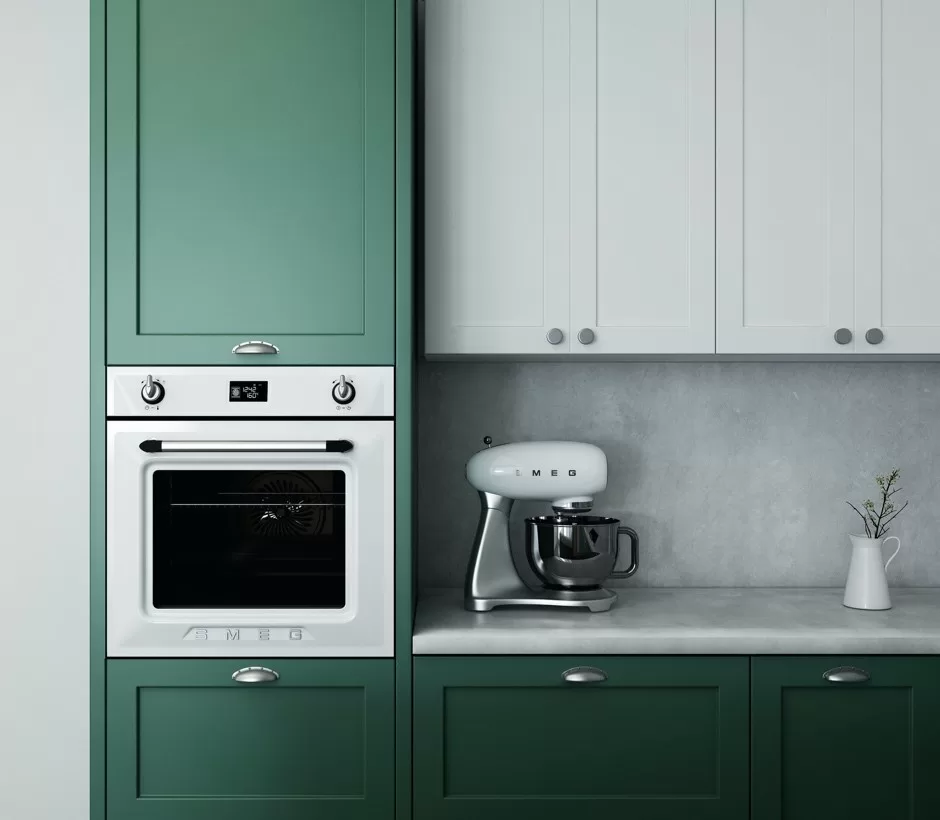 Incorporate Unique Details
One easy way to personalize your kitchen is to play with the hardware you use on your cabinets and experiment with types of metals. Stainless steel and chrome are common choices, but alternatively, cabinets can feature black, gold, or other color finishes or even have push doors with no hardware to keep the surfaces hyper-clean and minimal.
Another alternative is to source vintage or antique hardware, which can begin to introduce glass, shapes, and patterns into the small knobs on your cabinet doors.
When playing with various metals, ensure you have the full picture in mind so that any juxtapositions look intentional and not chaotic or mismatched.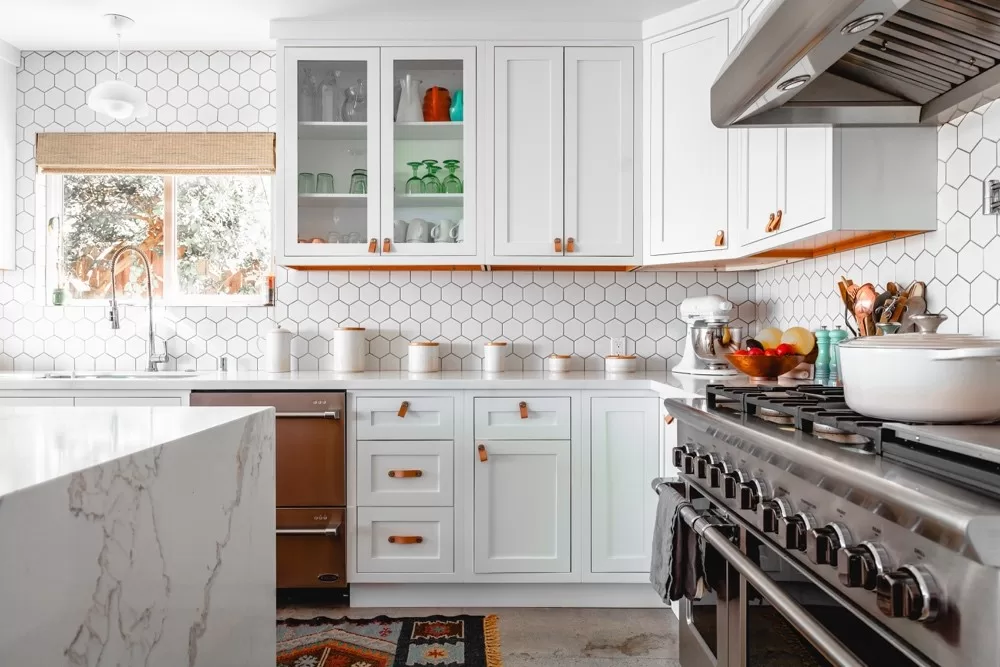 Utilize Fun Storage Solutions
One challenge in any kitchen is merging aesthetics with function. Moreso than any other room in the house, the kitchen requires significant and efficient storage. Beyond your cabinets, there are many ways you can play with storage solutions depending on the look you are going for. Some options include:
Exposed shelves: If you have visually pleasing storage bins, or a unique collection of mugs and ceramic goods, exposed shelves can help add character and decoration to your kitchen by using the beauty of the items you already own.
Hanging pots: If you have a large collection of pots and pans, hanging them from the ceiling or under the cabinets can be a playful and useful way to store your items. This option works best when the pots and pans are somewhat visually cohesive and when there are enough to fill a space without it looking sparse.
Vintage sideboards: These display cabinets can be a great way to feature or hide your dish collection and make a statement with an antique piece of storage furniture that brings its own beauty to the space.
Reach out to us for a consultation with an interior designer so we can start bringing your kitchen space to life.