The benefits of having a garage floor containment mat are often overlooked. This is especially when it comes to protecting your garage floor.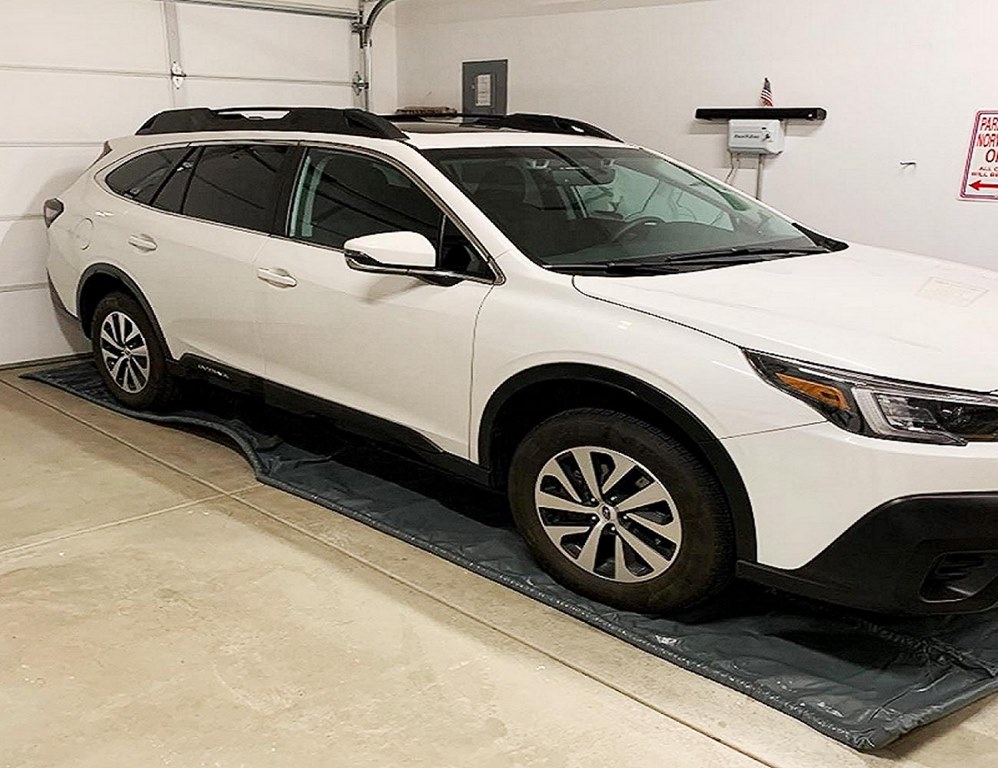 However, they are still a popular choice as far as garage flooring options are concerned. But have you ever wondered, how do garage floor containment mats work?
Well, these mats have so many functions that we are going to look at in this article. So, keep reading to find out how exactly they work.
How Do Garage Floor Containment Mats Work? – Functions
Thinking of buying garage containment mats? If yes, you can find everything you want to know about them at Garage Deed blog. But for now, we are going to discuss how these mats work in this guide.
1. By Absorbing and Containing Liquids
If you live in an area that experiences wet seasons more often, then a garage containment mat may be for you.
This is because garage mats are designed to collect and absorb all kinds of liquids, including water and oil. They can also absorb light snowmelt that tends to drip off your car.
Additionally, the mats work by containing the liquids, so they don't escape to your concrete garage floor.
Some models are textured, while others have grooves or ridges to capture dirt, grease, snow, and other chemicals. Consequently, this helps ensure that your garage floor stays dry and clean.
2. By Concealing Cracks and Stains
Another way garage containment mats work is by covering up any stains or cracks on your garage floor. This is, especially if you have an old garage floor.
You see, over the years, garage floors tend to gather unsightly cracks and even stains. Unfortunately, you might find it quite expensive to change the entire garage floor.
In this case, a garage containment mat would be an affordable option. You just roll out your mat, and nobody will ever know of the existence of those stains or cracks.
After all, there is no floor preparation needed. Not to mention, these mats are available in various styles to choose from. Therefore, you can always pick a style that complements the look of your garage.
---
Read Also:
---
3. By Reducing Slippage
During the winter months, snow or even water tends to collect on your garage floor. When this happens, the floor is sure to get slippery.
Additionally, when working in your garage, you may spill oil or even grease on the floor, thereby creating a slippery surface.
And as you may know, walking on slippery floors can be dangerous for everyone. So, garage floor containment mats work by providing protection against slipping.
But how, you are probably wondering? Well, they prevent slip fall hazards by holding up the water, snow, spills, and other liquids. On top of that, most of them are made from slip-resistant materials, which helps reduce the slipping effect.
4. By Keeping your Home Clean
You will also be pleased to know that these mats work by keeping your house as clean as possible. They do this by limiting the amount of dirt that is brought into your house.
You see, dirt from your garage floor can easily make its way into your house. This is because of the nature of concrete garage floors.
So, despite how much you try to keep your house clean, dirt like debris and dust may still find their way inside.
But if you roll out a garage containment mat, then your house will stay clean. This is because the mats are built to absorb all forms of dirt. You just need to regularly clean the debris on the mat's surface.
5. By Extending the Lifespan of your Garage Floor
Garage containment mats are built to be chemical, stain, and even oil resistant. This means that they can withstand the harshest abuse.
Not to mention, they are also waterproof. Therefore, they are sure to protect the floors of your garage against damage from freeze-thaw and road salts during the winters.
Also, thanks to these mats, you don't have to worry about your garage floors being stained. Consequently, this ensures that the floors remain in top condition.
By protecting your garage floors from harsh elements, these mats help extend the lifespan of your garage. This means that you won't need to spend money on renovating your garage.
Bottom Line
As you can see, garage floor containment mats work in many ways. Therefore, if you have a garage, it would be a wise decision to invest in these mats for your peace of mind. Just make sure to get the right size mats.