The majority of people replace their roof only once in their life as it is a significant investment. Thus, for any roofing needs, you should hire the best roofing contractor who fits your budget perfectly.
But you don't have to go far for this; You can ask your neighbors, and friends for recommendations since they might have worked with a good contractor before.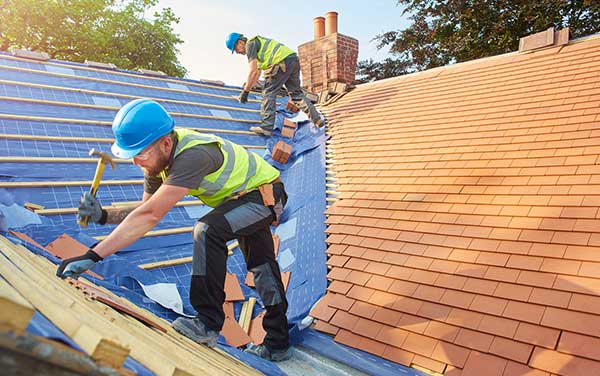 How to Find the Right Roofing ContractorYou can also search online for roofing companies near you and contact them. Below are some tips and tricks that you must keep in mind to find the right contractor for your roofing project.
1. Find Out About the Contractor's Experience
Ideally, you do not want an amateur handling the replacement of your roof. Sometimes to save money, people hire unskilled roofing workers but this always results in unprofessional-looking work.
You should always check the contractor's background and choose one with experience and a solid reputation. Such precautions will save you from headaches if any issue arises.
2. Verify The Contractor's License and Insurance
Undoubtedly, replacing a roof is risky work. Legitimate businesses always have a tax identification number, professional address, business website, and a verified contact number.
You should confirm all this information before hiring them. It is always best to hire a roofing contractor who has the right equipment and knowledge about safety.
You should only hire contractors who hold required permits and licenses for each work they do. A professional roofing worker will always hold the necessary insurance essential for the job.
Insurance is important when it comes to roofing projects since if a person is injured during the roof installation process, the insurance company will cover up all the expenses.
Therefore, you will not be responsible for any work-related accident on your property. You will also not be responsible for any damages done to your house.
---
Read Also:
---
3. Check for Certifications and Training
To ensure proper installation, some manufacturers of shingles provide extensive teaching to roofing contractors.
Hence, you will be sure that your project will be a success if you hire these trained contractors. Some contractors also get certificates from reputed building associations to acknowledge their expertise in what they do.
Enquire the contractor about the training of their team and certifications they are holding.
4. Always Check the Previous Work of Your Roofing Contractor
When searching for the right contractor, you should only contact those with a good reputation in your locality .
Before making any commitment to a contractor, search online or contact homeowners who have hired them before and get the reviews.
Check how these contractors have handled customer's complaints and you will get an idea about their professionalism and commitment to their job.
5. Get A Written Contract
Although genuine smiles and friendly greetings from roofing contractors may seem to be all you will ever need when discussing the project, it is crucial to document every phase professionally.
A reputable and experienced roofing company will assign a well-informed member of their staff to explain the contract details and answer your queries. It would be best if you never leave anything unfinished or unclear.
The crucial points that you must have in a legal document include the complete timeline of the project, the type of material the company will use, and the total cost.
It is always wise if you also include warranty and waste disposable responsibilities in the record.
In addition, you should never agree to a cash deal. It is wise to stay away from the roofing contractors who insist on you for cash payments. Cash that is not traceable can put you at risk.
Clarify The Consequences of Unsatisfied Work Beforehand
You should always communicate well with your roofing contractor before letting them take charge. At times, work may not go as planned.
Therefore, you should discuss how the company will handle such issues. The contractor company should guarantee that in case of dissatisfaction, they would ensure corrections without any objections.
Ask your contractor about the handling of unexpected repairs too.
Ask If the Roofer Will Rip Off Your Old Roof
Some companies choose to set up new roofs over the old ones. They avoid the destruction of old roofs to save time.
However, it is not a good option as it adds extra weight. Old roofs that are already in terrible condition may not bear additional weight and can cause mishaps later on.
Therefore, you should never go for the inexpensive and temporary solution to save money because, in the end, it will cost you more in terms of repairs.