Because roofing can be one of the biggest and most expensive home repair projects a homeowner will come across, it is important to take your time when selecting a qualified contractor.
After reviewing the suggestions below, you should feel a lot more confident going into this project.
Choosing the Best Roofing Service Contractor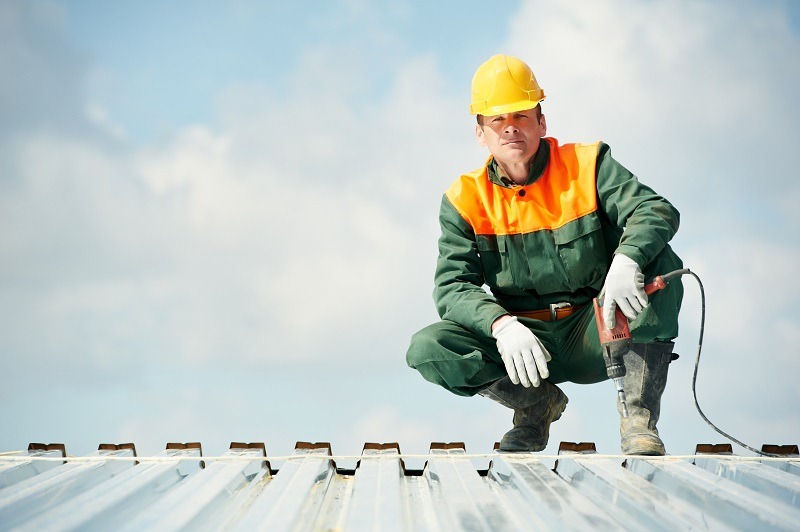 ---
Read Also:
---
Hire Local If Possible
There are several reasons why you should hire someone who is from the same area. Working with someone who is local will allow you to keep an eye on them and be able to meet up in a hurry if something should arise.
It is less likely that someone local will attempt to rip you off or pull a scam on you. It doesn't have to be a contractor – just someone pretending to be one.
No matter how much of an emergency it may be to have your roof repaired, take a few minutes to call references. Five minutes of time now can possibly save you from major headaches and more lost time if things go badly.
Some questions you may want to ask references can include:
Did the job come in on a budget? If not, how much extra did they charge? Were the extra charges legitimate?
Did they cause any damage to your house or property? If so, did they rectify the situation in any way?
Have you experienced any problems with the roof, such as leaking? If so, how did they take care of the situation?
Would you hire this roofer again?
Studies have found that many people prefer family-based construction companies. This is because homeowners feel that they will be around for the long haul, rather than try to grow too fast or suddenly sell off their business. The TEMA family business is a good example of what you can expect from family-owned roofing companies.
Local contractors will usually be more familiar with the zoning laws and code regulations for your neighborhood. Hiring a contractor that works out of the same community as for where you live is also important because it puts more money back into the local economy.
Research the Contractor Online
With the world at your fingertips, why not use it to help you find the perfect contractor?
With so many review sites available, you're more than likely to find some information on how good of a job they do. There are websites more specifically for home repair, such as HomeAdvisor.
Then there are websites that allow you to look up independent contractors in any field, such as Angie's List. Finally, sites like Yelp allow any business to be rated.
You can also check with places like the Better Business Bureau or Consumer Affairs to see if there have been any complaints filed against the contractor.
Pay for Quality Work
If your new roof is being paid for by the insurance company, you are kind of restricted to what they claim it will cost to have the damage repaired, unless you are willing to pay out of pocket to hire a more expensive company because you think it is better.
Before doing this, explain the situation to the insurance company and see if you can negotiate with them to pay more.
When choosing to have your roof replaced, either due to normal wear and tear or simply wanting to upgrade, take your time and shop around for the best contractor. Get quotes from as many companies as you want.
Besides simply comparing prices, take online reviews and ratings into consideration, as well as references and examples of past work. You may decide it is best to pay more to help ensure you are happy with the outcome.
Get the Details in Writing
To ensure everyone is clear on what work is to be done when it is to start when it is to end, as well as any other requests you want to make sure are adhered to, simply put it in writing as part of the contract.
Also, make sure the terms of payment are included in the contract. This should state the total cost, as well as how and when payments should be made. Usually, you pay one-third upfront to cover the cost of supplies, and two-thirds when the job is complete.
Before handing over the final payment, inspect the work and make sure everything is completed to your satisfaction. If you are not sure what to look for, it might be a good idea for you to bring in a home inspector.
You can state in the contract that the final payment won't be made until the inspector certifies that everything has been completed correctly.
Removing the Old Roof
Some contractors say they can save time and money by leaving the old roof in place and applying the new shingles on top of the old one. They will inspect the current roof, and if it looks good to them, they will install the new one on top.
Without removing the old shingles, there is no way to fully inspect the roof. Soft spots or rotten wood can exist in areas you can't see. If these problems aren't fixed and the new shingles are installed anyway, it can lead to bigger and more expensive problems.
The old roof should almost always be removed before the new one is installed.
Ask for a Warranty
Before hiring a contractor, see if they are willing to guarantee their work. Most companies should be willing to back up their work, but unless they put it in writing, you have little recourse if something should happen.
Don't settle for just a manufacturer warranty. That only covers the products they use, stating that it should be free of defects or flaws and if not, you will be compensated for repairs or replacement.
If the damage is due to the products being installed incorrectly, neither warranties nor homeowner's insurance will pay to have it taken care of. Roofers should, at the very least, be willing to cover leaks, flashing failure, and other labor-related problems.
Check if They are Licensed and Insured
All roofing companies are required to have a license from the Labor Licensing and Regulation Board (LLR). They are usually also required by law to be licensed in the county where they are performing work. They should be able to provide you with their license number upon request.
It can't hurt to check with the county to ensure they are licensed. While you're at it, see if the county has anything negative on file regarding the contractor. You never know what they might have.
Insurance, including worker's compensation and liability coverage, is also important for the contractor to have. If they don't have any and someone gets hurt on your property, you might be on the hook for any damages.
Insurance should cover all of the contractor's employees. The contractor must also have proof that any subcontractors they use also have insurance.
Follow the Rules
You may not be aware that you are doing anything wrong but be careful of any incentives a contractor may offer you in exchange for hiring them.
One way they try to sell you their business is by claiming they will pay your deductible – and they very well could. The problem is that by law the insured has to pay the deductible.
By allowing them to pay it, you are committing insurance fraud. It sounds tempting to save all that money, but it isn't worth the possible repercussions.
Another way that contractors try to entice you is by saying they can handle your claim. No one wants to fill out all that paperwork, but it comes with owning a home. In a lot of states, a contractor cannot fill out forms on behalf of a homeowner when it comes to negotiating an insurance claim.
Contractors who are willing to break these laws are not acting in your best interest.
Selecting a Roof
When it comes to having your roof replaced, the contractor should go over all the different choices with you. It's important to know what products they are using to ensure they are high quality and will last a long time.
If you are having your roof replaced due to damage and insurance is paying to have it done, this might be a good opportunity to upgrade. Going with something different than shingles, such as copper or slate, can be a great way to showcase your style. You will have to pay the difference in cost, but you're still saving some money.
When selecting a type of roof, check with your contractor to make sure they are approved by the manufacturer to install that kind of roof. Some companies may require contractors to have special training or certifications to ensure the roof is installed properly.
Conclusion
Now that you have been given many tips and guidelines to follow, hiring the correct roofing contractor shouldn't be as hard as you may have thought. Most importantly, remember to do your research before signing anything.
Don't allow yourself to be intimidated or persuaded into letting contractors make decisions that you aren't happy with. It's your property and the choices are up to you.