Playing Pool is a wonderful hobby for many people since it may provide significant physical and emotional benefits to people of all ages.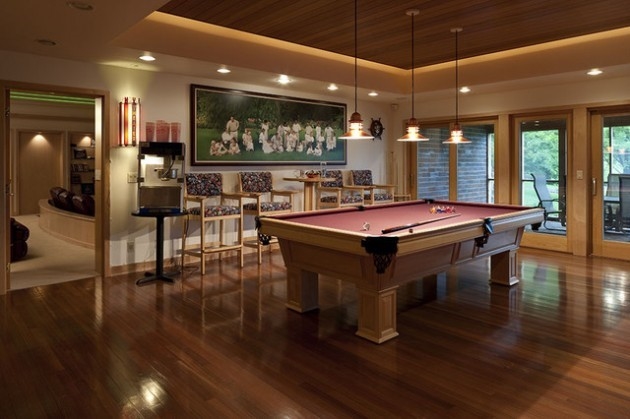 Bringing home, a pool table and creating their game area is thus a dream come true for many people.
However, to get the most out of the game room, you must carefully consider all of the variables. This article will help you find out how to design your game room with a billiards table.
Factors to Consider
How to design your game room with a billiards table? There are 5 main factors that you have to take into consideration as follows: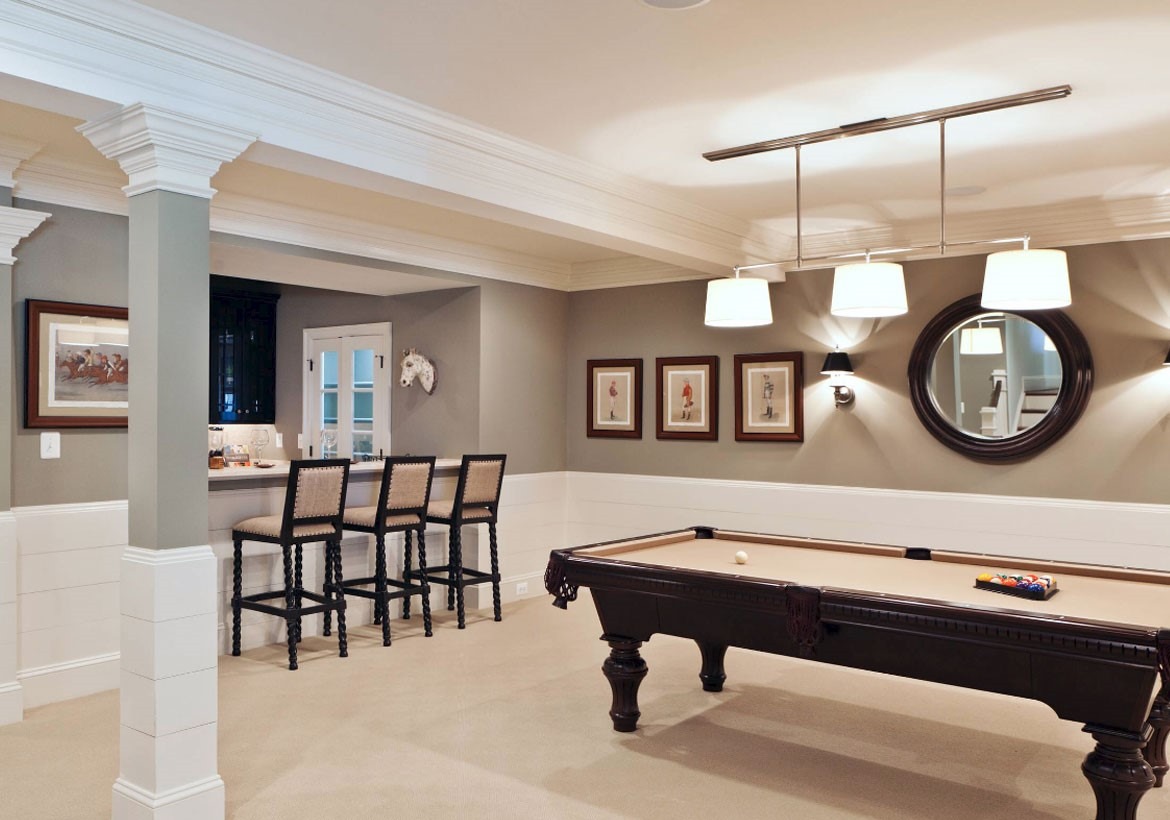 Layout
When building your pool area, keep in mind that player mobility is the most vital factor to consider. A thorough plan for the billiard room layout should be drawn on paper or, preferably, utilizing a 2D to 3D room planning program.
Given the need for players to use their pool cues in a variety of places around the billiard table, it's highly advised that you start with the floor design before settling on your pool table (if you do not have one already at this point in the planning).
Given that most pool tables require at least a 5-foot perimeter, a smaller 7-foot table will require at least a 13-foot-wide space (more on this later).
Making space for the table is only the first step in arranging your space for player movement, spectator comfort, and non-pool-playing family members.
Physical Space
Physical space is also an important criterion. You have to know how much physical space you have, how much space in the room you need to place the table.
Billards table is available in various sizes, so you have to choose the one that fit your room size. Besides, you have to leave enough space for cue length, spectator seating, and space for drinks and snacks.
The most common size for a home pool table is eight feet, however, this may not be the optimal size for every client's space or degree of use. For quality gameplay and general enjoyment in the space, choosing a table that matches the room right is crucial.
---
Read Also:
---
Cueing Space
A pool table should have enough room around it for players to make shots from various angles and sides.
For example, if you have a 57'' length cue stick, you will need at least a 5-10'' cueing room around the table which allows players to use the cue comfortably without hitting the walls.
In addition, you can choose the cue stick with a suitable length for your space. You can find many cues stick options here with all the needed information.
Lighting
Lighting is another often-overlooked but crucial item to consider if you want to get the most out of your game room.
The light should be evenly spread over the playing area, and it should be loaded with technological knowledge. Accent lights, glares, and shadows can all detract from a game that relies on distinct vantage points and perspectives than other rooms.
There are numerous amusing billiard-themed pendant lights available, but no matter what design you choose, you'll need good illumination immediately above the pool table, so hanging lights are the ideal option. Wall lighting is also necessary and should be used in conjunction with the pendant lights.
Function
Remember to construct your game room to accommodate the high volume of traffic it will receive, as well as the fact that food and drinks will be available at all times.
Select a carpet that is extremely resilient and easy to clean with this in mind. An area rug is not advised since it could cause someone to trip over it or get stuck in the legs of a chair or bar stool.
The playing area has a wall-to-wall carpet that keeps it safe and comfortable while also decreasing noise. Although you can decorate your walls with pool accessories, memorabilia, or posters. Try to keep them bright and avoid dark paneling.
Some Suggested Home Game Room Decor Ideas with Billiards Table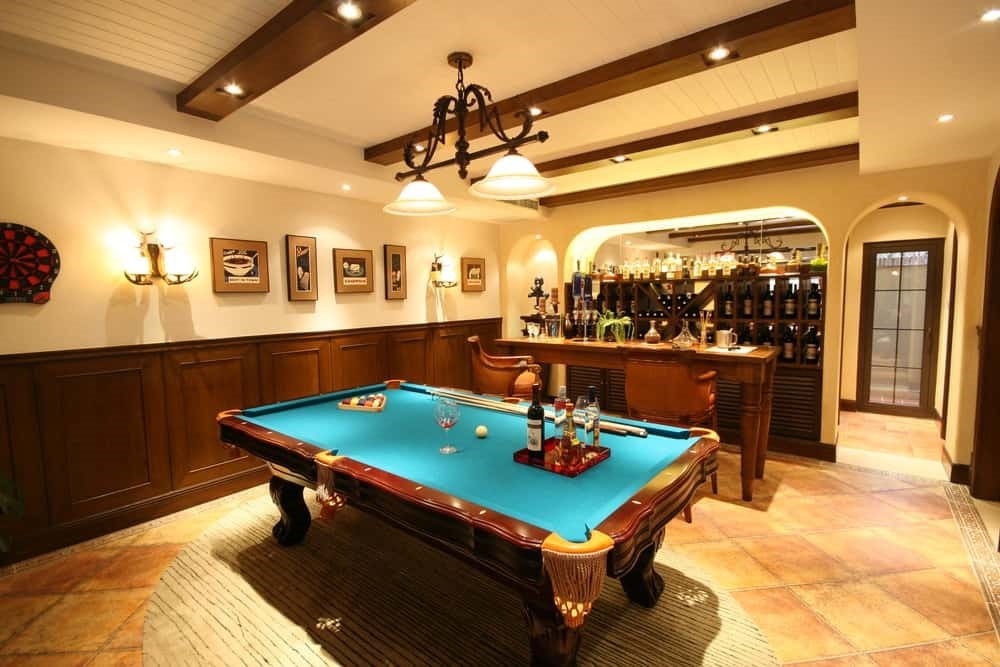 Use Double Door Walls
Double-doors are one of the best ways to expand a small pool room. Place your pool table near the patio doors or a central pair of double doors that divides the two living areas.
This can help you expand your gaming area while also making it easy to mingle outside of the pool-cue zone. While twin doors will not solve all of your tight corners, they are ideal for the opening half of the table.
Consider Built-in Storage and Seating
Building in your features is one of the best methods to streamline a home pool room. Storage and chairs that are built into the walls don't take up space in the middle of your billiard room.
Players must go around the table, adjust their positions, and wave pool cues in all directions, particularly up. As a result, start small.
Build cabinetry that follows the contours of the walls or even inserts into them for added storage. You can also use low-set furniture and build counters to act as storage.
Use Convertible Pool Table and Furniture
Another alternative is to create a multi-purpose pool room. During the day, some families may cover the pool table and use it as a dining, craft, or homework table.
When it's time to play, the other furniture is moved out of the way and the cover is taken off. Gliders can also be added to your table, which can then be pushed against the wall when not in use to make room for other activities.
Some billiard tables are so light that they may be folded. Alternatively, you can transform any other adjacent furniture. With unfolding walls and fold-away furniture that clears the room for billiards more thoroughly than any stack of chairs, it'll be easy to clear the space for billiards.
In short, it may look easy but designing a game room on your own is not simple. Aside from studying carefully how to design your game room with a billiards table to have your first thoughts, you should seek for expertise to build up a usable game room that will be the most comfortable and entertaining area for your whole family.