Are you planning to have a complete coffee bar in your home?
This will be easy to do the task, which requires fewer materials and expertise, and will leave your mornings refreshed with a cup of coffee. For most people, making coffee in the morning is a must and helps make their day ahead.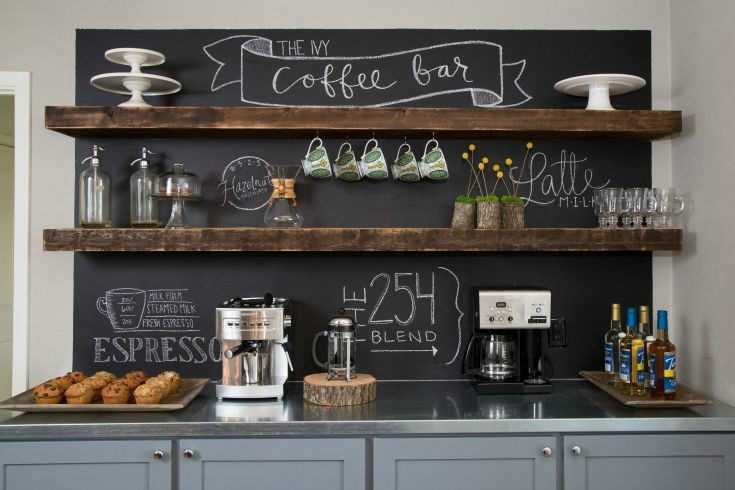 They do it before exercising, checking emails, and creating a general plan for the day. If you are an addict to this sweet drink, you will want to have your bar to make and take your coffee.
How does one set the coffee bar? To set up your perfect coffee station, here are some easy steps to adopt.
1. Get the Essentials
It is essential to know what to include in your coffee bar. The things to have in your coffee station depend on various factors, including your budget, station size, needs, and wants.
First, you will need the coffee maker as the primary tool in your bar. The brewer should be easy to use and clean and should be able to handle your needs. You will also need a detailed guide which contains easy steps on coming up with different coffee drinks.
Other things you might need include the grinder, a weighing scale, thermometer, timer, and much depending on your needs. After gathering all the tools and equipment, it's time to look for space and start creating the coffee station.
2. Choose the Perfect Spot
Before you decide to make your coffee bar, you need to spot the place where you will want it to be. Will it be in your kitchen, dining room, or a dedicated room?
Most people put their coffee bars in the kitchen for convenience since you will be able to use other utensils, and it's easier to clean and store the cups and other essentials.
Ensure that the kitchen is spacious to avoid inconveniencing other activities. Other things you need to check, too, include power sockets for your coffee maker, the trash bin to throw away the filters, among other needs.
Popular locations you can set the bar include at the corner of the countertop, a board on a wall, or a free-standing cart. Choose a space with an allowance above it to create your store and make decorations.
---
Read Also:
---
3. Placing the Coffee Top and Other Appliances
The first thing to place at your coffee bar is the coffee maker. This will define your coffee station and will determine where other things will fall in place.
You also need to note that the coffee maker is the main attraction, so you must do its placement well. Ensure there is adequate space around it to enable accessing all the brewers' features.
There are varieties of coffee makers you can purchase for your coffee bar. This depends on your budget, size, make, and availability.
If planning to be preparing your coffee daily, it's essential to have a reputable brand that will last longer to get value for your money.
Other than the coffee maker, you may want to include other appliances depending on how you want your coffee.
Such things might include a milk frother, a coffee grinder, a tea maker, and an electric kettle. The number of appliances to add will depend on the space too.
The larger it will be, the more it will hold the appliances. How do you arrange the appliances? It is essential to be creative at this point.
Ensure the station looks attractive and nothing inconveniences the other.
4. Display the Mug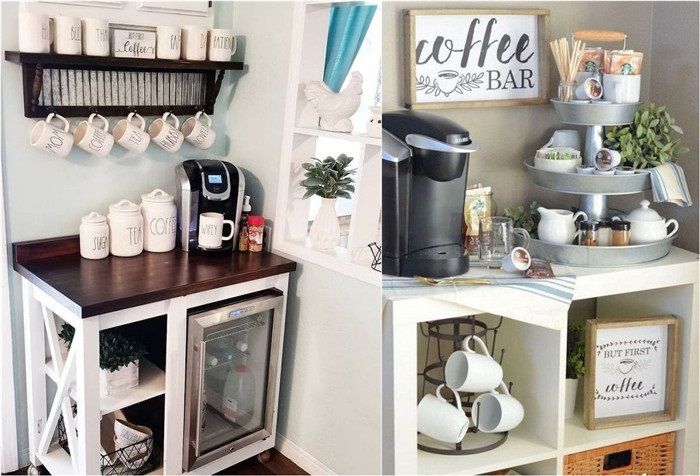 Your coffee station won't be complete without the serving mugs, recipes, and other supplies. While many people will like to store the serving mugs with other kitchen utensils, it will look better if you create a separate rack for the coffee bar.
This idea will save you lots of trips to the cupboard or loss of time in searching for the serving mugs among the many kitchen utensils.
How do you store the mugs? You can do it in so many ways, including having a separate drawer or cabinet for the mugs; however, if your mugs can act as decorative pieces, it's better to place them in an open space, decoratively.
The units should have hooks for hanging the cups and must be designed in such a beautiful way to create a perfect look.
5. Storage of Other Supplies
Other than the coffee maker and the mugs, you will need a storage space to keep the beans, sugar, and other supplies. You can use the shelves or other airtight containers for this purpose.
You can also buy the customized stylish jars that will keep your supplies protected and preserve the coffee aroma.
Every container should have a seal to keep the contents fresh. You can store the coffee bowls, sugar dishes, coffee stirrers, flavoring bottles, and other containers on a shelf above the coffee maker.
Ensure everything is put stylishly and that it's accessible to everyone using the coffee bar.
6. Finish with Decorations
Your coffee station might be ready, but does it look presentable? Why not furnish it with some decorations?
You can have some fine touch to your coffee station, which involves placing stickers, plants, and pictures related to growing, brewing, and the benefits of drinking coffee. You can also get a simple coffee sign to alert visitors you have a coffee bar to help themselves.
You can also create your menu using various ways, including the most popular, the chalkboard way. Decorating your coffee station isn't limited to any rules and regulations.
You can do it in any way as long as it brings out your authentic taste. After doing the decorations, you can now take a seat, do the testing, and have your first cup of coffee.
As explained above, the process of coming up with a coffee shop is easy and doesn't require many things. You only need to get the essentials right and start enjoying your coffee while looking for other additions.
Brewing your coffee should be an adventure. The station should be fit for carrying out this adventure. You can also use the guides to create the recipes you are not familiar with to be entertaining your visitors with different tastes.
There is nothing as exciting as sharing a cup of coffee while catching up with your friends and families.