Home extensions can be a difficult project and one that many homeowners dread the idea of.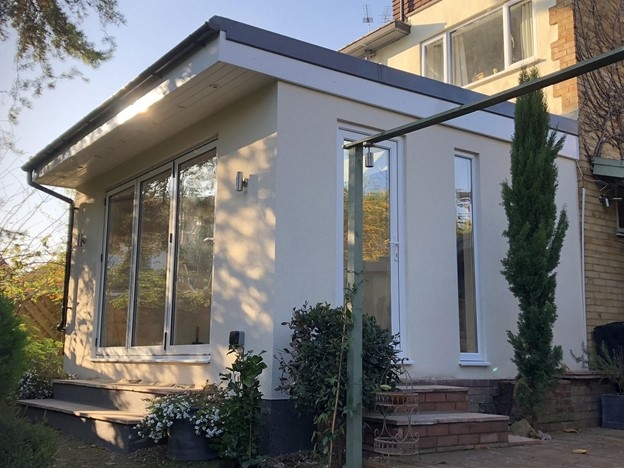 However, there are several benefits of having a home extension built, such as increasing the value of your home and creating a larger living space. Home extensions and prefab extensions are a great way to expand your home and add some much-needed space.
Would you Like a Bigger Living Space?
One of the ways to get it is to extend your home. But you need a builder you can trust, who is going to build to the highest specifications, who isn't going to rip you off, and who will work to schedule. This blog will look at the different options you have for building a prefab extension and how to hire a builder to do it.
A prefab extension can give you that much need space for the fraction of the price of a traditional extension!… Prefab extensions can be also used for a variety of home uses to either extend the home or give you more utility. They can be used for a playroom, games room, washroom, bedroom, or just some much-needed extra living space.
In recent years, prefabricated home extensions have become popular. This is because they can offer a number of benefits. These can include being less disruptive, potentially being cheaper, and they can be quicker to install. But if you are looking to get a prefabricated home extension, then you need to make sure that you are getting a quality product. You also need to find a good contractor to do the work for you.
If you are looking for a company to build a prefab extension, you have come to the right place. We have many years of experience in the construction industry and can design, build and install your extension at an affordable price. Our prefabricated modular home extensions are both cost-effective and high quality.
Are you considering adding an extension to your home? The process may seem daunting. But we can simplify the process. We are experts at providing prefab extensions. If you need a prefab extension, then we can design, create and build prefabricated modular home extensions at affordable prices!
Prefabricated home extensions are the easiest, safest, fastest, and cheapest way to get an extra room or two. There are many reasons for getting a prefabricated home extension, but you get a beautiful new room without the mess, noise, and disruption that often comes with a home extension.
If you are looking to extend your home or workplace, you have a few options. You can renovate and carry out work yourself. You can replace the building or even knock it down and start over.
Or, you can opt to get a prefabricated modular home extension, which is quicker, cheaper, and less disruptive than the other methods. We have over 30 years of experience in building extensions. We are experts at providing prefabricated home extensions.
Modular Home Extensions UK is a prefabricated extension specialist. We provide high-quality and affordable extensions that are structurally sound and fully compliant with building regulations.
We work closely with each of our clients to ensure we design and build the home extension that best suits their needs. We're experts at providing prefabricated home extensions. We build prefabricated modular home extensions at low prices! We offer a large and varied selection of prefabricated home extensions. We provide the following services:
Prefabricated Modular Home Extension
Prefab Modular Home Extension
Modular Home Extension
We are a leading provider of modular home extensions. Our modular extensions are constructed using the latest technology and are seamlessly integrated into the existing home, making them the perfect addition to any family home.
Extension projects can be quite stressful and disruptive, and the wrong extension can cost you a lot of money. However, if you need a home extension and you want outstanding value for money and excellent quality, then you need look no further than our company.
A prefab extension is cheaper than a traditional home extension and can be built in a fraction of the time which is perfect if you need extra space fast. Choosing the right team to do the work is vital though.
Bungalow extensions can be a good way to add extra space to your property and this blog will look at all of your options. How do you know you're choosing the right extension company? How much can you save by getting a prefab extension? These are all questions you should be able to answer before you sign the contract.
Want to get an extension to your home? You have heard of prefab extensions and are thinking of getting one. Where do you start? How much will it cost? Should I have a traditional extension or a prefab extension? This blog is designed to help you answer these questions and will look at the different options available.
We also offer Free Consultations for business owners and entrepreneurs interested in taking their business to the next level. Get in touch for your Free Consultation and let's discuss how we can help.
If you need a prefab extension, then we can build prefabricated modular home extensions at low prices! If you're interested in finding more about home extensions, then contact us today.