Are epoxy countertops better than quartz? This is a question that homeowners ask themselves when they are deciding which type of kitchen countertops to installing.
In this article, we will discuss the benefits and drawbacks of both types of materials so you can make an informed decision about what you want in your home.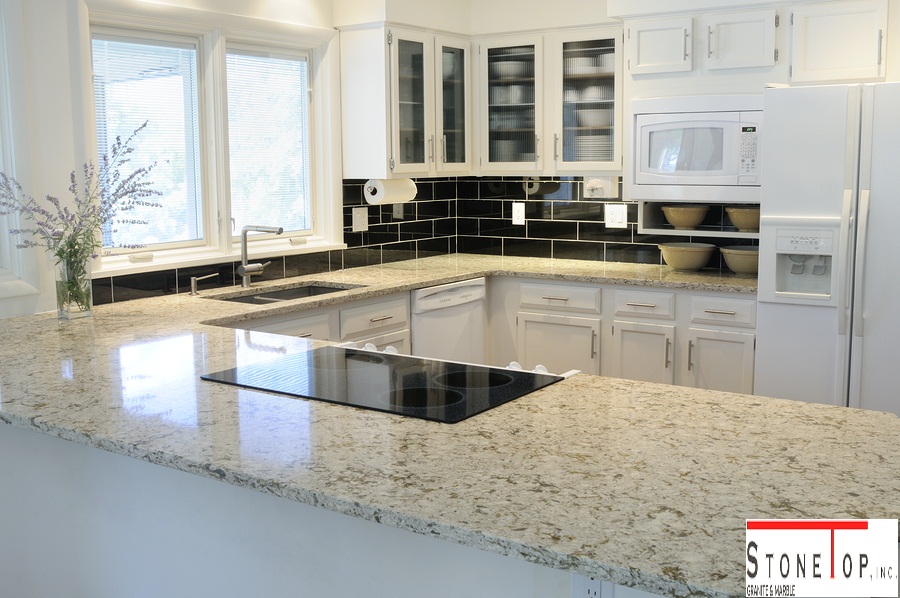 What are Epoxy Countertops?
Epoxy is a type of composite plastic that can be made to look like natural materials such as stone, granite, marble, or wood.
Epoxy countertops are extremely durable and low-maintenance. They typically require no sealant, which means they won't yellow or age over time the way other materials will.
The higher initial investment can make it tough to justify when other countertops are more affordable and easier on your wallet in the long run.
Why Should You Invest in Epoxy Countertops?
Following are the reasons why you should try epoxy countertops:
After hardening, epoxy gives a solid finish that lasts for years. Contrary to other coatings, you do not have to reapply the material to maintain its shine.
If you are looking for a super shiny, polished finish, then epoxy is ideal for your kitchen. And it is easier to maintain the glossy finish with a simple application of mineral oil.
It is among the versatile countertop materials as it comes with a wide range of designs. You can create any pattern and choose any color that you wish.
Epoxy is heat resistant so you can place a hot dish on the countertop without instantly creating damage.
It is among the only countertop materials that offer a seamless surface for continuous pattern and color.
Why You Should Not Invest In Epoxy Countertops?
Following are the reasons why you may not want to invest in epoxy countertops:
The messy task of applying epoxy is one of its biggest cons. The whole process is complicated and time-consuming.
Creating the desired color and pattern on this material is done in real-time. You have to get it right the first time.
While the material is durable, it is prone to staining, so you have to be careful with spills.
Epoxy countertops have a variety of benefits, but they come with more initial costs than other types of materials.
If you can afford it, epoxies might be the best option for your kitchen in terms of durability and longevity.
If you are planning to buy an epoxy countertop for your kitchen it is important that you know everything about this material. Make sure you read more about the material and make a well-informed decision.
---
Read Also:
---
What are Quartz Countertops?
Quartz is a man-made material that mimics natural quartz, granite, or marble. Unlike epoxy, the cost of quartz countertops typically requires no upfront investment, and they can be installed over an existing surface such as laminate, metal, or wood for about $40 per square foot.
Why Should You Invest in Quartz Countertops?
Following are the reasons why you should invest in quartz counters:
One of the main benefits of quartz countertops is their high durability. It won't scratch, crack, or get chipped easily.
Often quartz countertops are offered with generous warranties.
You can get quartz countertops in a variety of sleek, elegant, and contemporary designs.
Quartz countertops are non-porous in nature, which can protect them from stain and discoloration.
Why Should You Not Invest in Quartz Countertops?
The following reasons may not make you want to invest in quartz counters:
Installing this material into a countertop is a difficult task.
Exposing the material to heat can melt its resins and lead to permanent damage and discoloration.
Quartz counters represent the middle ground when it comes to cost and are perfect for people looking for an inexpensive (though not free) option that won't crack, chip, or break over time.
How to Clean Epoxy Countertops?
Getting your epoxy countertops clean is pretty simple, and you don't even need a scrub brush or any special products. All you'll need is water, dish soap (or hand soap), paper towels, and an old toothbrush for the tougher areas.
Mix up some soapy water in a bucket with warm water and use that solution to wipe down your countertop surfaces.
Wipe off any excess liquid from the surface using a fresh paper towel until it's dry enough to not leave spots on clothing when touched. Finish by cleaning out all of those little cracks around faucets or appliances too.
If you want to deep-clean your epoxy countertop, you will need more than just a bucket of soapy water.
You'll also need some cleaner and something to scrub the surface with, such as an old toothbrush or a non-abrasive scrubbing brush.
Mix up your cleaning solution in a bowl (or even pour it onto the countertop), then apply it all over until you're sure there's no soap left on any area that needs cleaning.
Let sit for at least five minutes before scrubbing away stains. Be careful not to scratch your surfaces when scrubbing.
After removing most of the dirt from deep down, use a clean, wet rag to remove any remaining traces of cleanser.
How to Clean Quartz Countertops?
The cleaner you can keep your quartz countertops, the longer they will last. This is why it's important to know how to properly clean them and what not to use on them.
For example, you should never use harsh abrasives or acidic substances like lemon juice, vinegar, or tomato sauce because these ingredients may etch the surface of your counters over time and cause another issue entirely – discoloration.
Soap-based cleaners are preferred for cleaning quartz surfaces as long as they're non-abrasive so that any scratches left by a sponge don't compromise the stone's durability in any way.
Soaps with bleach shouldn't be used either since this type of product eventually leads to yellowing which dulls the shine of quartz considerably.
If you choose to use a cleaner with bleach in it, there's always the risk of staining your counters when they come into contact with each other.
A common method for cleaning quartz surfaces entails spraying them down with water and then wiping them clean using paper towels or cloths.
You can also combine soap and water together if needed but make sure that you're rinsing well afterward so as to avoid any mineral buildup on the surface, which may lead to etching over time.
The Bottom Line
Both epoxy and quartz countertops have their pros and cons. Deciding between the two depends on your budget, style preferences, and ease of maintenance.