Moving home is often simultaneously exciting and stressful. And with so much going on in the run-up to the move day, it can be easy to make mistakes.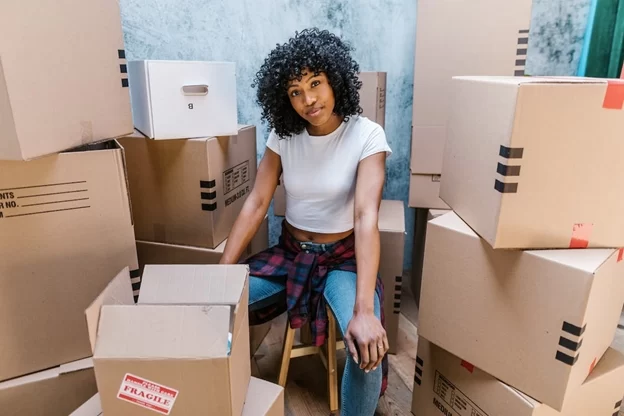 So, take a look at the following eight common mistakes that people make while moving to ensure you avoid them.
1. Waiting Until the Last Minute to Pack Your Belongings
Packing takes time and effort, so you'll make life much easier for yourself if you don't wait until the last minute to pack your belongings ready for the move.
Sure, the items that you use every day should be left until last, but you should begin planning your packing a month or two ahead of the move date.
You can then ensure the process is stress-free and make sure you pack all of your belongings correctly to prevent them from being damaged during the move or hard to find when you start unpacking at your new home.
So, avoid the mistake of leaving packing until the last moment by simply organizing and packing early.
2. Packing Inefficiently
To prevent items from being damaged during the move, and to make the things you need easy to locate when you start unpacking in your new home, make sure you pack efficiently.
You should wrap breakable items in bubble wrap, ensure those items are packed tightly in boxes with plenty of cushioning, and mark the boxes as "breakables." You should also pack any liquids, like bottles of alcohol and cooking oils, carefully to make sure they don't spill or break during the journey to your new home.
And unpacking will be much easier when you mark every box so that you know what the contents are and in which room each box should be taken to. For instance, you could write on a box: "Ornaments. Bedroom."
---
Read Also:
---
3. Packing Items That You'll Need
Packing items that you'll need as soon as you arrive at your new home is another thing you don't want to overlook. Many people commonly pack up items that they shouldn't because they'll be needed straight away after moving, so make sure you don't make that mistake.
For instance, you'll probably want a kettle and other kitchenware for the first night in your new home. You'll also want duvets and pillows.
So, make a list of all the important items you need to get your hands on as soon as you arrive at your new property and ensure those items aren't packed away. Instead, pack those items in the trunk of your car the night before the move.
4. Trying to Do Everything Yourself
You may be tempted to do everything yourself, including packing and transporting your belongings to your new location.
However, if you pack and move things yourself, your belongings have a greater chance of being damaged and you'll likely be under a lot of stress during the moving process.
Therefore, it's often best to hire professional movers. But make sure you don't make the mistake of not researching moving companies to find the best one.
It's crucial that you hire professionals who have the expertise to pack and move items safely. You should also compare the prices of moving companies before you pick one. Get started by looking at these most trusted national moving companies in the U.S.
5. Not Working Out Whether Your Furniture Will Fit into Your New Home
One of the most common mistakes that people make when moving is not working out whether their bulky items, like furniture, will fit into spaces in their new properties.
If you transport a big kitchen table, for example, only to find it won't fit into your new kitchen, you might have no option but to get rid of your table.
You'll then have wasted time, effort, and money moving the item and you'll have to spend more time, effort, and money in removing the table from your new home. To avoid such problems, know the measurements of your new home and measure your bulky items to ensure they'll fit.
6. Not Updating Your Address and Forgetting to Forwarding Your Mail
Common mistakes that people make when moving aren't limited to moving and transporting belongings. One thing that many people still forget to do is update their new addresses with relevant organizations, such as the DMV, the bank, and utility companies.
You'll need to prove your new address for various things, such as registering to vote and registering a vehicle, so make sure you update your address when you move.
You also need to make sure the mail from your previous address will be forwarded to your new address. The postal service will forward mail for free up to a certain time limit, but you can pay for an extension for mail forwarding.
7. Forgetting to Set Up Utilities
Following on from the last point, don't forget to set up utilities for your new address. You'll need to either inform your existing utility companies of the date you're moving or cancel your existing utilities and go with new companies. Either way, you need to ensure you do so in a timely manner to make certain that you have power and hot water when you arrive at your new home.
8. Not Getting New Furniture on Time
Many people buy new furniture and other items when they move home. But lots of people make the mistake of getting items delivered too early or too late.
The former is the worst situation because you'll come across all sorts of complications if your new wardrobe turns up a week early at your new property that is still occupied by someone else.
But items that arrive well after your move-in date can also be problematic. For example, if you order a new mattress and it doesn't arrive until weeks after you've moved in, you could end up sleeping on the floor.
So, make sure you carefully plan the timing of any new items that you're getting delivered as much as you plan the rest of your move.