For a DIYer or tradesperson planning to give their house a new look by coating it with a new paint layer, the only dreaded activity you would find would be the paint removal process.
It is also the single most vital process to remove the old paint before giving your house a new paint coat.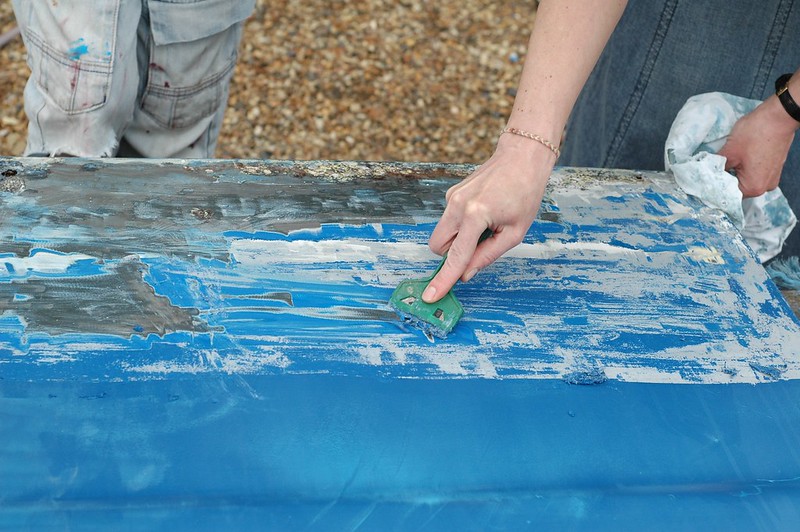 If you can't carry out this process, the fresh paint is likely to bubble, flake, or peel off more quickly than usual.
To achieve the best results, you need to apply coats of primer and undercoats correctly, covering the bottom skin of the paint.
Eco-Friendly Ways to Remove Paint with Non-Toxic Paint Removers
With the world trending on ways to use everything eco-friendly for the environment, several tools and techniques will assist you in removing paint.
However, not all these tools and techniques are eco-friendly, and you must know that chemical stripping is also involved in these processes. Thus, it's vital to seek help from professionals and well-trained especially when it comes to lead paint removal, which could be hazardous to our health and the environment.
To avoid using such methods, we are here to discuss some of the eco-friendly ways of paint removal alternatives that are kind to the environment and your body while also saving your time in this labor-consuming task.
1. Soy Gel Paint Strippers
Soy gel paint removals can remove even the lead-based paint productively from your house interiors or exteriors such as house sidings, walls, roof, sidewalk, or decks.
Some of the biggest advantages of using Soy gel paint removers are that they are non-toxic paint removers, are low in fume emission, and would be an ideal alternative to your usual toxic chemical paint strippers.
Since the soy gel paint strippers are entirely organic products, you can coat a layer of it on the surface whose paint you want to remove by utilizing a regular paintbrush, roller, or sprayer.
After applying a coat of the paint remover, you can leave it to dry for a few hours and get your other tasks to be completed along as it cannot evaporate.
---
Read Also:
---
2. Dustless Blasting
If you are looking for the most environmentally friendly paint stripper and the quickest paint stripper to the other paint stripping methods, you are in the right place.
Dustless blasting is a unique technique that uses recycled glass blended with water to remove the paint while leaving behind a natural and fully prepared paint surface only.
Dustless blasting is similar to dust with a wet rag since it doesn't blow any dust into the air or becomes a poison for the environment.
Compared to the usual soda and sandblasting method of removing paint, dustless blasting is an eco-friendlier, faster, and cleaner way of removing paint from the house exterior.
One of the other advantages of using dustless blasting is that it doesn't produce any heat on the surface during the process.
The blending of the glass with water reduces the friction produced, thus solving the warping problem.
3. Infrared Heat Paint Removal Method
Another great choice in the list of the budget-friendly, safe, and environmentally friendly house exterior paint removal method is the infrared paint removal technique.
The infrared paint removal technique is the trending way of removing paint from wooden mediums.
You could implement this paint removal method as an alternative to the mechanical and chemical paint stripping way.
The science behind this paint removal method is that it penetrates and heats the substrates found beneath the paint finish layer.
The possible outcome of this process is that it lessens the paint's grip on the substrate and becomes very easy to scrape off the surface.
You don't have to utilize any sanding or chemicals in the infrared paint removal method. Infrared rays can extricate any paint and varnish without getting any dust around the environment.
If you correctly carry out the infrared paint removal technique, the result is a very porous surface that allows the primer and new paint to adhere to it for longer than usual.
4. No Methylene Chloride Paint Removers
All paint removal products found in the market contain one of the deadliest chemicals known as Methylene Chloride found in the paint removing products.
The methylene chloride can cause you to be lightheaded, make you feel fatigued, and even give you chemical burns that could have serious side effects if you get extensive exposure to the chemical.
Now that you are aware of the possible dangers of using methylene chloride products, you should make sure that your household paint removal products are methylene chloride-free and are eco-friendly so that you don't have to face exposure to toxic chemicals.
It is the reason you should wear your face mask, hand gloves, and safety gear to take precautions even if you don't technically need them.
5. Hand Scraping
Although the good old technique of trusty hand scraping paint removal technique is time-consuming, there is truly nothing as green as it gets.
If you have to remove the paint from a vast scale area, it wouldn't be recommended as it is prolonged, but it might be the best way of removing paint for a small space.
You can utilize this technique in conjunction with the other tools to eliminate the paint coating that is already loose and flaking at different points.
The scrubbing should be done gently and not vigorously as it could over-scrape the paint, and you should also look out for signs of getting your blade removed as it would start to do a nasty job as it gets old.
6. Steam Pressure Washer
The steam pressure washer is a technique that uses water to remove old paint. In this technique, the water is first boiled over 200 degrees and change the water into water vapors.
These water vapors move to the painted surface and melt and remove all kinds of unyielding substances, including old paint.
You could also use this technique if you want to remove paint from concrete blocks. The steam pressure washer is mainly designed to remove paint from surfaces with very complex paint coatings.
This technique is used as an alternative to chemical stripping as it doesn't affect the environment in the least.
The lack of sanding or any chemical applications is why the steam pressure washer technique is environmentally friendly.
The only thing involved in this technique is the power of steam that gains its strength from the pressure on which it is produced to melt away any coating of old paint or varnish with a clean and smooth surface in a wait for a new layer.
The high-temperature water vapors also act as a sterilizer simultaneously, which is an additional benefit of this technique for the surface.
Final Thoughts
If you are not interested in saving the environment, at least be interested in protecting yourself by avoiding any paint removal products that are harmful to you and mark them on the top of your list of priorities.
Check out these trending Eco-Friendly Paint Stripper For Wood.