Just as you love your furry friends at home, you must also love everything that comes with it. Fur fall, urine, and even poop all come together. Your pets normally hang out in places where you are always around. Most of the time, they choose to stand by lying on your carpet.
It may be in the living room or in the bedroom. The problem starts when stink develops after urine gets accumulated and stays in your floor covers over time. You cannot simply roll up and carry your carpet over to the washer.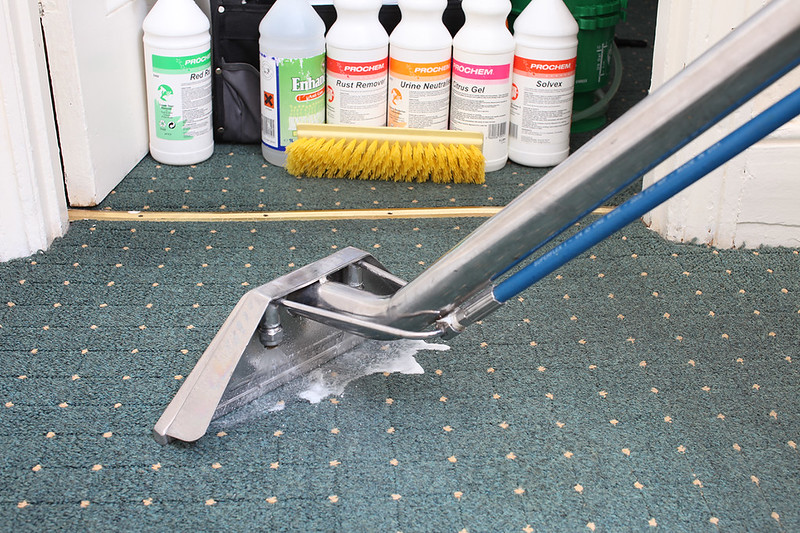 Chances are, it will be too heavy or there is no carpet washer around where you can just leave it off for cleaning and pick it up after some time.
With this issue at hand, a Do-It-Yourself carpet cleaner solution will be perfect to treat pet urine off your carpet, so you keep the good air around your household.
You surely do not want to be around a smelly home as if your pets are dominating the house with their foul body discharges. Here is some DIY carpet cleaning solution you can work on to clean up your pet's urine.
Vinegar Solution
White vinegar is the most known carpet cleaner at home. Mix together 50% vinegar and 50% of lukewarm water. Put it inside a sprayer and aim it at the soiled area. The amount of mixture you make can depend on the space you needed cleaning.
The stronger the vinegar's scent is, the better. The fermented vinegar has a composition to dissolve bacteria which causes odor. If you can work on cleaning it up right after your pet urinated on it, that will be a good idea.
When compared to you cleaning it over after a few days, it would be best if you do it almost immediately. If the solution fails, you can try an enzyme cleaner. It works the same as vinegar but it works way faster.
---
Read Also:
---
Baking Soda
The magical cleaning agent present in baking soda is as famous as any home product available. You can use it solely to clean up or you can mix it with other cleaning agents such as vinegar or lemon peel. It absorbs a foul smell and it can supplement vinegar in terms of removing the stains.
So, striking two problems at once is possible when you have both vinegar and baking soda at home, just in case baking soda or vinegar alone will not resolve it. This has always been an effective choice for cleaning.
Plus, the fact that this is very cheap compared to commercialized carpet cleaner sold in the market. Always have this available, unless you have time to train your pet to pee and poo outside.
Liquid Detergent
When you are doing your laundry at home, this will resolve your issues really quickly. Once you're all done washing, scoop up the laundry detergent mixture you have had, put it inside a sprayer, and use it to spray to the soiled part of your carpet.
Hang it dry outside where the sunlight is likely striking high so it dries naturally. Treat it like you are washing your towels or rugs at home. The fragrance and the cleaning composition of your liquid detergent will exude.
Or, you can simply mix a liquid detergent with water and pour it generously in parts where you think your pet has urinated. This will be a stronger solution compared to an after-laundry wash. Any brand of laundry detergent is ideal for cleaning. It is no different when you use it as a carpet cleaner.
Hydrogen Peroxide
Your dish soap in the kitchen is the perfect partner of hydrogen peroxide in case you are trying a carpet cleaner solution for your pet's urine all on your own. Say, you are working on a homemade idea about the usual urine your dog or cat leaves on your carpet on a regular basis.
You can also include baking soda or vinegar in this type of mixture. Have a toothbrush ready too. Once your solvent is completed, spray it over the stained part, and brush the fiber off. You may repeatedly do it until you have achieved your desired cleaned carpet state.
Of course, this is much easy when you already have hydrogen peroxide available at home. For sure, vinegar and baking soda sit somewhere in your fridge or your kitchen. If you have them all together available, you have a good DIY for cleaner carpets component ready for use.
Oil Solvent
Homemade oil solvents such as that of Rosemary are good urine repellent. Mix it with alcohol and put it inside a sprayer for a much-targeted cleaning. Boil a few cups of water and pour in your mixture along with a fragrant soap.
You can actually choose any other essential oil fragrance available at home. Use paper towels or a clean cloth to wipe out the area where you have sprayed your oil solvent and attempt to remove as much pee as you can. You can surely tell which part is soiled and you can vigorously scrub it off around that same area.
After you have sprayed your solvent, you can wait for up to 10 minutes and do the same procedure again up until you think it's all cleaned up and no longer exuding a foul smell.
Room Deodorizer
The simplest way of cleaning up dog or cat pee on your carpet is with a vacuum cleaner. If you have both the wet and dry vacuum cleaner, that will be better. Position the cleaner right on the spot where the urine is and set it at a temperature that would kill the bacteria.
A few minutes of this type of cleaning will be enough. However, if you also want to maintain the fragrance of the room after a pet pee, spray around your household room deodorizer.
That will be the sole trick to resolve your issue without having to mix and match cleaning solutions. Most of the time, it takes away both the urine and the smell.