Calm your soul with the therapy of colors. I started my conversation with this thought because it holds depth in it. Colors are influential. The choice of colors unfolds the enigmatic aspects of personality and eases up the knots.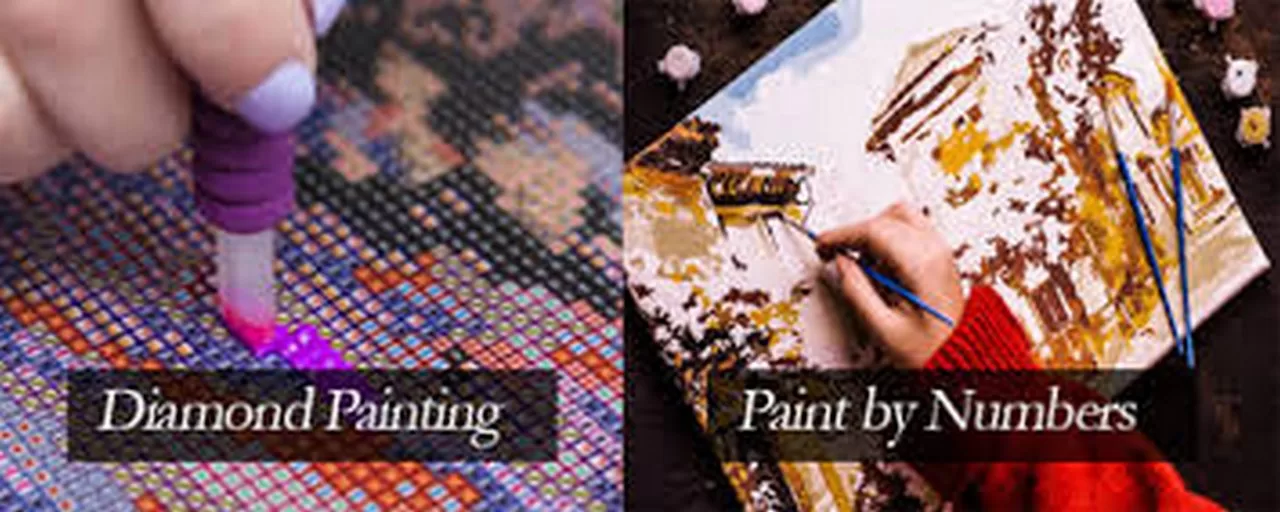 How would you spend your time when you are done with your course of life? Those school-outs who are waiting for the new session's start-up and the grown-ups who want to get rid of manic thoughts.
If you want to get your hands on the paints then pick the Paint by Number Kit with all the accessories and drag the strokes of creation and give life to the still images. And if you want to create stunning paintings with uniqueness then a Diamond Painting kit would serve you in a better way.
Paint By Numbers vs. Paint with Diamonds
For those beginners who may not have familiarity with painting by numbers or painting with diamonds, we have jotted down a comparison for their better understanding. These two genres of art are the production of recent times.
Painting by numbers was started in the mid-nineteenth century by Dan Robbins following the steps of Leonardo. And Diamond Painting is Chinese production presented to the rest of the world.
Let's discuss in detail how both work on the canvases.
---
Read Also:
---
How Would You Paint by Numbers?
The active notion behind this theme was to provide a system for the aspirants of painting to practice their skills on a pre-set canvas.
What is meant by pre-set here?
It means the strivers are provided with a smooth fabricated canvas with a printed image on it. The image is sectioned with grey or blue lines where it switches from one color to the other.
A set of colors depending on the image is packed with the canvas and each painting pot is labeled with the number corresponding to the section.
The person intending to nourish his skills, practice on the canvas by understanding the chemistry between the numbers and colors and applying the paint in these sections with fine brushes that are also given in the painting kit.
By comprehending the work, taking a start, and continuing till completion, this is how Painting by Numbers works.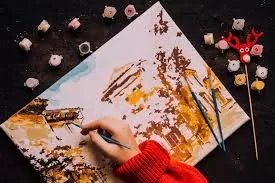 Paint by Number Kits & Categories
These painting kits offer different tastes to the customers. It caters to the choices varies from person to person. Vintage, classic, peoples, animals, flowers, places, and even customized paint-by-numbers kits are generated for art lovers.
In paint-by-number kits, all the necessary items are included that will be required in the making of a painting.
Different sizes of canvases are available in each kit, and for beginners, it is recommended to start with the larger ones because it provides them a wide area for stroking with one color and avoids the mess and difficulty of changing the colors again and again.
Which Paints Are Used?
In the painting by numbers, you can pick from acrylic paints, oil paints, and watercolors according to your skill. All three are perfect to work. The only thing that matters is your status.
Acrylic Paints
If you are a beginner, take start with acrylic paints. Acrylics are water-based colors and quick to dry. It is easier to handle and remove the color if an unwanted stain appears out of no choice. Moreover, acrylic paints are more bright and more long-lived as compared to the other two.
Oil Paints
If you consider yourself an intermediate artist, you can go with oil paints. Because working with oil paints requires more competencies in handling and patience because these take hours to get dry.
Watercolors
Watercolors are presumed to be the difficult one option because of their density which is very thin. Only water is required for their mixing but it is difficult to put the exact amount on the canvas for the newbies because they spread in no time.
How Would You Paint with Diamonds?
For those who love cross-stitch, diamond painting is the next-generation form of paint-by-numbers and cross-stitch. Diamond Painting nl was introduced to the world after 2014 and it was rapidly praised and practiced by people who were looking for some uniqueness.
Unlike painting with liquid colors, the artist works with rhinestones and raisins that are called Drills. Both Round Drills and Square Drills can be used in the making of a painting. Without messing with stains and spilling of colors, the artist ends up with sparkling pieces of art.
How Does It Work?
This is a very interesting procedure. Like paint-by-number canvas, the diamond painting canvas also comes with a printed canvas. But this canvas is pre-glued and covered with a thin plastic sheet to prevent the glue from drying.
A stylus-shaped pen tool and packets of tiny resins come along with the canvas. With the help of canvas, the crafter picks the drills with the help of a hollow tip of the stylus and places it on the numbered portion of the canvas where the color belongs to according to the instructional manual.
One color after the other, the crafter keeps on placing the diamonds and once completed, a stunning image appears on the canvas with a glittery look that will stun the viewers with its beauty.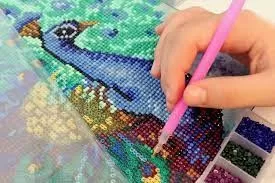 Difference b/w Partial & Full Diamond Painting Kits
Diamond painting kits come as partial kits or full kits.
Some images filled the canvas without leaving any space on the canvas. The drill with the drill is placed on these types of canvases. These are called full-drill canvases and are suitable for pros.
Others come with particular images and the rest of the canvas with blankness. The crafter has to put little effort into its making. These are called partial drill canvases and newbies are recommended to start their journey from partial kits to avoid fatigue and boredom at work.
Types of Diamond Painting Kits
All the diamond painting kits come with basic four items Canvas, Applicator, Drills, and Wax. But if you talk about the types of Diamond Painting Kits, you will find a basic diamond painting kit consisting of the regular images as we see in the paint-by-numbers kits.
The next type is a customized kit whereby giving a picture of your choice you'll receive a canvas with that printed image and you can get your hands on your customized canvas.
Preferably someone can ask for more than one canvas in one kit, so multi-panel kits are also available for the customers. Those who want to practice can order these panels or the pros looking for a perfect match for their wall galleries opt for these kits.
Your Choice
Reviews tell us that both the painting kits are mind-blowing and not to miss an opportunity for the admirers of art.
They leave soothing impacts on mind and body, that even after spending hours on the work bending in one posture, the artist never complains of boredom or tiredness. It is because they see their efforts turn out to be so dazzling that no one can take their eye off them.
Those who want to decorate their walls glamorously or search for something unique can pick a diamond painting kit and unchain their love for uniqueness.
And the people with the conventional mindset, who want to unleash their inner artist, must go for paint by numbers and play with colors and merge their souls in the strokes of paint.