Paint can renovate your home or office and keep the spaces looking great for several years.
But if you wish to get excellent painting services, you need to hire Proline Painting Services Inc. If you hire an inexperienced contractor, not only will you be frustrated, but you will lose money in the long term.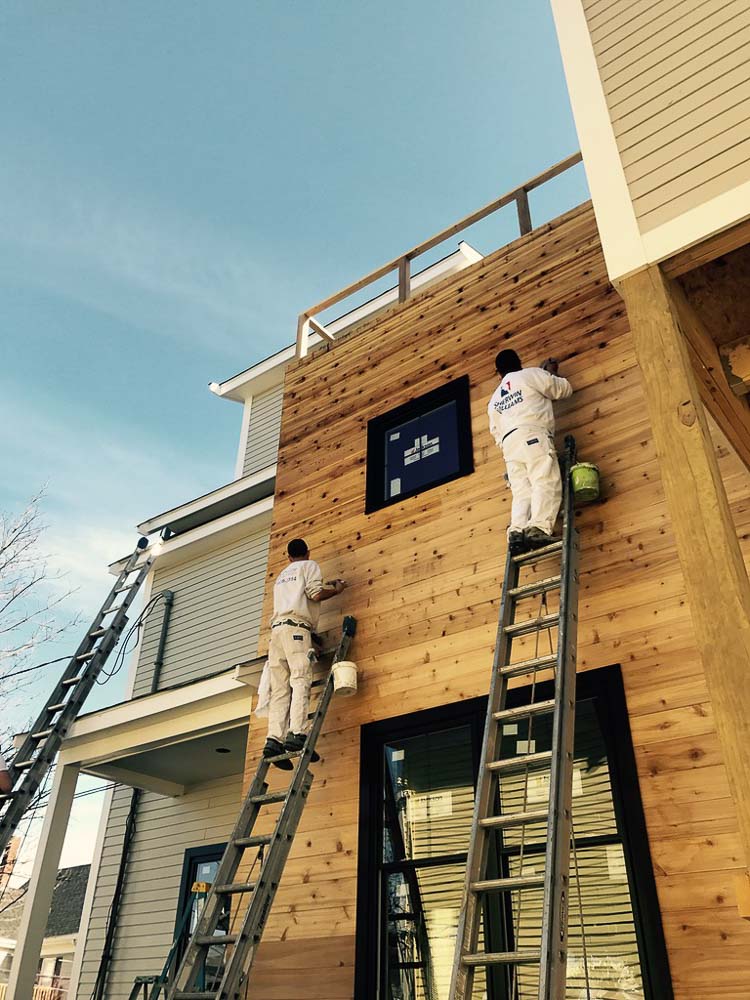 Painting your house is no simple feat. That's why you must take your time before you hire a painting contractor. Don't choose a contractor just because you want to save money.
You may end up working with an unqualified or unlicensed painter who will force you to seek someone else to redo the job.
Meanwhile, here are seven things to look out for when you decide to hire a professional painter:
1. Be Specific with Your Objectives
When you begin discussing the painting gig with a painter, make sure you are clear on what you need to get the right estimate.
You can let the painting contractor know if you're seeking a re-painting gig or if you wish it to last long for several years before you plan to sell your property.
The crucial details can be the difference. Once you've let the painter know about what you need, it is their job to help you attain your objectives.
Also, you need to discuss the colors that you want during the initial consultations. You could get a different perspective from the specialist.
---
Read Also:
---
2. Take Your Time When You Assess the Contract
Before you hire a painting contractor, you need to ensure that you've read the contract carefully before signing it.
It is crucial to know what the contractor will say they will do to hold them accountable if they don't deliver.
You also need to ensure the painting company will prepare correctly before doing the job because it will impact the outcome. If the job is not done correctly, the paint will not last long.
The contract should also have the painter's name, address, contact line, and the estimates. If the painter is reliable, he or she will do what is mentioned in the contract.
3. Look at the Duration of the Paint Warranty
Another thing you will need to consider before working with a painter is to enquire about the warranty.
You need to work with a painting company that has a warranty because, in most cases, peeling will be noticed after the first year.
One to three-year warranties is highly recommended. If the painting company doesn't offer you a warranty, you should continue searching for a trustworthy one.
Before agreeing to work with a painter, you need to ensure you get the full details about the warranty offered.
4. Type of Products Used
When you decide to hire a professional painter, you need to ensure they use top-notch painting resources.
If the contractor doesn't use high-quality materials, you need to continue searching for someone who does.
Most professional painters will use high-quality paint brushes and top-notch tools to ensure the job is done hassle-free.
Also, you will have to consider the preparation process. The right painting contractor will know where to find the best materials.
5. Insurance
The painting contractor must be insured. The company needs to have Workman's Compensation insurance coverage that protects its employees and you from danger while the project is ongoing.
Several contractors don't get insurance because of the price, but it is crucial. Painting contractors should also have insurance that protects your property should they damage something while they work.
When looking for painters, ensure they are insured.
6. Will the Painter Meet the Deadline Set?
Before you hire a painter, you need to ask him if he can deliver on time. Also, find out if they can provide excellent services.
Don't pressure them because rushed projects could force you to spend more money because of the mistakes.
If you wish to get excellent work done, make sure you find a reliable painter who meets the deadline and, most importantly, does a fantastic job.
7. Look at Reviews and Testimonials
One of the most critical things to check before working with a painter is reviews and testimonials. Make sure you find out what previous clients had to say about their work.
Online reviews will be helpful. If possible, you can reach out to some of the earlier clients to find out about their experience.
You can also request the painter to offer samples of their previous projects to see if the styles are something you would consider. Once you've settled on the type, let the painter know.