Imagine sizzling steaks on the grill, laughter around the pool, and a kitchen that brings it all together. Want to know how to create this perfect summer scene in your own backyard?
This step-by-step guide unveils the secrets to designing a poolside kitchen that's both stunning and functional.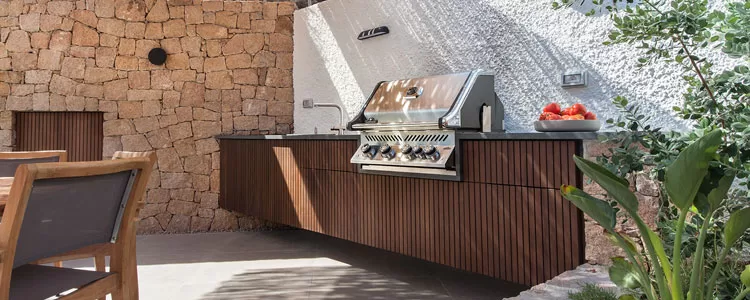 Planning and Designing Your Space
When it comes to creating the perfect poolside summer kitchen, the first step is always planning. Begin by assessing the available space in your yard and formulating a pool plan. Consider the proximity to your home, the types of pools you have or are planning to install, and the natural flow of traffic.
Remember, a well-thought-out design will not only enhance the beauty of your outdoor space but also increase the functionality and ease of use.
Designing the Layout and Functionality
Designing the layout and functionality of your outdoor kitchen is a crucial step that requires careful consideration of your specific needs and preferences. Here's how you can approach it:
1. Assess Your Needs and Lifestyle
Family Gatherings: If you often host family gatherings, you might need a spacious layout with a large dining table and a grill big enough to cook for a crowd.
Intimate Dinners: For more intimate settings, a smaller, cozier layout with a fire pit or a cocktail station might be more appropriate.
Entertainment Hub: If your outdoor kitchen will serve as an entertainment hub, consider adding features like a bar, a sound system, or even a flat-screen TV.
2. Integrate with the Surrounding Space
Pool Integration: If your kitchen is near the pool, consider a layout that allows easy access to both areas. For example, an island layout with barstools facing the pool can create a social hub where guests can enjoy both the kitchen and the pool.
Garden Views: If you have a beautiful garden, design your layout to take advantage of the views. A U-shaped layout with an open side facing the garden can create a stunning visual connection.
3. Think About Traffic Flow
Clear Pathways: Ensure that there are clear and unobstructed pathways between different areas. For instance, if you have types of pools that require frequent access, make sure the path from the kitchen to the pool is wide and free of obstacles.
Zoning: Consider creating different zones for cooking, dining, and relaxing. This can help manage traffic flow and make the space more functional. For example, you might have a cooking zone with a grill and prep area, a dining zone with tables and chairs, and a relaxation zone with loungers and a fire pit.
4. Incorporate Storage and Utility
Ample Storage: Think about where you'll store utensils, dishes, and cooking ingredients. For example, built-in cabinets under the countertop can provide convenient storage.
Utility Considerations: Plan for utility connections like gas, water, and electricity. For instance, if you want a sink in your outdoor kitchen, you'll need to consider the plumbing requirements.
---
Read Also:
---
Choosing Between Various Kitchen Layouts
Choosing between various kitchen layouts is a pivotal decision in crafting your outdoor kitchen. the layout sets the tone for functionality and aesthetics, shaping how you cook, entertain, and enjoy your outdoor space. Let's explore these options to find the perfect fit for your needs.
L-shaped: This layout is perfect for smaller spaces. It offers a compact design with an efficient work triangle. The L-shape allows for easy access to the grill, sink, and refrigerator.
U-shaped: Ideal for those who love to cook and entertain. The U-shape provides ample counter space and creates a central cooking and dining area. It's perfect for homeowners who want a full-service outdoor kitchen experience.
Island: An island layout is versatile and can be placed almost anywhere in your yard. It serves as a standalone cooking and dining area, making it perfect for pool parties and barbecues.
Ensuring a Seamless Flow Between Kitchen and Pool Areas
To ensure a seamless flow between your kitchen and pool areas, maintain a clear path of travel. Consider using artificial grass around the pool, which offers a clean, low-maintenance option that's gentle on bare feet. This not only enhances the aesthetic appeal but also provides a safe, non-slip surface for wet feet coming from the pool.
Choose the Perfect AC System for your Summer Kitchen
While the idea of an outdoor kitchen is to enjoy the fresh air, the summer heat can sometimes be overwhelming.
Invest in a high-quality outdoor AC system to keep the area cool and comfortable. Regular AC repair and maintenance will ensure that your system runs efficiently throughout the summer months, providing a pleasant environment for you and your guests.
Choosing Appliances and Features
Your choice of appliances will largely depend on your cooking preferences. If you're a barbecue enthusiast, invest in a high-quality grill. For those who love making cocktails, a built-in bar with a refrigerator is a must. Remember to choose weather-resistant appliances designed for outdoor use. Features like a pizza oven or a smoker can also elevate your outdoor cooking experience.
Material Selection and Aesthetic Appeal
Opt for durable and weather-resistant options. Stainless steel is a popular choice for appliances due to its longevity and sleek appearance. For countertops, granite or concrete are both sturdy and can withstand the elements. Your material choices should not only be functional but also complement the overall aesthetic of your home and yard.
Landscaping and Pool Integration
Integrating your pool and kitchen requires a harmonious design approach. Start with yard maintenance tips to keep the surrounding area lush and green. Incorporate planters or flower beds to add a touch of nature to your kitchen space. If you have a larger yard, consider adding a pergola or shaded seating area near the pool for guests to relax and enjoy their meals.
Final Touches and Decoration
Once the main elements of your summer kitchen are in place, it's time to add the final touches. Decorate with outdoor-friendly cushions, rugs, and lighting to create a cozy ambiance. Consider installing a sound system for music or a TV for watching the game. Personal touches like decorative plates, lanterns, or even a fire pit can make your outdoor kitchen the perfect summer retreat for family and friends.
Embrace the Ultimate Summer Experience
Your dream poolside summer kitchen is within reach if you plan thoroughly. Follow our guide to craft a space that's not only beautiful but tailored to your lifestyle. Whether it's family gatherings or intimate dinners, make this summer unforgettable by creating the perfect outdoor culinary haven.