Creating curves with flexible landscape edging is a practice that has gained significant attention in landscape design. The ability to seamlessly integrate smooth, flowing lines into outdoor spaces adds depth and complexity to the overall aesthetic appeal.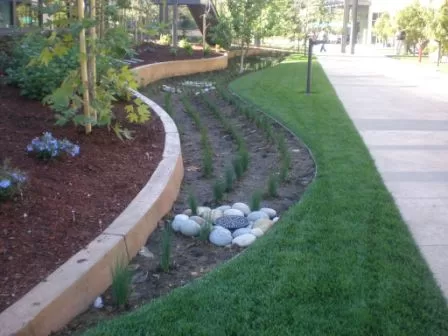 This article aims to provide an objective and impersonal exploration of the benefits, considerations, installation process, and maintenance techniques associated with using flexible lawn edging for curvilinear designs.
By adhering to these guidelines, readers will gain a comprehensive understanding of how to effectively incorporate curved edges into their landscaping projects.
Key Takeaways
– Easy customization and design flexibility
– Clear separation between different landscape elements
– Reduced maintenance efforts and prevention of encroachment
– Minimized risk of damage from ground movement or frost heave
Benefits of Using Flexible Lawn Edging for Curves
The use of flexible lawn edging for creating curves offers several benefits. Firstly, it allows for easy customization and design flexibility, as the edging material can be easily shaped to fit any desired curve or contour. This ensures that the landscape design is tailored to specific preferences and requirements.
Additionally, flexible lawn edging provides a clear separation between different elements of the landscape, such as flower beds and lawns, preventing them from encroaching upon each other. This helps maintain a neat and organized appearance while also reducing maintenance efforts by preventing grass or plants from spreading where they are not wanted.
Moreover, using flexible edging materials minimizes the risk of damage caused by ground movement or frost heave since they can expand and contract with temperature changes without cracking or breaking. Transitioning into choosing the right type of flexible lawn edging involves considering factors such as durability, aesthetic appeal, and ease of installation.
---
Read Also:
---
Choosing the Right Type of Flexible Lawn Edging
One important factor to consider when selecting the appropriate type of edging for a lawn is its flexibility. Flexible lawn edging provides numerous advantages when creating curves in landscaping projects.
It allows for smooth and seamless transitions between different sections of the lawn, ensuring a visually appealing and cohesive design. Additionally, flexible edging materials such as plastic or rubber are highly durable and can withstand weather conditions, preventing damage or deterioration over time.
Furthermore, these types of edging options are relatively easy to install and require minimal maintenance compared to other alternatives. By choosing the right type of flexible lawn edging, homeowners can achieve beautiful and functional curves in their landscapes effortlessly.
This section will provide a step-by-step guide to installing flexible lawn edging for curves, highlighting the key considerations and techniques involved in achieving successful results without any difficulty.
Step-by-Step Guide to Installing Flexible Lawn Edging for Curves
Flexibility is an important aspect to consider when installing lawn edging for curves, and a step-by-step guide can help achieve successful results. To install flexible lawn edging for curves, follow these steps:
– Begin by marking the desired curve using stakes and twine.
– Dig a trench along the marked line, ensuring it is deep enough to accommodate the edging material.
– Place the flexible lawn edging into the trench, making sure it follows the curved path.
– Secure the edging in place by backfilling soil against it, gently pressing down to ensure stability.
– Finally, trim any excess length of the edging and compact the soil around it.
Tips and Tricks for Achieving Smooth Curves With Flexible Lawn Edging
To achieve smooth and visually appealing curved edges, it is important to consider additional techniques that can enhance the overall appearance of the installed lawn edging. One such technique is using a guide string or hose to lay out the desired curve before installing the edging.
This allows for precise placement and ensures consistent curves throughout the installation. Additionally, cutting small notches on the bottom edge of the flexible lawn edging can help create smoother curves by allowing for better flexibility and maneuverability.
Furthermore, securing the edging with landscape spikes at regular intervals will help maintain its shape and prevent shifting over time. These techniques, when combined with the proper preparation and installation methods discussed earlier, will result in professional-looking curved edges for your lawn.
Transition sentence: Now that we have explored tips and tricks for achieving smooth curved edges with flexible lawn edging, let's move on to discussing maintenance and care for this type of edging.
Maintenance and Care for Curved Flexible Lawn Edging
When considering the maintenance and care for curved lawn edging, it is crucial to implement regular inspections and repairs to ensure the longevity and functionality of the installed edging. Regular inspections allow for identifying any damage or wear that may have occurred over time, such as cracks or shifts in the edging material.
Repairs should be promptly carried out to prevent further deterioration and maintain the integrity of the curve. Additionally, proper cleaning should be done periodically to remove any debris or dirt that may accumulate on the surface. The following table provides a visual representation of suggested maintenance tasks for curved lawn edging.
| | |
| --- | --- |
| Maintenance Tasks | Frequency |
| Inspect for damage | Every month |
| Repair cracks or shifts | As needed |
| Clean surface | Every 3 months |
Implementing these maintenance practices will help ensure that curved lawn edging remains in good condition, enhancing its aesthetic appeal and functional purpose in delineating garden spaces.
Conclusion
In conclusion, the use of flexible lawn edging for creating curves offers numerous advantages. The selection of appropriate edging materials is crucial in achieving the desired results. By following a step-by-step installation guide and implementing tips and tricks, one can effortlessly achieve smooth curves with this versatile technique.
Maintenance and care are essential for preserving the aesthetics of curved flexible lawn edging. Embracing these practices will ensure a visually appealing landscape that seamlessly blends with nature's gentle contours.