A kitchen should be more than just an efficient cooking space – it's often the heart of a home where family and friends gather. That's why selecting the ideal appliances that suit your lifestyle and promote an enjoyable cooking experience is so important.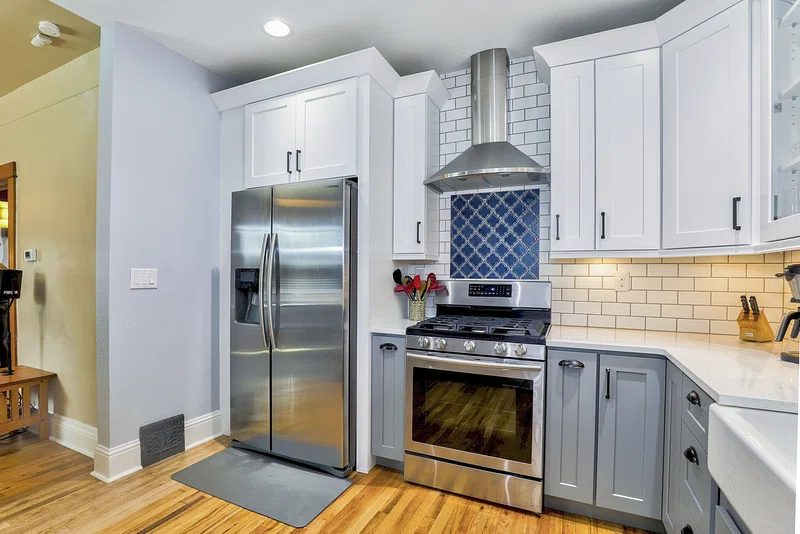 The right appliances matched to your space help you effortlessly prepare delicious meals while also leaving room for connection. Here are tips for choosing the best mix of appliances to maximize your kitchen's form and function.
Focus on the Cooking Essentials
When planning your dream kitchen, identify which cooking appliances you truly need on a daily or regular basis. Focus spending on high-performing essentials like the stove, oven, refrigerator, and dishwasher. These core appliances see constant use, so their convenience and durability really matter.
Evaluate your cooking habits to select the right styles, sizes, and features in these key categories. Do you love to bake? Opt for a spacious double oven. Cook for crowds often? Choose a six-burner gas range. Tailor these fundamental appliances to suit your frequent preparation needs.
---
Read Also:
---
Streamline with Multitasking Appliances
In compact kitchens, selecting appliances that integrate multiple functions can help maximize efficiency within a small footprint. Today's combination oven-microwaves offer the best of both worlds in one appliance. Refrigerator freezers with French door-style layouts optimize storage and access.
Even specialized cooking methods like steam and air frying can now be achieved in all-in-one multi-cookers and ovens. Multitasking appliances condense steps and streamline workflow. Just be sure performance doesn't suffer with these combination options before purchasing.
Focus on Ergonomic Design
When choosing appliances, pay close attention to design aspects that impact ergonomics and ease of use. Taller dishwashers reduce bending to load and unload. French door refrigerators allow grabbing items without reaching far inside. Induction cooktops offer more precise responsiveness than traditional gas.
Prioritize appliances engineered for intuitive operation, comfort, and accessibility. You'll be using them daily, so small enhancements to how controls, doors, and storage are designed really pay off long-term.
Incorporate Built-In Refrigeration
Integrating refrigeration seamlessly into cabinetry maintains clean sightlines in an open floor-plan kitchen. Built-in refrigeration comes in either column style or counter depth models. Column units stand floor to ceiling for copious chilled storage. Counter-depth options align flush with other surfaces.
Both maximize capacity discretely. Integrated refrigeration makes accessing freshly prepared ingredients quick and easy. Just be sure to account for the required ventilation spacing in your layout.
Select Statement Pieces
While essential appliances may take priority, don't underestimate the impact of adding character through statement pieces. Stoneware farmhouse sinks, restaurant grade ranges, brass beer taps, intricate backsplashes – decorative touches infuse personality.
Make your dream appliances a reality on a budget by saving for special splurges over time. Even small accent features like a unique kitchen faucet or glass-fronted upper cabinets make a big style statement.
Focus on Quality over Quantity
It's easy to get excited by the range of kitchen appliances available today. But purchasing too many overly specialized gadgets you rarely use creates needless clutter. Focus spending on fewer higher quality, multifunctional appliances you know you'll use frequently rather than overfilling cabinets with "just in case" appliances.
Thoughtfully chosen core essentials tailored to your needs save space, simplify meal prep, and ensure your appliances get put to good use regularly.
Prioritize Easy Maintenance
When comparing appliances, consider how easily they'll be to clean and care for long-term. Look for scratch-resistant finishes that wipe clean easily and stainless steel that resists smudging. Choose appliances with removable air filters and trays that safely go in the dishwasher for simplified maintenance.
Avoid electronic renderings prone to breaking and outdated faster. Appliances designed for effective and simple cleaning routines have been a joy to live with for years.
Select Coordinated Suites
Achieving a unified aesthetic is easy when purchasing matching appliance suites. Brands like Kitchen Aid, Samsung, GE, Bosch, and more offer coordinated collections with similar finishes and hardware. Mixing and matching can work with proper planning, but suites create a polished look.
Just ensure the coordinated appliances still meet your individual performance needs. The function is more critical than achieving a perfect suite match.
Take Advantage of Smart Technology
From refrigerators that track expiration dates and inventory to ovens you can preheat from your phone, smart kitchen appliances are here to simplify life. Connected appliances allow remote monitoring and operation. Voice commands through virtual assistants like Alexa allow hands-free control.
Choose smart features that truly enhance convenience like notifications when water filters need replacing. You don't have to buy all tech-advanced appliances to benefit from select automation.
Focus on What Fuels Joy
Ultimately, the best kitchen appliances are the ones that make you excited to cook and spend time in the space. Maybe it's the show-stopping style of a statement fridge or the satisfaction of perfect pizzas from your specialty oven. Choose appliances that speak to your passions.
Surround yourself with tools that make preparing meals feel like a joy versus a chore. Appliances should inspire you to happily gather and nourish loved ones. The cooking process then becomes as fulfilling as the results. Keep that uplifting vision in mind as you bring your dream kitchen to life.