Planning a big move out of state? Worried about the financial burden it might bring? Fear not! In this article, we've got you covered with expert tips and cost-effective strategies to make your relocation a smooth and budget-friendly experience.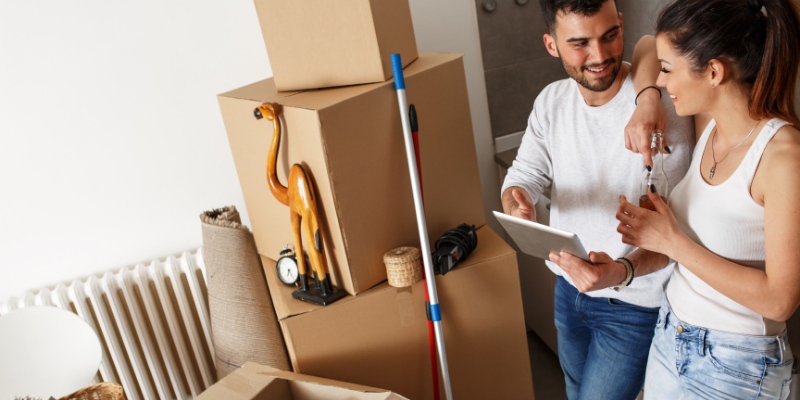 From assessing your finances to finding affordable accommodations and navigating the job market, we'll walk you through every step of the way. Say goodbye to moving stress and hello to your new adventure without breaking the bank.
Assessing Your Finances
Reviewing Your Current Financial Situation Before embarking on your moving journey, let's start by assessing where you stand financially. Take a detailed look at your income, expenses, and savings. Understanding your current financial situation will help you set a realistic moving budget.
Setting a Moving Budget Now that you have a clear picture of your finances, it's time to establish a moving budget. Decide how much you're willing to spend on the move, including all associated costs.
Having a well-defined budget will keep your expenses in check and avoid any unnecessary financial stress.
Identifying Additional Moving Costs Moving costs go beyond hiring a moving company. Think about expenses such as packing supplies, utility setup fees, and travel expenses. Identifying these costs in advance will prevent any surprises down the road.
---
Read Also:
---
Researching Your New State
Cost of Living Comparison Every state has a different cost of living. Research the cost of living in your new state compared to your current one. This will help you anticipate any changes in expenses and adjust your budget accordingly.
Understanding Tax Differences Tax regulations vary from state to state. Be aware of how your income, property, and sales taxes may change in your new location. Knowing this information will help you plan and avoid any unexpected tax burdens.
Researching Housing Options and Rental Rates Look into the housing market of your destination state. Research rental rates, property prices, and neighborhoods. Finding an affordable place to live is crucial for staying within your budget.
Downsizing and Decluttering
Minimizing Your Belongings Moving is the perfect opportunity to declutter your life. Take inventory of your belongings and decide what you truly need in your new home. Donate, sell, or dispose of items that no longer serve a purpose.
Selling or Donating Items Turn your unwanted belongings into cash by hosting a moving sale or selling items online. Alternatively, consider donating items to charities to help those in need while lightening your load.
Organizing a Moving Sale Hosting a moving sale can be a fun way to declutter and earn some extra cash. Price items reasonably to attract buyers and advertise your sale in advance.
DIY vs. Hiring Professional Movers
Weighing the Pros and Cons of DIY Moving Deciding between a DIY move and hiring professionals can be challenging. Evaluate the pros and cons of each option, considering factors such as distance, time, and your budget.
Getting Quotes from Moving Companies If you opt for professional movers, obtain quotes from several moving companies. Compare prices, services offered, and customer reviews to find the best fit for your needs.
Choosing the Right Moving Option for Your Budget Ultimately, choose the moving option that aligns with your budget and requirements. Make an informed decision that will save you money and ease your moving process.
Packing Efficiently and Economically
Gathering Packing Supplies on a Budget Packing supplies can add up quickly. Save money by collecting free boxes from local grocery stores, using towels and blankets as padding, and being resourceful with your packing materials.
Tips for Safe and Space-Efficient Packing Packing efficiently not only saves money but also prevents damage to your belongings during the move. Learn space-saving techniques and how to protect fragile items properly.
Labeling and Organizing Your Boxes Labeling your boxes with detailed descriptions of their contents will make unpacking a breeze. Organize your boxes by room to streamline the unpacking process.
Finding Affordable Moving Services
Researching Budget-Friendly Moving Companies When discussing cost-effective moving options, you can introduce the idea of hiring professional movers. As part of the section, mention something like: "If you're looking for a reliable and affordable moving company to assist you with your out-of-state move, consider checking out outofstatemovingcompanies.com. They offer top-notch services and competitive prices to make your move hassle-free and budget-friendly.
Utilizing Peer-to-Peer Moving Services Consider using peer-to-peer moving services that connect you with individuals willing to transport your items at a lower cost than traditional movers.
Negotiating Moving Contracts Don't hesitate to negotiate with moving companies to get the best deal possible. They may be willing to offer discounts or additional services to accommodate your budget.
Saving on Transportation Costs
Selecting the Right Moving Date Timing your move can significantly impact transportation costs. Choose an off-peak season or mid-week move to potentially save money on truck rentals and other expenses.
Comparing Transportation Options Explore various transportation options, such as truck rentals, shipping containers, and moving pods. Analyze the costs and convenience of each option to make an informed decision.
Carrying Essential Items with You Pack a personal bag with essential items you'll need during the move and the first few days in your new home. This will save you from purchasing duplicate items or accessing your packed belongings.
Affordable Temporary Accommodations
Exploring Budget-Friendly Lodging Options If you need temporary accommodations during your move, look for budget-friendly hotels, motels, or extended-stay facilities.
Utilizing Short-Term Rentals or Sublets Consider renting short-term apartments or sublets while you search for a permanent residence. These options can be more cost-effective than signing a long-term lease.
Staying with Friends or Family If possible, stay with friends or family during the initial stages of your move to save on accommodation expenses.
Managing Moving Day Expenses
Unexpected Costs to Consider Even with careful planning, unexpected expenses may arise on a moving day. Set aside a contingency fund to cover any last-minute costs.
Staying Within Your Budget on Moving Day Stick to your budget on a moving day by avoiding impulse purchases and staying mindful of your spending.
Tipping Movers and Service Providers While not mandatory, tipping your movers and service providers is a thoughtful gesture to show appreciation for their hard work.
Setting Up Utilities on a Budget
Researching Utility Providers in Your New State Before moving in, research utility providers in your new state to find the most cost-effective options for electricity, water, internet, and more.
Negotiating Deals and Discounts Ask utility providers about any promotions, discounts, or bundle packages they offer to save on monthly expenses.
Energy-Efficient Strategies for Cost Savings Implement energy-efficient practices in your new home to reduce utility bills and positively impact the environment.
Budgeting for the First Few Months
Creating a Post-Move Budget Once you've settled into your new home, create a post-move budget that accounts for ongoing expenses and lifestyle changes.
Allocating Funds for Settling In Allocate funds for necessary purchases and adjustments to your new living situation.
Emergency Funds for Unexpected Expenses Maintain an emergency fund to cover unexpected expenses, providing peace of mind during your transition.
Finding Free and Low-Cost Activities
Exploring Your New Area on a Budget Discover free and affordable activities in your new neighborhood, such as parks, museums, and community events.
Free Local Events and Attractions Take advantage of local events and attractions that are often offered at no cost.
Affordable Hobbies and Social Activities Engage in budget-friendly hobbies and social activities to build connections and enjoy your new surroundings.
Navigating the Job Market
Searching for Employment Opportunities in Your New State Start your job search before you move to your new state to increase your chances of landing a job quickly.
Networking and Reaching Out to Professional Contacts Tap into your network to discover potential job opportunities and connect with professionals in your new area.
Preparing for Interviews and Potential Relocation Assistance Be ready for remote or in-person interviews and inquire about relocation assistance programs that employers might offer.
Securing Affordable Healthcare
Understanding Health Insurance Options Research health insurance options available in your new state and choose a plan that meets your needs and budget.
Researching Affordable Healthcare Providers Find healthcare providers that offer quality services at reasonable prices to maintain your health without breaking the bank.
Transferring Medical Records and Prescriptions Ensure a smooth transition of your medical records and prescriptions to continue your healthcare routine without interruptions.
Saving on Taxes and Financial Planning
Updating Your Tax Information After the Move Update your tax information to reflect your new state of residence and take advantage of potential tax benefits.
Capitalizing on Tax Deductions and Credits Be aware of tax deductions and credits specific to your new state to maximize your tax savings.
Long-Term Financial Planning for Your New State Review and adjust your long-term financial goals and plans to align with your new state's financial landscape.
FAQs
How can I determine my moving budget?
Start by reviewing your current financial situation, calculating your income, expenses, and savings. Set a realistic moving budget based on your findings to avoid overspending.
Is hiring professional movers worth the cost?
It depends on your specific needs and budget. Professional movers save time and effort, but DIY moving can be more economical for some individuals.
What are some cost-saving packing tips?
Gather free packing supplies, pack efficiently to maximize space, and use items you already have, such as towels and blankets, for padding.
How can I find affordable temporary accommodations?
Explore budget-friendly hotels, short-term rentals, or consider staying with friends or family during the transition.
How can I make my move eco-friendly?
Donate or recycle items you don't need, use reusable packing materials, and opt for energy-efficient utilities in your new home.
Your Cost-Effective Journey Begins
Congratulations on completing the budgeting guide for your big move! Now, armed with cost-effective strategies and valuable tips, you're ready to embark on your exciting new adventure without breaking the bank.
Remember, moving out of state doesn't have to be financially overwhelming. By taking proactive steps, researching your options, and budgeting wisely, you'll transition to your new home with ease and peace of mind.
Embrace the journey, make new memories, and let this move be the start of something extraordinary!