The fact that a house is composed of brick does not mean it is immune to termite attacks. Termites eat largely wood.
Thus, the wood frame in many new brick structures is ideal for them. Unfortunately, termites in a brick home generally go undetected until severe issues occur.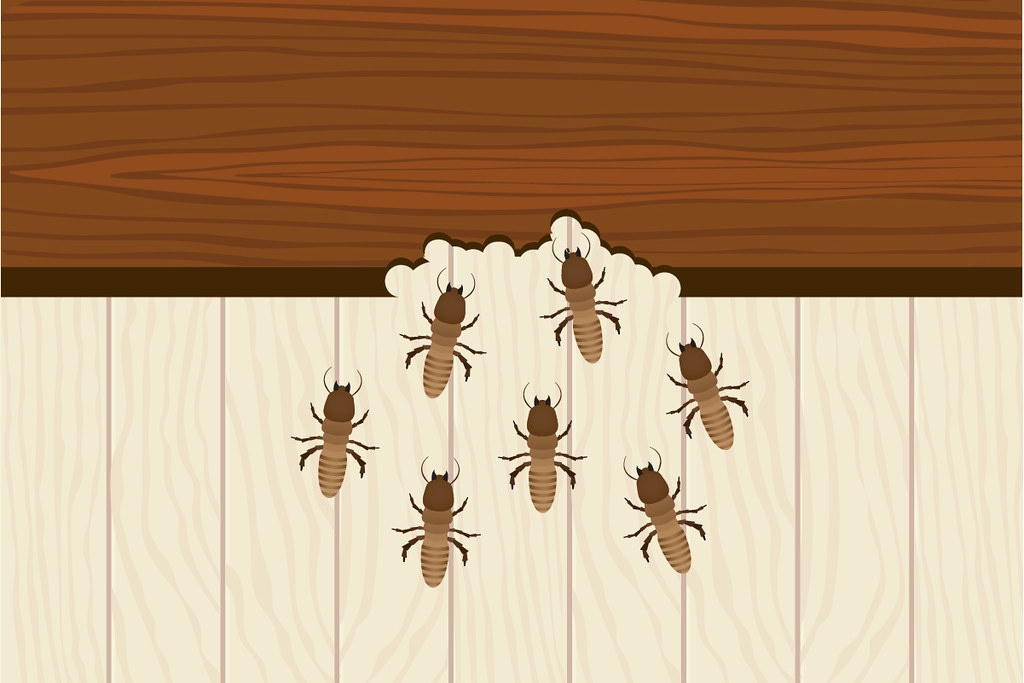 Wood components can still be found in the roof, walls, and floorings, which, if destroyed, might jeopardize the home's structural integrity and prove costly to restore.
Some homeowners mistakenly assume that their brick home is immune to termite infestations due to termite behavior. Though termites have a tougher time getting into brick or concrete homes, they aren't fully protected.
How do Termites Get into Brick Houses?
A sturdy brick wall is impenetrable for termites. A little crack or hole, on the other hand, is all it takes to get access. Termites can be attracted to your home through stacked timber, decaying stumps, and thick vegetation.
These are just a few examples of frequent items that serve as termite entry points around houses. It's only a matter of time before termites start exploring the home after they've established a colony near it.
As a result, objects that would attract termites should be kept well away from the house. Termites have plenty of room to get through holes dug for water, electrical, phone, and internet connections. Weatherstripping around doors and windows that are worn out is also a wonderful entry place for pests.
How to Identify a Termite Infestation?
Termite infestation may frequently be detected simply by observing visual indicators within your house. Saggy walls, flooring, and roofs, as well as cracks on the internal or external walls, may indicate faulty studs or other structural components.
Though termite holes are an obvious warning, hollow-sounding wood is a more likely yet subtle signal. Tap on the bordering wood trim and door panels and listen for various hollow noises if termite damage is suspected.
---
Read Also:
---
A peculiar clicking sound may be heard from within your walls. This is because when soldier termites perceive a threat, they knock their heads on the wood and shake their bodies, signaling danger to the rest. To connect the wood, they devour to the earth; subterranean termites construct their own roads consisting of mud tubes.
These mud tubes are roughly the size of a pencil and are composed of wood and dirt. If you see them, you have termites, but it doesn't imply you're clear of them. You could possibly come across some live termites. It's crucial to tell them apart from flying ants, so you know what you're dealing with.
Termite Prevention Techniques
Leakage Check: Subterranean termites require moisture to survive. Keep your home dry, particularly you're ceiling and air conditioner, to keep them at a distance.
Fill in Any Cracks: Caulk and cover any unwanted gaps in your foundation where pipes meet the wall and make sure doors and windows are properly sealed.
Mulch Care: Subterranean termites, require soil, and some mulches include wood. Instead, use mulch made from things like latex or gravel.
Clear Gutters: Termites like to hide in warm, darkish, and wet environments. Termites may be prevented by cleaning out gutters and pipelines regularly.
Appropriate Wood Care: The cellulose in wood attracts termites, so don't stack firewood against your house or leave dead stumps in your yard.
Invariably allow at least 5 to 8 inches between your patio, deck, or porch and the ground when constructing your home, and wherever feasible, choose termite-resistant wood.
What Chemicals are Used to Treat Termites?
Fipronil and hexaflumuron are the two major insecticides used to kill termites. Fipronil is a chemical that is utilized as an active component in various liquid termiticides. It can kill termites on touch in high enough quantities.
It is used by pest control professionals around the perimeter of dwellings. Hexaflumuron is a termiticide intended primarily for use in termite bait, such as the popular Sentricon baiting method.
Termites locate the bait station, consume the poison, then leave a trail directing other termites to the food source. The termites then transport the chemical back to the colony, infecting and killing all bugs.
Termites aren't choosy about the sorts of structures they attack. Termites are a menace to every home or structure that contains any quantity of wood. Termite swarmers are skilled at locating the wood and damp soil that will allow them to form a new colony on a property.
Termites may flourish in your house as long as they have the essential materials they require to survive.
Because of these facts, expert termite treatment is an important element of preventing damage to your house. No matter what style of home you possess, you must be cautious in your attempts to prevent a termite infestation.