New countertops serve as a major purchase today. People love to pick out new counters because they know their addition will alter the appearance of the space.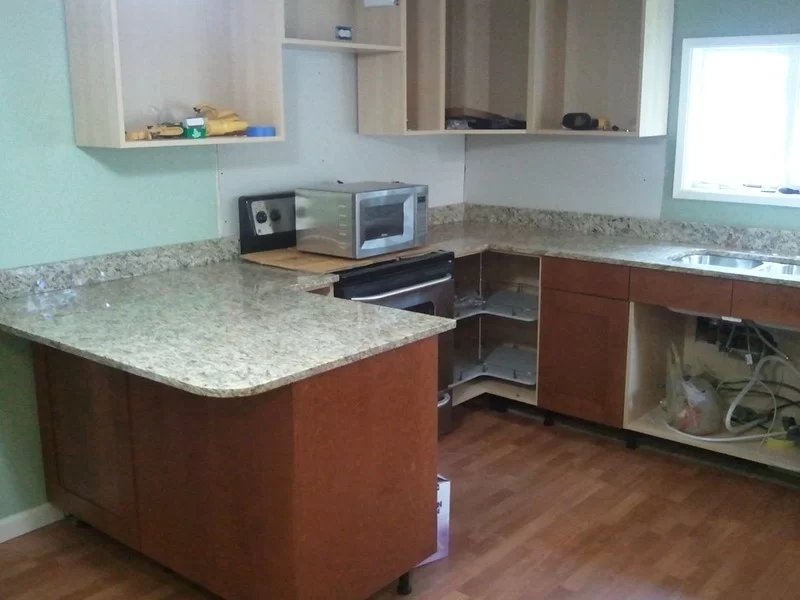 Countertops serve many purposes today. People use them to prepare meals, entertain, and eat. The material selected for the countertop plays a large role in how well this item holds up to frequent use. 
Many people today opt for quartz countertops. They know this material comes with many benefits. What should you know before you install quartz in your kitchen? 
What is Quartz?
Quartz comes from the earth. This natural mineral remains the most abundant on the planet today and is composed of silicon and oxygen. However, quartz countertops are man-made. 
A manufacturer takes natural quartz and grinds it into dust. This dust is then combined with other materials to create the countertop. Materials used in this process may include resins or polymers and pigments. 
Polymers and resins are needed to bind the quartz dust and make it hard and durable. Pigments provide the countertop with the desired color. In addition, manufacturers may incorporate other materials such as metal flecks into the mixture for some added flair. 
Now that a person knows how quartz countertops are made, they may wonder why this material would be the perfect addition to their home. The following reasons are only a few of many today. 
A Non-Porous Surface
Engineered quartz has no microscopic pores, which is important in a kitchen. Surfaces with microscopic pours allow liquids to make their way into the material. This can lead to stains and other irreversible damage to the surface.
Repairing this damage is impossible, which means the owner must live with it until the countertop is replaced. This isn't a concern when a quartz countertop is selected. 
In addition, germs and bacteria may hide in these pores. As quartz countertops don't have pores, the risk of somebody becoming ill from foods prepared on this counter is greatly diminished. The owner won't need to seal the surface routinely or take other steps to prevent items from penetrating the surface. 
---
Read Also:
---
A Durable Material
Quartz countertops won't scratch, chip, or stain easily. Breton, an Italian company, first created engineered quartz back in 1963. It did so to create a material that was more durable than stone and could be colored or enhanced in other ways. 
Quartz countertops are among the most durable materials available. On the Mohs scale of mineral hardness, quartz rates seven out of ten, with ten being the hardest. Diamonds are rated ten, while marble falls somewhere between three and five on this scale. 
Manufacturer's Warranty
As quartz is so durable, manufacturers feel confident offering generous warranties on their countertops. In fact, some manufacturers offer a lifetime warranty, although they may say it can only be used by the original owner. Other manufacturers allow the warranty to be transferred to a new owner, but they often put conditions on this transfer. 
A person must learn what the warranty covers before making a purchase. Some manufacturers, for example, only warranty the countertop if it is used in a residential application. Other manufacturers won't cover damage caused by chemical exposure or direct heat. This information will be included in the warranty documents.  
Ease of Cleaning
Clean the quartz countertop with nothing more than soap and water. There's no need to purchase a special cleaner or polish for quartz, although some manufacturers now sell these products. Easy-Off works well when grease is an issue, but soap and water are enough to clean the counter in most situations. 
Elegant Appearance
The purchaser can choose almost any design and color for their new countertops when quartz is selected. Manufacturers use pigments to achieve the desired color and may add other materials if this is what the customer wants. In addition, they can even create quartz countertops that mimic the appearance of natural stone. 
The Versatility of Quartz
Quartz may be used throughout the home. A person can choose a bathroom countertop or decorate their fireplace with this material. Thanks to this versatility, a person may find they want to use it in multiple locations throughout the home. 
For example, install a backsplash made of quartz in the kitchen. This may be an extension of the countertop or the homeowner might choose to do a contrasting color. Quartz may even be used for floor slabs. 
Drawbacks of Quartz
However, quartz has a few drawbacks. A person needs this information to determine if quartz is the right material for their needs. Quartz comes with a higher price tag than many other materials. 
In addition, it doesn't offer the unique look of stone. Although manufacturers try to replicate the look of natural stone, they haven't perfected it yet. Furthermore, seams in quartz countertops may be more noticeable than seams in other materials, particularly when the countertop color is light. 
Heat damage is a concern with quartz countertops. While the quartz itself is heat resistant, the same cannot be said for the polymers and resins used in the creation of the countertop. Heat could lead to damage and discoloration of the surface. 
Choosing a Quartz Countertop
Never purchase a quartz countertop without bringing samples home to see how they will look in the kitchen. The lighting varies by location, and what looks amazing in a showroom might not be as attractive in the home. 
Choose a glossy finish for modern homes. If the home has a more rustic or traditional feel, a brushed finish is the better choice. The brushed finish also makes the surface feel more natural. Opt for beveled edges on the countertop if the home has grooved cabinets or cabinets with recessed features. Rounded edges on a quartz countertop work with any interior. 
Save money, when possible, by choosing a pre-manufactured quartz countertop. However, if budget isn't a concern, learn what options are available and have the slab made to the desired specifications. 
Homeowners typically find the benefits of quartz far outweigh the drawbacks. Consider all options when making this purchase. Manufacturers can do amazing things with this material today, and the quartz will add beauty to the kitchen while serving a worthwhile function.