Foot spa is an increasingly popular practice to relax and enjoy personal time. Foot massage allows individuals to take care of themselves and their feet in an elegant, enjoyable manner.
A foot spa can benefit a person's physical and mental well-being in powerful ways, from soothing strained muscles, aiding digestion, improving circulation, and calming the mind.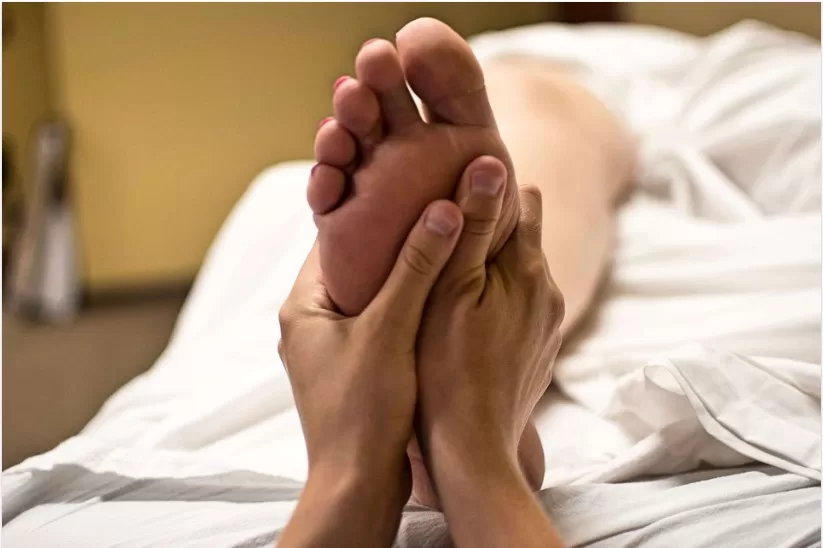 What are the Benefits of a Foot Massage?
Relaxing at the end of a long day with a foot massage can be the perfect way to feel pampered, but the benefits do not stop there. A foot massage has been proven to increase circulation, promote better sleep, and even reduce stress and anxiety.
Moreover, specific massages of the feet can even aid in easing symptoms of health conditions like plantar fasciitis and rheumatoid arthritis. Below are the elaborated benefits of a foot massage.
Improves Circulation
Foot massages can be a favorable spa treatment that has numerous health benefits. Not only can a foot massage alleviate physical pain, but it can also do wonders for mental strain and stress by helping to relax the mind.
Foot massages are perfect spa treatments for feet because they help improve circulation, which is essential for delivering oxygen to muscles and organs, and carrying away toxins from the body.
Spa treatments for feet also help in opening up energy pathways in the body that can aid in healing. Combining improved circulation with positive energy flow has a powerful effect on both physical and emotional well-being.
---
Read Also:
---
Lowers Blood Pressure
Foot massages are one of the most pleasurable ways to relax and ease tension after a long, exhausting day. However, there is more to it than that. Foot massages can increase overall well-being in multiple ways.
For example, regular foot massages can help lower blood pressure by stimulating pressure points in the feet that connect to different body parts. Of importance to note is foot massages are not a replacement for an individual's medication; instead, it's a complementary strategy.
Reduces Edema Effect in Pregnant Women
One of the essential health benefits is reduced edema effect in pregnant women. Edema is caused by swelling in the extremities when too much body weight is carried down on them, resulting in increased pressure on the veins that don't allow proper circulation or drainage of the lower limbs. 
A foot massage helps circulate the fluids out of these areas, preventing conditions such as varicose veins and swollen ankles. The lymphatic drainage from a good foot massage also helps reduce overall body fatigue and promotes better sleep. This makes it an essential practice for pregnant women to include in their daily wellness routine.
Encourages Better Sleep
Foot massages are incredibly beneficial and healing. Not only do they promote relaxation and relieve pain, but they can also improve sleep quality. A foot massage before bedtime helps to loosen tight muscles, reduce inflammation, increase circulation, and release tension that can otherwise impede a good night's sleep. 
Furthermore, the techniques used in an effective foot massage stimulate pressure points, which helps to reduce stress hormones like cortisol. A relaxing foot massage is thus a great alternative to help prepare for quality sleep without the need for sleeping pills or other chemicals.
Speeds Recovery in Foot Injuries
Foot massage is one of the most effective and cheapest methods of finding relief from pain and discomfort experienced in the feet. Individuals with recent foot injuries should give themselves plenty of rest and recovery time, but incorporating a therapeutic foot massage into their plan can help speed things along. 
Massages stimulate the soft tissue, reduce inflammation, improve blood circulation, and generally relax sore muscles. A high-quality foot massage can even help reduce the healing time for sprains and torn ligaments.
As a bonus, massaging feet can also increase mobility and lower joint stiffness, which is often overlooked when recovering from an injury.
Reduces Headaches
A foot massage helps reduce headaches. That's because pressure points on the feet correspond to other areas in the body like the neck and scalp, so when these pressure points are targeted during a massage, it relieves muscle tightness in those regions which can lead to a decrease in tension headaches.
Additionally, a foot massage stimulates nerve endings and improves circulation throughout the body, increasing oxygen levels which further helps reduce stress, headaches, and pain.
Improves Immunity
A foot massage has innumerable benefits for a person's health and well-being. One of the tremendous benefits is improved immunity. Feet massage helps to stimulate the lymphatic system, which is essential for transporting white blood cells and promoting natural immunity.
This increased activity in the lymphatic system is linked to higher levels of disease-fighting cells in the bloodstream, making it easier to fight off illnesses better before they even begin.
Additionally, a foot massage can reduce stress hormones and help improve circulation. These massages can also assist with keeping the body functioning at its best by aiding immune cells to travel throughout the body.
Reduces the Effects of Anxiety and Depression
Taking a foot spa is an excellent way for an individual to improve their overall health. Foot massage can help reduce the effects of stress and anxiety, as well as alleviate mild symptoms of depression.
The massage action applied to the feet during this spa treatment helps relieve aching muscles, which can provide relaxation for both the body and mind. 
Moreover, foot massage can also improve circulation in the lower parts of the body, allowing for enhanced nerve transmission that may decrease swelling and stiffness in the joints.
A foot spa experience is an effective way to improve physical health while providing a person's mental well-being with some extra care at the same time.
A foot spa is an excellent way to relax and destress. It can also help improve circulation, eliminate toxins from the body, and ease pain. Individuals looking for a fun and relaxing home activity should consider trying a foot spa. They may be surprised by the many benefits it has to offer.