Are you looking to enhance the aesthetics of your outdoor space and make your home more appealing? If so, hardscaping could be the answer you're looking for.
 Hardscaping refers to the use of man-made materials such as stone, concrete, and wood to create beautiful landscaping features, such as patios, outdoor kitchens, walkways, and retaining walls.
The art of hardscaping is all about creating stunning landscapes that are not only visually appealing but also functional and sustainable.
Here, we will explore the art of hardscaping and how it can transform your outdoor space into a work of art.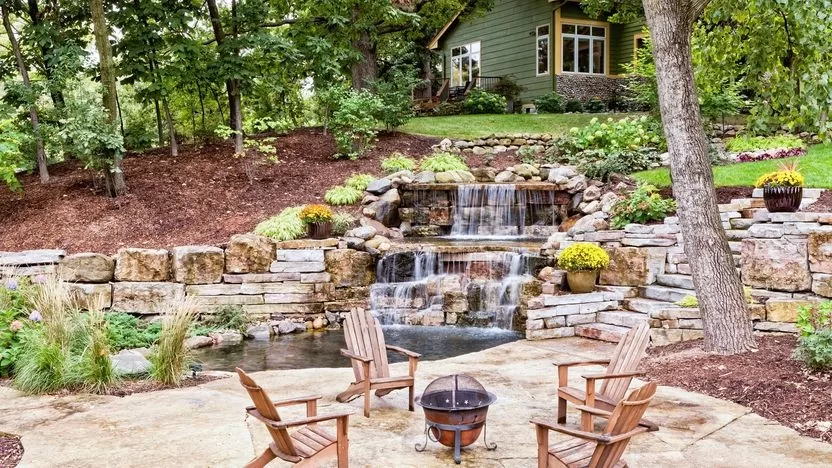 We will delve into the different materials and techniques used in hardscaping, as well as the benefits they offer.
We will also cover the design aspects of hardscaping, including color, texture, and shape, and how these can be used to create a cohesive and visually appealing landscape.
Use hardscaping to enhance landscapes
Hardscaping has become an increasingly popular way to enhance landscapes and create stunning outdoor spaces.
By using durable materials such as stone, concrete, and wood, hardscaping can transform an ordinary lawn into a beautiful and functional oasis.
Whether it's a walkway, patio, retaining wall, or garden feature, hardscaping creates a unique and elegant look that can last for years to come.
We will explore the benefits of hardscaping, the different types of hardscape elements that can be incorporated into a landscape design, and tips for creating a cohesive and visually appealing outdoor space.
Plan before you build
One of the key elements to creating stunning hardscapes is planning before you build.
Without a proper plan, it can be easy to miscalculate measurements or overlook important details that can significantly impact the final design.
---
Read Also :
---
The planning process should start with a thorough assessment of the space, taking into account factors such as the terrain, natural features, and existing structures.
From there, a detailed plan should be developed that includes measurements, materials, and a timeline for completion.
By taking the time to plan before building, you can ensure that the final hardscape not only looks beautiful but also functions effectively, providing a long-lasting and enjoyable outdoor space for years to come.
Choose the right materials
In hardscaping, choosing the right materials can make all the difference in creating a stunning landscape.
When selecting materials, it is important to consider both aesthetic and functional factors.
For example, natural stone can add a rustic or traditional feel to a design, while concrete pavers can create a more modern look.
It is also important to choose materials that are durable and able to withstand the elements. Consider the climate and weather patterns in the area, as well as the intended use of the space.
Additionally, selecting materials that are environmentally friendly, such as recycled or locally sourced materials, can add an extra layer of sustainability to your hardscaping project.
By taking the time to carefully choose the right materials and consulting a professional from landscaping Rochester NH, you can ensure your hardscape will not only look beautiful but also stand the test of time.
Create visual interest and texture
Creating visual interest and texture is a key element in successful hardscaping design.
By incorporating various materials and textures, you can create a dynamic landscape that engages the senses and draws the eye.
One way to create visual interest is by mixing different types of hardscape materials, such as stone, concrete, and brick.
Another way is to incorporate different textures, such as smooth and rough surfaces, to add dimension and depth to your design.
Additionally, layering plants and adding decorative elements can create visual interest and texture, while also softening the hardscape elements and adding natural beauty to the landscape.
When creating a hardscape design, it's important to consider the overall style and aesthetic, as well as the practical use and maintenance of the space.
With attention to detail and careful planning, you can create stunning hardscape designs that enhance the beauty and functionality of any outdoor space.
Maintain your hardscape elements
Maintaining hardscape elements is an essential aspect of creating a stunning landscape.
Hardscaping is the art of using non-living elements, such as stone, concrete, and wood, to enhance the beauty and functionality of outdoor spaces.
Whether it's a patio, walkway, retaining wall, or any other hardscape element, regular maintenance is required to keep them looking their best and functioning properly.
Neglecting hardscape maintenance can result in costly repairs and replacements down the line.
To ensure the longevity and beauty of your hardscape elements, it's important to clean, seal, and repair them as needed.
In this guide, we will discuss the importance of maintaining your hardscape elements and provide tips for effective hardscape maintenance.
Overall, hardscaping is an art form that requires a combination of skill, expertise, and creativity.
With proper planning, attention to detail, and the use of high-quality materials, hardscaping can transform any outdoor space into a stunning landscape.
Whether you're creating a patio, walkway, or retaining wall, the key is to work with a professional hardscape designer who understands the nuances of the craft.
By doing so, you can be assured of a beautiful and functional outdoor space that will enhance the value and enjoyment of your property for years to come.