First of all, an energy-efficient air conditioner that removes a lot of heat with less electricity is desirable.
This is called the "Annual Energy Consumption Efficiency APF" and can be found in catalogs and energy-saving labels.
The larger the APF, the more heat can be processed by electricity, which saves energy.
Comparing each manufacturer, APF ranges from a little less than 5 to 7.5, and it seems that energy-saving efficiency is high and various functionality increases depending on the grade.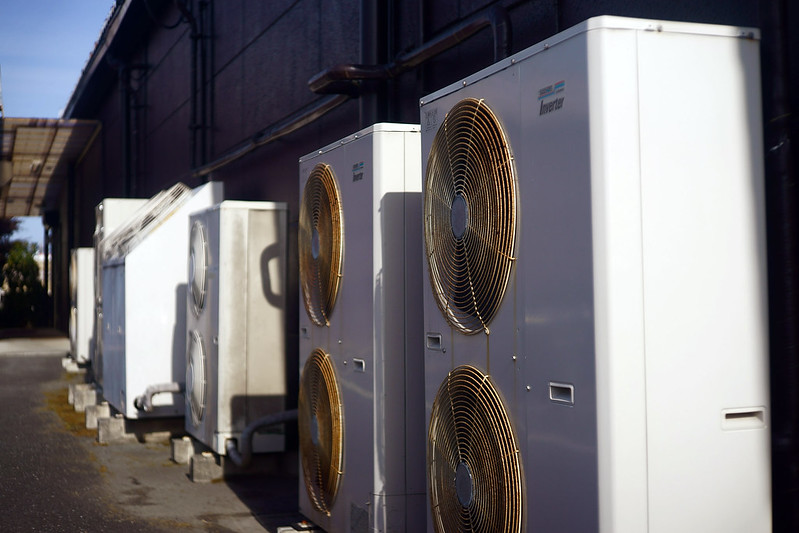 Next is how much ability to choose. "I don't know, so it's about 25 tatami mats that are connected to the living room, and it's for 23 tatami mats, which is the closest to the specifications."
The greater the cooling capacity (the larger the number for ◯ tatami mats), the lower the APF.
Even if the air conditioner capacity is doubled or tripled, the indoor unit and outdoor unit will not be so large.
Speaking of automobiles, all models are light cars, and it seems that only the engine is powered up.
When choosing an air conditioner, I think it is better to choose an air conditioner with a high APF from among the small capacities.
There are rumors that a cooling capacity of about 2.5kw (≈8 tatami mat air conditioner) has the best balance between cost and performance.
The point is that the air conditioner doesn't run at full power very often. For most of the operating time, the air conditioner perth is operating with less than half of the full power.
High-power air conditioners are said to have a large drop in efficiency at such low loads.
Is it easy to understand if you can imagine that fuel efficiency will worsen if you drive slowly in traffic jams with a high-speed sports car? On the other hand, models that are designed to improve efficiency in the low load range are recommended because they are practical and can be expected to save power. Models with dual compressors fall under this category.
For the past 10 years or so, we have been able to expect significant energy efficiency improvements and power savings by replacing old air conditioners with new ones.
It is said that even if the current air conditioner is replaced 10 years from now, the performance of the hardware has been improved so that such a large effect cannot be expected.
The most important thing to tell you is that you tend to put in a large air conditioner model, or the air conditioner that is obviously overcapacity in the current house because the performance of the house that is used as a guideline for "◯ tatami mats" is too bad.
---
Read Also:
---
The pattern also causes a decrease in efficiency when used.
The indication "for tatami mats" seen in catalogs and stores assumes a house with poor performance with a heat insulation grade of about 3.
It is good for use in old houses and apartments, but please purchase it considering that it will be over-engineered in new houses and buildings that seem to have good performance.
In a high-performance house that is thoroughly insulated and shielded from sunlight, it is possible to install only one air conditioner in a high place such as a loft to cool the whole house.
The cold air is heavy and naturally comes down. Since the cooling load is also concentrated on one unit, it is highly energy-efficient and saves energy.
The disadvantage is that it takes time for the air conditioner to spread throughout the house, so you have to understand how to use the air conditioner to keep the temperature environment the same as heating so that there is no temperature difference in the house.
It's not a way to come back from outside under the hot sun, suddenly increase the cooling setting, cool under the air conditioner, or cool the living room.
With the minimum number of air conditioners, you can bring it to a comfortable temperature environment with no temperature difference, and save energy.
Realize good cost performance for air conditioning in the entire building. Aiming to build such a house, we are also considering it, and we are proceeding with meetings while actually experiencing and understanding it.