A kitchen is undeniably one of the most crucial spaces in everyone's home, but also the most neglected. Not that people don't like keeping their kitchen clean and organized, but the tedious daily routine always gets in the way. It is where designing a low-maintenance kitchen can make a positive difference.
These kitchens don't require heavy upkeep and maintenance to stay organized and retain their cleanliness, functionality, and aesthetics. With certain strategic design changes, you can have a kitchen that always looks aesthetic and organized without becoming a constant source of stress in your life.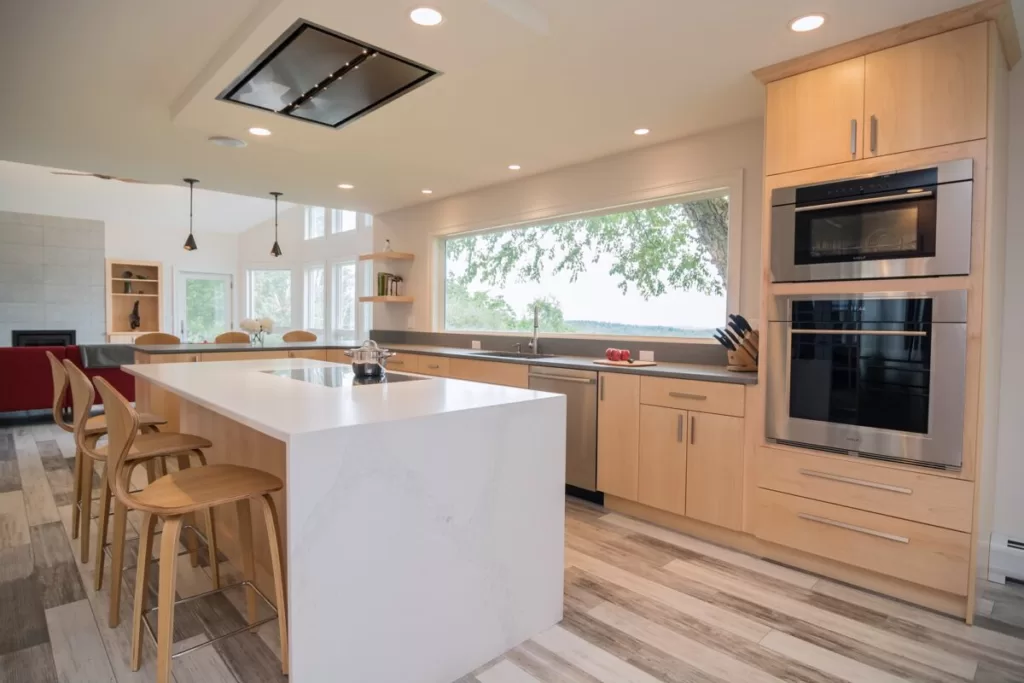 Contrary to the commonly believed myth, designing a low-maintenance kitchen doesn't necessarily require spending a fortune or hiring the top kitchen designer. Homeowners can transform their regular kitchen into a beautiful, low-maintenance one with simple changes.
To make it easier, this article covers five practical steps that can be implemented fast and bring visible improvement. So, let's quickly explore the steps covered below.
Step 1: Choose Durable Materials
Consider this the foundational step of creating low-maintenance kitchens. Most of your kitchen, including the flooring, cabinets, countertops, etc., must be made using durable materials to promote ease of upkeep and longevity of your culinary space.
For example, when it comes to countertops, pick options like granite, non-porous porcelain, marble, and quartz countertops because they are scratch-resistant, visually captivating, and easy to clean.
You can keep these countertops looking as good as new with a simple wipe. The impact of durable materials also extends to other elements, like cabinets, chimneys, sinks, etc. Investing in a natural wood kitchen cabinet would be best if you want robust cabinetry that doesn't require heavy cleaning and maintenance.
Since these cabinets are made using natural hardwood, they are less prone to chipping, warping, damage from moisture, regular wear and tear, etc., making it easier to have the kitchen of your dreams with minimal maintenance.
Step 2: Pick a Minimalist Color Palette
If you want a low-maintenance kitchen that is easy to preserve and exudes visually soothing vibes, you must get your kitchen painted using a minimalist color palette. You can choose from numerous neutral tones like grey, white, beige, light yellow, light brown, etc., for your kitchen backsplash, cabinet, wall, and other prominent spaces or elements.
Shades in this category help create an illusion of spaciousness, making even the smallest kitchens look big, open, and airy. A prime reason why these shades deserve a place in your kitchen is that they make smudges, dirt, fingerprints, minor scratches, and other visual distractions look less conspicuous. As a result, your kitchen always appears fresh, clean and well-maintained with minimal effort.
---
Read Also :
---
Step 3: Invest in Quality Smart Appliances
When it comes to designing a low-maintenance kitchen, it doesn't mean compromising the kitchen's functionality. You must pay equal attention to the kitchen's aesthetics and functionality for the best results.
Since a modern kitchen is incomplete without smart appliances, ensure you invest in easy-to-clean, efficient, and reliable equipment. Appliances made using stainless steel are the best example.
They are sleek, exude a contemporary design, and boast features like strong resistance against smudges, dirt, and other stains.
You can place these appliances in natural wood kitchen cabinets or open shelves to enhance the kitchen aesthetics. If your kitchen has appliances that blend durability with efficiency, the space can become easy to maintain and use.
Step 4: Optimize Kitchen Storage for Maximum Efficiency
One of the key highlights of a beautiful, low-maintenance kitchen is diligently designed storage solutions that boost the kitchen's functionality.
A kitchen with efficient storage solutions minimizes clutter and ensures every appliance, utensil, cooking accessory, etc., is kept in the right place for convenience. Homeowners must invest in storage solutions like a natural wood kitchen cabinet, designed for better organization.
You can also consider open shelving as it makes reaching out to items needed during cooking easier. When every item is placed in its designated space, cleaning becomes easier, faster, and efficient.
If you're looking for more storage solutions, consider installing pull-out trash bins, cabinets with built-in spice racks, dividers for cutting boards, and other similar options.
Step 5: Embrace Easy-to-Clean Design Elements
Homeowners wanting a low-maintenance kitchen cannot sustain without easy-to-clean design elements installed in the space. From sinks to backsplashes, natural wood kitchen cabinets to appliances- every element must be easily cleanable.
Let's take the backsplash, for example. You should choose a backsplash made using materials that are easy to wipe down, like stainless steel or tile.
The surface of these materials is stain-resistant and doesn't let grease, dirt, etc., accumulate over time. Similarly, when it comes to sinks, consider installing a single-basin sink designed for greater space for cleaning dishes. These sinks are easier to clean than double-basin sinks, lowering your cleaning and maintenance efforts.
Choosing kitchen hardware that prioritizes cleanliness without compromising aesthetics is a key aspect detrimental to any low-maintenance kitchen.
Create a Gorgeous Kitchen that is Low on Maintenance but High on Style & Functionality
As a homeowner, one of the best things you can do for your house is give it a low-maintenance kitchen, so it always looks its best. Having a low-maintenance kitchen is a lifestyle choice that will bring convenience.
If you're someone who wants their kitchen to look clean, organized, and visually appealing all the time, having a low-maintenance kitchen is beneficial.
To have a kitchen that looks and feels the best with minimal effort, implement steps like installing natural wood kitchen cabinets for better storage, choosing neutral shades to add a sense of openness, airiness, and spaciousness, and other options discussed above.