Timber feature walls are single walls that have a completely different design when compared to the other walls in a room.
The idea is to draw interest and attention since they have a unique style.
A timber feature wall is a durable and stylish way to achieve an eye-drawing, textured look to both commercial or residential designs.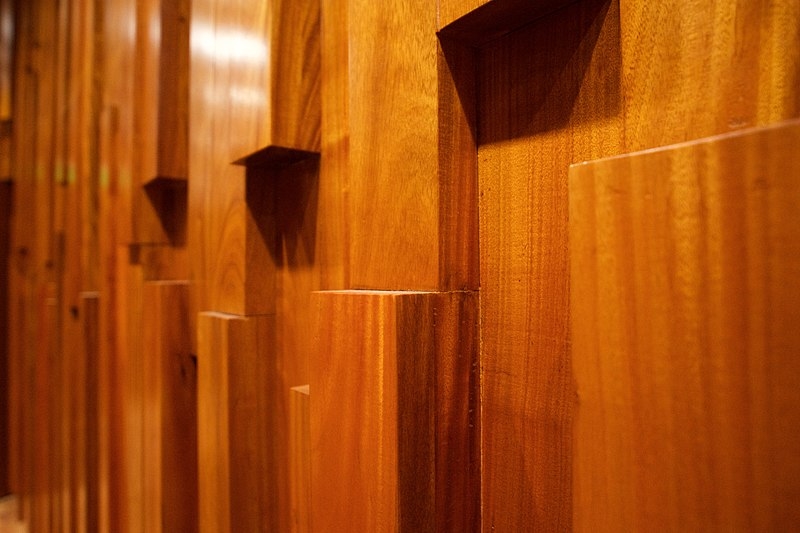 Fin Profile Timber Feature Wall
If you are looking for dimension and depth, the classic timber fin profile is the ideal choice. Available in either tapered paneling (V-Fin) or square, the angular, small profile of the fin works well for internal feature walls.
If you have decided on Western Red Cedar feature walls they also work well in the external areas of buildings, which brings about an enhanced synergism between outdoor and indoor spaces.
It makes sense why the Fin profile is among the more popular Austratus products. These products are installed in numerous applications and they also come in an extensive array of colors.
The Fin profile is regarded as a versatile all-rounder that matches up to almost any application and building.
Flat Profile Timber Feature Wall
Do you have an idea for timber feature walls that entails achieving a classic Australian weatherboard appeal? Then you may want to look at the Austratus Flat profile.
The broad surfaces provide a way for the natural textures and tones of the timber to shine through. These products also lend well when it comes to a coated finish.
A flat wood profiled panel feature wall works very well in many different areas of the home such as dining rooms, reception rooms, and media rooms.
You can even think about combining the fin profile with the flat profile to achieve a fantastic multifaceted and multi-textured look. The Flat profile feature walls come with uniform spacing "directly out of the box".
However, designers and architects are also known for creating different variations, which brings about even more interest and versatility to these products.
---
Read Also:
---
Fin Combo Timber Feature Walls
If you are interested in finding internal timber feature walls that are really going to stand out, you should seriously consider the Fin combo that achieves a 3D effect.
With Austratus, it becomes possible to interchange different sized panels and profiles (in 3 combinations), to create a textured and natural wave-like effect.
For a double impact, consider how beautiful these wooden feature walls would look when applied to either a rounded or curved surface.
Timber Feature Wall: Frequently Asked Questions
Is It Possible to Make Your Own Timber Feature Wall?
Creating a DIY feature timber wall can take a lot of effort and time. But when you use a company such as Austratus, they offer affordable and easy-to-install timber feature selections that take the effort and time out of the installation process.
Austratus has a fitting patent-pending system that allows for as many timber lengths as you like to be easily and simply clipped into the feature wall.
Is it Possible to Attach Wood Slats to a Wall?
With a patent-pending Austratus fitting system, all that is needed to attach the wooden slats to the wall involves fixing the rails and trims to the feature wall, and from here it is an easy task to clip in the timber panels.
What is the Best Timber to Use for Feature Walls?
Deciding on the type of timber that should be used for feature walls typically has to do with personal preferences.
For a beautiful visual impact and premium finishes, many architects and designers recommend or choose hemlock timber and Western Red Cedar for internal and exterior timber feature walls.
Which Wall Should You Choose for a Feature Wall
In general, the wall that you decide on should highlight the current focal point of the room, whether it is for a commercial or residential setting.
How Do You Maintain Timber Feature Walls?
In general, internal feature walls do not require maintenance other than a regular clean every now and again, with a regular wall product.
External feature walls will require consistent maintenance, especially if the wall is exposed to the elements. External timber feature walls will usually require a coat of oil every 1 to 2 years.