Everyone wants to buy products made of good leather, but not everyone knows how to recognize high-quality material.
In this article, we will talk about key factors you should pay attention to when choosing products. We hope that these tips will help you both when choosing bags, shoes, accessories, and when buying leather material.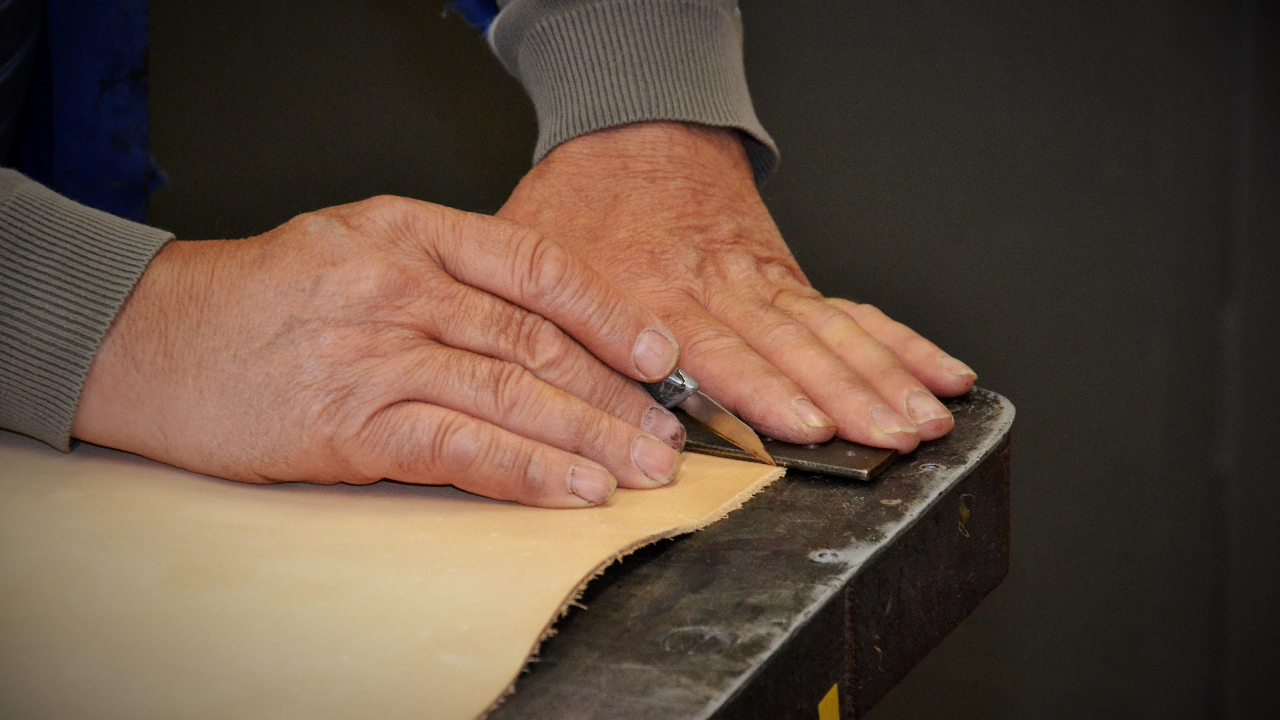 Types by Texture
Smooth Skin
The smaller the pattern, the more defects are visible. That is why the production of smooth leather products is more expensive.
It is impossible to hide defects on smooth skins, so the requirements for raw materials are much higher and the percent of leather used in the finished product is smaller.
There are cheap versions of conditionally smooth leathers, the smoothness of which is achieved by sanding the top layer. Such skins are called "polished". On average, smooth skins are 30%-50% more expensive than grainy ones.
Textured
It means the processed skin of animals and reptiles, which has a clear pattern. The texture can be of natural (for example, crocodile or ostrich) and artificial origin (cattle skin treated with a special method).
Production of Textured Material
Speaking of natural leather, it is worth understanding the technology. There are two ways of giving the structure to cattle hides:
Pressing
Material with small damages is placed under a press with a certain pattern on the punch. After stamping, a beautiful pattern remains on the front of the product.
Drum processing
The method consists of using special drums that form a unique pattern on the surface, which is called a floater.
Using Textured Leather
This material is widely used for various purposes. Fashionable women's bags with a beautiful pattern are usually made of medium-thick flotar. This material is also used for sewing shoes and creating stylish accessories.
Depending on the design and positioning, the manufacturer decides which skin suits the best. For example, Nappa is most suitable for the production of gloves. This is a soft smooth genuine leather, soft even in cold temperatures.
The material with a large embossed is most often used for the production of bags. This allows manufacturers to use the material in full.
The thick one is used for the production of belts. Thickness is an important criterion. If the skin would be the same as for bags, the product will become unusable after a couple of dozen times. Nubuck and suede are often used for shoes. It is supposed that the owner also uses additional shoe care products.
---
Read Also:
---
Types of Skin Coloring
There are three ways to do it.
Drum dyeing
It is used for large-scale production. In the process of tanning, the parts of the skin are also subjected to staining. This method is the most expensive and the best in quality.
Coating dyeing
This method is suitable for small brands. The paint is applied from above.
Combination: drum + coating dyeing
In addition to the fact that the skin is colored during the tanning process, paint is additionally applied to its top layer. In the process of tanning, other properties such as hydrophobicity, softness, elasticity, and wear resistance are given to the skin.
That is why the durability of the product is not an indicator of genuine leather. If the accessory from this material does not have a treatment it will become unusable very quickly.
You can skillfully process the slice, and it will last for many years. And even a skin specialist without a full-fledged examination will not define whether it is a split or the front side of the skin.
Tanning
Tanning is the process of handling the skin. As a result, the material becomes softer, stronger, and more resistant to abrasion.
Conventionally, there are two types of tanning:
Vegetable
This is a treatment using natural remedies. For example, the bark of oak and willow, leaves or fruits of plants were used earlier. Now it is rarely used, mainly for processing the soles of shoes and insoles.
Positive sides: absorbs moisture faster, noble aging of the skin occurs faster, does not cause allergies, hygienic.
Negative sides: in contact with water, it can quickly become unusable (become darkened wrinkled, harden), it is not resistant to external influences.
Chrome Tanning
This is the treatment of the skin with the help of chromium salts, aluminum, and other modern chemical components. The technology became popular in the XX century and allowed to significantly increase the speed of production.
Chrome tanning is one of the most popular leather processing technologies today, so it is used in different directions: from wallets to the surface of shoes.
Positive sides: has hydrophobicity, resistance to external influences.
Negative sides: proponents of vegetable tanning talk about allergy, but the risk of getting it from contact with a chrome-tanned product is very small.
Which Tanning is Better?
There is no definite answer. Vegetable tanning products are suitable for fans of natural style and history. But only if they are ready to take care of the leather accessory.
If you need a product that is resistant to external influences, it is better to choose chrome tanning. In addition, now it is massively used in production and shows itself well.
What is Important for a Buyer to Know?
Each stage of treatment is as important as its quality;
Every piece of Leffler leather can become a masterpiece with a combination of the right technologies and tools;
The choice of the type of genuine leather depends not only on your preferences but also on your willingness to take care of it;
Smooth leather and vegetable-tanned ones are expensive types of leather. They require careful care compared to a grainy texture. They need spray treatment for greater moisture resistance and daily care;
Leather with a grainy texture is more durable, but not as tough as leather for belts. Therefore, in places where mechanical impact is possible, it is better to oil the bag or shoes with a high-quality shoe cream.