Tiled, hardwood, or laminate steps in your home look great and they serve their purpose, but if you have pets and particularly dogs, you may want to cover those steps. Why? Simply because they pose a safety hazard for your pooch.\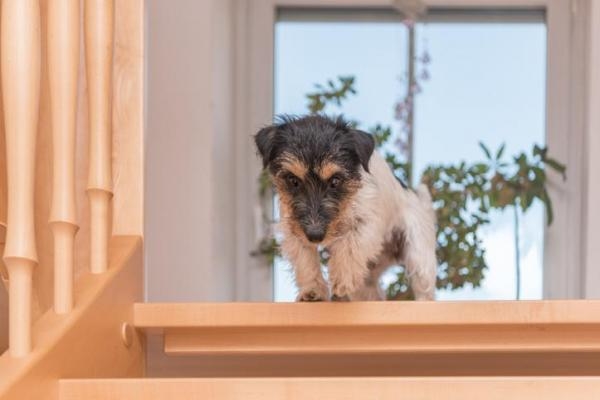 Dogs are intelligent creatures and you will realize that sometimes they will even avoid going up and down the stairs if they feel like they could slip and end up injuring themselves. This is particularly true with older dogs.
You can therefore protect your dog from the possibility of a fatal fall by getting the right kind of stair tread covers.
What is the Best Stair Tread Cover for your Dog?
There are many kinds of stair tread covers in the market making it hard to pick the best one. However, you may want to consider carpet stair covers not only because of the comfort they offer but also for their ability to withstand the scrapes and scratches from your dog's paws.
Top 3 Types of Stair Tread Covers
We have already mentioned that there are several types of stair tread covers to pick from. Why don't we look at some of the most common ones so that you are in a better position to make an informed choice?
1. Laminate
Laminate stair tread covers offer great flooring for staircases because they are durable enough to withstand high foot traffic as well as wear and tear.
Aside from that, they are also quite easy to clean because all they need is regular vacuuming and sweeping. They are also easy to install as they easily snap together in place.
However, this kind of stair tread is quite noisy when walked on and cannot be restored once damaged by things like water. This is not something you would worry about with carpet stair treads because they do not produce any noise.
2. Carpet
This is perhaps the most popular option when it comes to stair tread covers and understandably so because they are reasonably priced among many other features.
With this kind of stair tread, you bring a cozy feel to your home as well as match the rest of the décor in your space because that comes in a soft texture and different colors. Other than that, they come with a soft surface that makes them comfortable on your dog's feet.
The only disadvantage you will probably experience with carpet stair treads is that they are quite hard to clean seeing as you will be required to scrub with a brush and soapy water before hanging them to dry.
---
Read Also:
---
3. Rubber
These are also quite popular and it's easy to see why as well. First, they are extremely easy to clean because they only need to be wiped with a damp piece of cloth or hosed down with water.
They also come with great traction making them a great option for keeping your dog from falling while going up or down the stairs.
Nevertheless, unlike carpet stair treads, these are not as aesthetically appealing and they are unlikely to match the rest of your space as they come in limited colors.
Features of Ideal Stair Covers for Doggies
Considering that stair tread covers come in different materials with different features, you want to look at what features a particular cover offers before purchasing. These are some of the features you should look out for.
User Friendliness
The kind of stair treads you pick should be easy to use and this begins with the installation to the removal. They should be non-stick and peel off easily without leaving any messy residue when removed.
You will realize that carpet stair treads perform well here because they are easy to install as well as remove.
Non-Slip
Your stair tread covers of choice should be non-slip. The last thing you want is for them to keep shifting making it easy for your dog to trip and fall when climbing the stairs.
Comfortable
Your dog's comfort is something to be considered as well when buying stair tread covers. As such, you would want to go for something with a soft surface and a textured base for traction. Carpet stair treads usually fit that description so you may want to lean that way.
Final Thoughts
Stair tread covers will not only protect your pet from fatal falls when climbing the stairs but they protect you and your family members as well.
A good set of carpet treads for instance guarantees comfort on the feet as well as adequate non-slip protection. We believe this guide will you make the right choice.