A homeowner's efforts to make their home look lovely never come to an end. After a while, something has to get repaired, making home improvements ongoing. Even if you love the structure of your home and nothing needs to get fixed, there will always be a place that might need redesigning.
Giving your house a makeover allows you to create a comfortable yet stylish space, utilizing the area effectively. Moreover, it allows you to keep up with the latest trends and styles in interior design.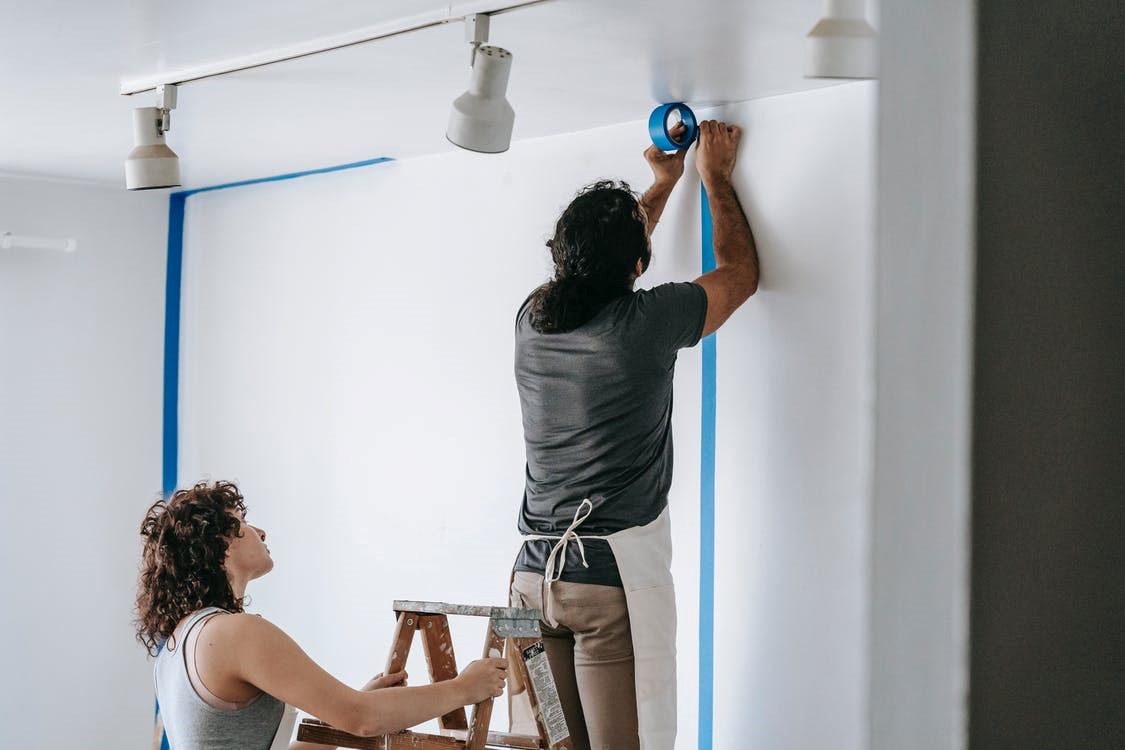 However, improving your home doesn't mean you must make major structural changes and burn a hole through your pocket. You can give your house a new look just by changing a few things here and there. So consider the ideas mentioned below to make your home look better.
Paint The Walls
Giving your walls a new coat of paint makes your house look fresh and gets your walls cleaned. A fresh coat of color allows you to give your walls a layer of protection from all sorts of damage.
Moreover, newly painted walls increase the value of your house if you decide to sell it. It is a relatively cheaper and easy way to improve the look of your home, making it a happier space.
However, before you start painting, ensure you store your belongings safely to avoid being damaged by the paint. For instance, if you reside in one of Utah's most populated cities, look for Salt City self storage units to stash your belongings.
Keeping your things in such a place ensures all your items are safe and secured. You can do the same for any state/city you live in.
---
Read Also:
---
Swap Out Your Lightbulbs
Does your house feel dark? If yes, consider swapping your light bulbs and installing new light fixtures to brighten your space. When searching for new light options, consider energy-efficient options.
It not only helps you modernize and freshen your home but helps you save monthly energy bills, making it a win-win situation. Besides that, look for table lamps with bold designs and sculptural shapes to turn your lamps into art pieces. Consider placing these lamps to emphasize a beautiful sideboard or a table.
Floor lamps can also add elegance to your room when placed next to a sofa or armchair. Along with giving a stylish look, it creates the perfect reading spot. Use floor lamps to lighten up your dark hallway. In addition, consider using artful ceiling lights.
When thoughtfully placed, they can transform an area into a cozy place. Not just that, they create a focal point in the area. You can choose bold designs showing interesting texture or colored glass, making the perfect style statement.
Give Your Entryway A New Look
Your entryway creates a lasting impression on the minds of visitors. Hence, updating it with time and trends is compulsory. Consider adding a new doormat. While it adds style to your entryway as people pass through, it covers the imperfections on the floor.
Besides that, look for a new door knocker to add a vintage vibe and add a touch of personality to your front door. Consider placing overhead lights on the porch to light the steps and front door.
Moreover, jazz up your concrete steps with some innovative use of paint. Start by painting your steps a solid color. However, paint isn't the only to make your steps look interesting.
You can install trim to give your entryway a makeover with architectural character. You can research your home's style and add adequate architectural details like decorative brackets, columns, or moldings.
Add Carpets And Rugs
Possibly more important than large-scale furniture, something you should consider first to give your house a new look is area rugs. Adding rugs is the easiest way to give your house a makeover. They instantly brighten up the room and comfort for those who walk.
Consider playing around with texture and monochromatic styles if you have a smaller scale space. Whereas for larger areas, you can explore options to add some luxury.
Moreover, a sisal or abaca rug always remains timeless and classy. Whether it is a simple or patterned one, these rugs go perfectly with modern schemes. They make the more traditional schemes feel relaxed and current. Besides that, if you want something soft, look for sheepskin rugs to provide a comfortable yet stylish look.
Update Your Windows
Just like fashion, window trends change over time. Hence, keeping with the latest window designs is the easiest way to make your house look better. Not just that, it improves curb appeal and the resell value of your house. Place black-framed windows to set an elegant and stylish vibe. They accent your home accessories, eliminating the need for any window dressing options.
Besides that, consider getting long and wide windows like casement windows. They operate by turning a crank and are easy to clean, providing outstanding natural ventilation. In addition, they are customizable, making them perfect for modern homes.
Moreover, if you wish to replace your opaque walls or doors with glass windows, look for picture windows. They are popularly used with additional windows to provide an attractive touch to the room. Install these windows where you get the best outside view.
Spruce-Up Your Bathroom
Updating your bathroom is essential. Consider sliding a stool next to your bathtub. This gives extra surface space help with organizing and is a great way to make your space feel more luxurious. In addition, make your bathroom comfortable by adding a heater.
Besides that, a relaxing shower is necessary for your updated bathroom look. You can include multiple showerheads to enhance the bathing experience. Other than that, you can give your bathroom a new look just by changing its old cabinets and replacing them with new ones.
In addition, a low-profile barrier creates a secure entry point to a shower and helps lighten the look of the space.
Conclusion
As time passes, home trends and designs change, making it vital to update your house accordingly. The good part is that you don't have to break the bank to do so. Consider improving the look of your house by updating your windows. In addition, look for beautiful carpets and rugs to cover your floor and add a pop of color to your room.