After all the flurrying packings, the joy of stepping into a new house is beyond words.
You might be enthusiastic about starting unpacking and arranging the new place right away, but all the fatigue would give a red signal for it. Honestly, the moving-in process can be pretty intensive, especially if you start jumping into everything.
Stay calm and start unpacking slowly – from one room to another without mixing everything. Once you have essentials ready, it is time to go on a decoration spree.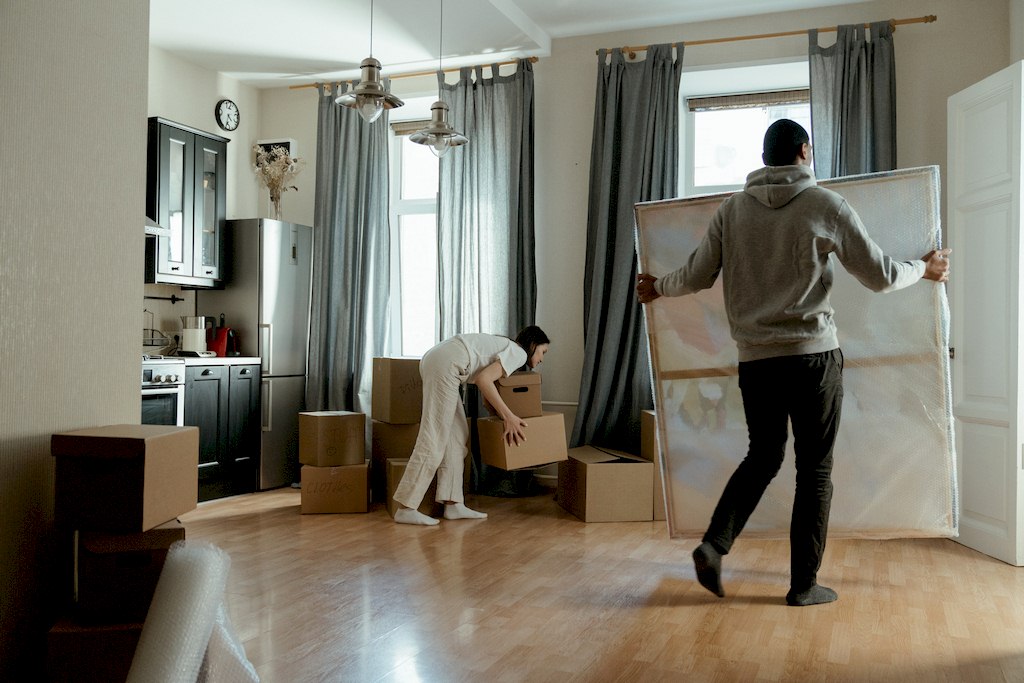 Play with the strengths of your house and enhance its visual appeal. If you are wondering how? Here we are unpacking some tips you can follow to decorate and arrange your new home.
---
Read Also:
---
1. Tone Up the Entryway
Everyone wishes their home to make a lasting impression. Brace yourself for creating an exquisite entryway to make all eyes turn to your new home.
Paint the front door with bright color – red, orange, purple, or anything that accompanies the theme of your house.
Add a welcome mat or frame and move to the entryway. Put a console table with two chairs – you can place a flower vase, pots, or hang paintings above it.
Also, add hanging hooks behind the door, so everyone puts their coats in place, keep your house organized.
2. Spruce Up & Declutter
Even though the house looks new, but you never know how the previous owner or workers treated it. Thus, if you are a hygiene freak, clean all the floors, thoroughly rub the tiles, and get rid of the dirt from nooks and corners.
Similarly, if you are having trouble putting things together, look for storage units to avoid stuffing your new home.
You can keep your seasonal clothes, things you might need at some point, electronic appliances, etc. This minor decluttering lets you put aside all the mess, making the new space look clean and tidy.
3. Keep It Light & Natural
In the 21st century, everything is about light and neutral colors. Hence, consider painting your walls grey, beige, or white to minimize the jarring transitions.
It gives you flexibility in decorating, allowing you to have a mix and match of accessories.
Likewise, if you have an apartment with small rooms next to each other, giving them a neutral coat makes it look larger. If you are skeptical, look at paint strips and move it a little and up and down for every room.
4. Add Layers to Lighting
You might invest in incredible décor and breath-taking furniture, but poor lighting can destroy your house's visual appeal. It is essential to pick a light that elevates your home's look, but if you are clueless about it, add layers to lighting.
Every room will have different layers of lighting – ambient, providing illumination from ceiling fixtures and fittings.
Likewise, for living rooms, you should have brighter lights, approximately 42 lumens per square foot. If the place still looks dark, add some floor or table lamps along.
5. Anchor Rugs
Do you want a cozy home? Carpeted floorings always create a warm atmosphere, but the growing trend of wooden floors is leaving it behind.
Surprisingly, rugs are not going out of fashion anytime soon, consider adding a couple of them. Place a rug in your living room, making sure it is large enough to cover the sitting area.
At least two front sofa legs, chairs, and tables should stand on it, ensuring it doesn't look too small when placed with the furniture.
6. Hang Mirrors Around
Everyone wants to give a luxurious touch to their house, and this possible even with a tight budget. Think of installing a couple of mirrors in every room.
They come in varying sizes and shapes, enhancing the visual appeal of your home. Alongside this, mirrors make a place feel brighter since it bounces light around the room.
However, placing them in the wrong place can turn things upside down; make sure the mirrors on the wall are perpendicular to the windows. In short, place them opposite to the window, making the light pass.
Final Word
You will witness a plethora of feelings when moving to a new house – stress, excitement, anxiety, and whatnot.
After all, you want to turn your new home into a paradise without delays, but remember kingdoms not built overnight. Unwind your mind and start unpacking things, once everything is at the place, you can use your creative skills for décor.